Working for the ICRC
Welcome to the ICRC's career page!
We are continuously hiring professionals who are highly motivated and qualified to deliver humanitarian support when and where they are most needed. Below are the categories of activities for which we have overseas missions in over 80 countries.
To apply for current vacancies abroad as well as positions at the headquarters in Geneva, please visit our job portal. Should you wish to work for the ICRC in your country of residence, please refer to the relevant page in the section of our website detailing where we work.
We also offer traineeships in various departments at our headquarters in Geneva, for young professionals with less than 2 years of work experience. We do not recruit for volunteer positions.
How can I discuss my profile with your Human Resources team?
There are many opportunities to meet us and see how your skills, experience and humanitarianism could make you a perfect fit for a career at the ICRC: face-to-face at job fairs, online job fairs, webinars and live posts, presentations and workshops at your university. All current and future events are advertised on this page. Do check our job openings first and come prepared with questions.
How can I join the ICRC?
Thank you for your interest in joining our team of humanitarian workers!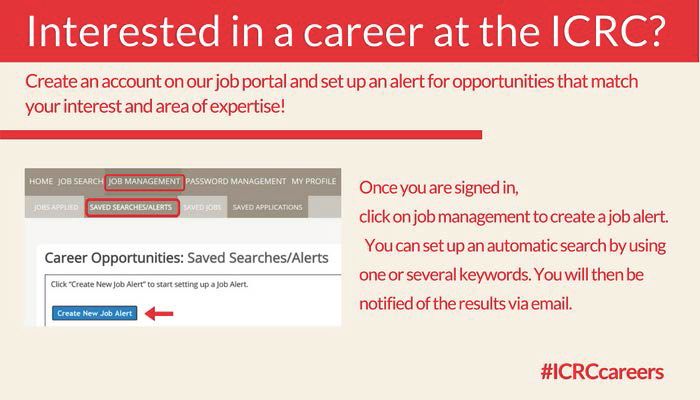 We recruit two kinds of staff: resident and mobile. Resident field staff are hired on local contracts to work in a specific position in a specific country.
By contrast, mobile field staff are hired on a Geneva-based contract and can be deployed to work in any country where there is a need. Mobile field staff typically change country with each new assignment. Please note that mobile field staff cannot be assigned to a country of which they are nationals. 
If we have an agreement with your National Society and your profile is of interest, we may wish to share your file with them. These National Societies may then offer you a contract under their domestic labour law and send you on secondment to the ICRC (known as "staff on loan") for an assignment abroad. Find out more here. 
We also have job opportunities for mobile and resident positions at our headquarters in Geneva. All traineeships opportunities are based at headquarters.
Where can I find all the current job openings?
All current job openings for mobile field staff and positions at headquarters are accessible from our job portal. For resident field staff, please go to your country page on our website and scroll down to the Job Opportunities section (e.g. Where we work > Iraq).
Working for the ICRC is not like working anywhere else. Humanitarian work truly changes lives.
Facts & figures
Our HR set up in 2017
12,500
Resident field staff