Afghanistan: Reaching people and places in need
Widespread conflict continues to devastate the lives of thousands of people in cities and towns across Afghanistan. The ICRC is providing basic aid, such as clean water and medical care, to those most in need. We are also visiting detainees to monitor their living conditions and treatment, and are helping to reconnect families separated by the conflict.
Highlights of our work in Afghanistan
Since the beginning of 2015:
1 million

people received medical treatment.

190,000

people were provided with clean water.

100,000

 benefitted from phsyical rehabilitation services.

68,000

people received basic aid, such as food.

13,000

 people in detention saw their living conditions improve.
Our presence across Afghanistan
With nearly 1,800 staff and 14 offices, the ICRC works across the country from Herat to Jalalabad. Below are the locations of our operations, including hospital and health centres that we support.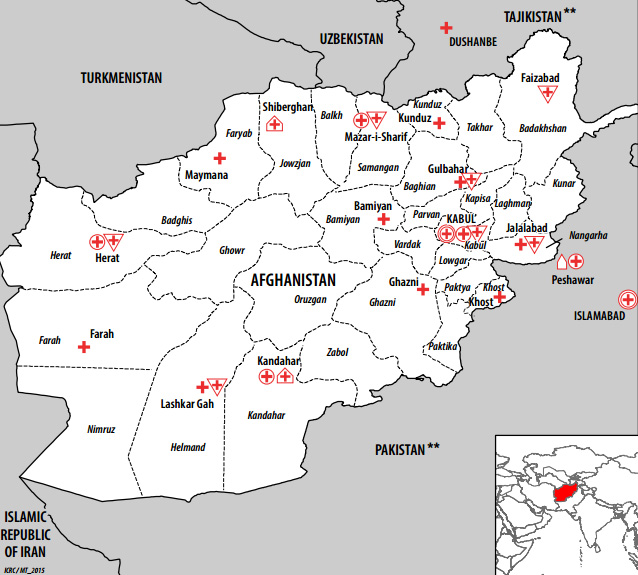 Bringing help and hope to people in Afghanistan
Najmuddin Hilal was only 18 when he tragically lost his leg to a landmine in Afghanistan. He spent the next year in a hospital, slowly recuperating – all the while dreaming of the day he could work again and help people in need.
Today, Najmuddin Hilal has spent nearly 30 years of his life working at our orthopaedic centre in Kabul – helping fit limbs, prepare prostheses and provide physiotherapy services for disabled people.
"Because of my own experiences, I understand the stigmatization a disabled person faces in Afghan society. I see my work as a means to help people with disability fight that stigmatization and fully reintegrate back into the society."