The agony and the uncertainty: Missing loved ones and ambiguous loss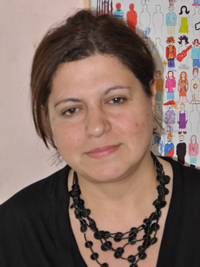 Roubina Tahmazian is based at the ICRC's Tbilisi delegation, where she advises on mental health and pyscho-social issues. Here, she explains the theory of "ambiguous loss," which forms the basis of the ICRC's work with the families of missing persons as we try to alleviate their suffering and help them move on with their lives.
What is a "missing person"?
A missing person is someone whose family has had no news of them, or who has been reported missing on the basis of reliable information.
Why is it so traumatic when a relative disappears during a conflict?
Constant uncertainty is a major source of stress. No matter how much time has passed, not knowing what happened to a family member and not being able to give them a dignified burial can prevent families from recovering psychologically and moving on from their loss.
If a household's main breadwinner goes missing, their family is often left in dire financial straits. And the lack of clarity about an individual's fate can leave relatives negotiating legal and administrative hurdles to claim benefits or transfer land titles, for example.
This is even more difficult where there is no law recognising the rights of a missing person's family.
What is ambiguous loss theory?
The term "ambiguous loss" was first coined by Pauline Boss in the 1970s. Her research on ambiguous loss has become the key reference for professionals working to understand and deal with the effects of disappearance on families.
She defined ambiguous loss as "a situation of unclear loss resulting from not knowing whether a loved one is dead or alive, absent or present." This severely affects the psychological wellbeing of families even if they were not vulnerable before. They may spend a lifetime looking for answers and tend to become socially and emotionally isolated as a result.
One of the theory's major achievements is that it gives a name to the isolating experience of grief without closure.
How does the ICRC use the theory of ambiguous loss in its work with the families of missing persons?
Since the early 1990s, the ICRC has been supporting the families of missing persons and advocating for their right to know the fate of their relatives. Our work has evolved to include social, economic, legal and psychological support, and in many countries we are trying to ensure that families receive help from trained service providers as they navigate the difficulties posed by this distressing ambiguity.
The theory of ambiguous loss has been a watershed in the ICRC's efforts to develop its support for the families of missing persons. It has helped us understand the uniqueness of their situation and cultivate a much broader perspective than that of the trauma-centred and grief theories that were previously predominant in our work. The theory also helps us to start addressing the psychological and social problems that families are facing, even while they still lack answers.
The guidelines laid out by Pauline Boss in her book "Loss, Trauma and Resilience. Therapeutic Work with Ambiguous Loss" (2006) constitute an excellent basis for helping families find ways to live with ambiguity and focus on their own wellbeing.
The ICRC develops a tailored approach appropriate to each country, taking account of cultural factors that may affect families' experience of ambiguous loss. Feedback from families who have received this support showed that their situation improved, and they appreciated the efforts of the ICRC and its partners to help them focus on other aspects of their lives despite the ambiguity.
You've recently been involved in a conference. What was that about?
An ICRC conference in Tbilisi at the end of May aimed to raise awareness of ambiguous loss among authorities, academics and the public. It was also an opportunity to support organizations and individuals helping the families of those who have gone missing during conflict. Experts from the Balkans, Central Asia and the Caucasus explored possibilities for expanding this work and developing long-term support for the families of missing persons.