Armed groups, hospital managers and ambulance drivers can protect health care in many ways
Three new HCiD publications bring together important steps non-State armed groups, governments, hospital managers and ambulance drivers can take to improve access to health care and make its delivery safer.
Too often, armed groups are seen only as perpetrators of violence. The publication Safeguarding the Provision of Health Care: Operational Practices and Relevant International Humanitarian Law concerning Armed Groups focuses on them as key players in the protection of health care: not only as combatants bound by humanitarian law, but also as beneficiaries and providers of health-care services.
The publication is based on the two-year consultations the ICRC carried out with more than 30 armed groups worldwide who agreed to discuss the challenges they had faced and their solutions to making access to health care safer. It also contains a Model Unilateral Declaration that armed groups can use to voice their commitment to safeguarding health care.
Violence can disrupt health-care services when they are needed most; even one single attack can have serious knock-on effects. Ensuring the Preparedness and Security of Health-Care Facilities in Armed Conflict and Other Emergencies is a practical manual for governments and hospital managers to help them prepare for and manage situations where caring for wounded and sick people is put at risk.
Health-care facilities are complex systems where human, structural and operational factors interact. These three factors should be considered together when designing strategies and implementing measures to protect medical facilities.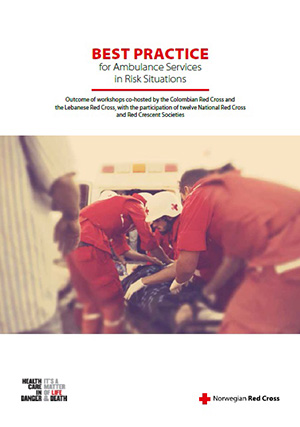 The Norwegian Red Cross has published a report entitled Best Practice for Ambulance Services in Risk Situations.
It is the outcome of two HCiD workshops that the Norwegian Red Cross co-hosted with the Colombian and Lebanese Red Cross Societies in 2014. The 12 National Red Cross and Red Crescent Societies that took part drew on their experiences running ambulance and pre-hospital services in complex environments to propose practical solutions for ambulance drivers and other first aiders.
The first two publications can be downloaded free of charge on the HCiD website. The report from the Norwegian Red Cross is available for download in English and Spanish.