Brazil: Special report on stateless persons wins ICRC International Humanitarian Coverage Award
Second and third place were given to a report on missing persons published by Época magazine and a special on the conflict in Syria that was aired by TV Bandeirantes
São Paulo (ICRC) – The report titled "Special Human Rights - Right to Nationality" and broadcast by GloboNews won the third annual ICRC International Humanitarian Coverage Award. The jury appraised the submitted news items for their relevance, originality in presenting a complex topic for coverage, and weighed the sensitivity and technical accuracy depicted.
"Awards from the ICRC such as this are vital because international journalism has the distinctiveness of being more expensive than other forms of journalism. So, having this support to go to the field to observe the organization's work and report on it is wonderful. I'm really looking forward to this opportunity," exclaimed journalist Mário Cajé, a representative from the winning team that was announced at the ceremony in Sao Paulo on November 6th.
The first place prize is a trip, organized and paid for by the International Committee of the Red Cross (ICRC), to a country where the organization is presently working.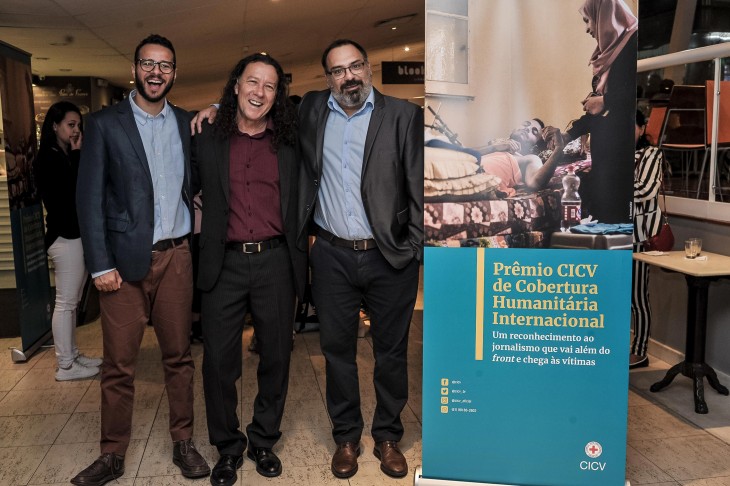 "This is the kind of thing we're looking for with this type of prize: journalism that goes beyond the front and reaches the victims," said Simone Casabianca-Aeschlimann, head of the ICRC delegation to Argentina, Brazil, Chile, Paraguay and Uruguay, during the opening speech at the event. The function was attended by around 100 people and also included a round-table discussion with the finalists.
Second place was awarded to Época magazine's multimedia report titled "Desaparecido S.A." (Missing Persons Inc.) about missing persons in Mexico. Third place went to a series of reports by Yan Boechat detailing the impacts of war on Syria's civilian population. The material was aired by TV Bandeirantes.
The third holding of the ICRC International Humanitarian Coverage Award featured 68 entries, including print, television, radio and multimedia items. The jury was composed by journalist and researcher João Batista Natali, public information officer of the United Nations High Commissioner for Refugees (UNHCR), Luiz Fernando Godinho, Press Relations coordinator for Doctors Without Borders (MSF), Paulo Braga, and ICRC Communication coordinator Sandra Lefcovich.
The selection of finalists, as well as the winning entry for the ICRC International Humanitarian Coverage Award, is the result of a decision-making process by the jury that includes other organizations and partners and does not necessarily reflect the opinions of the ICRC.
Read here the finalists reports of ICRC International Humanitarian Coverage Award (in portuguese):
1st place – Especial Direitos Humanos - Direito à nacionalidade - GloboNews (exlusive content for GloboNews Play subscribers).
2nd place – Desaparecidos S.A. - Época.
3rd place – Estado Islâmico em Queda - TV Bandeirantes (link para o teaser).
Note to the editors:
Acess here the award ceremony photo gallery, wich took place in São Paulo at the Reserva Cultural space. The images can be used without any cost, however we ask that the photos be credited to "Reinaldo Canato/ICRC".
More information
Diogo Alcantara, ICRC Brasilia, P: +55 61 3106-2384, M: 61 98248-7600. dalcantara@icrc.org