Cities at war: "More sophisticated" understanding of urban conflict essential
The critical importance of the laws of war and the accountability of States pursuing or supporting military campaigns in urban centres topped the agenda at a parliamentary event held in London this week.
International humanitarian law (IHL) seeks to impose limits on the destruction and suffering caused by armed conflict. IHL's basic principles include humanity, proportionality and the importance of distinguishing between civilians and combatants at all times.
On her visit to London this week, @HADurhamICRC has a simple message about the importance of international humanitarian law #IHL #GenevaConventions pic.twitter.com/A6joYpY39M

— ICRC UK & Ireland (@ICRC_uk) June 26, 2018
Dr Helen Durham, director of international law and policy at the International Committee of the Red Cross (ICRC), told MPs and experts from a wide range of organisations: "Our concerns relate to the understanding of the application of IHL's basic principles and the need to disconnect this from the important but different debate about counter-terrorism.
"There is also the need for us to have a better and more sophisticated understanding about how urban warfare actually has a huge impact on civilian populations that sometimes is not captured in the news, because the suffering occurs after the cameras stop rolling.
"The suffering occurs when children can't go to school. The suffering occurs when maternity services are shutdown.
"Some of the statistics we have in relation to healthcare are appalling. We need to be more sophisticated in understanding the way conflict is fought today and have a good discussion about why these basic principles are so important."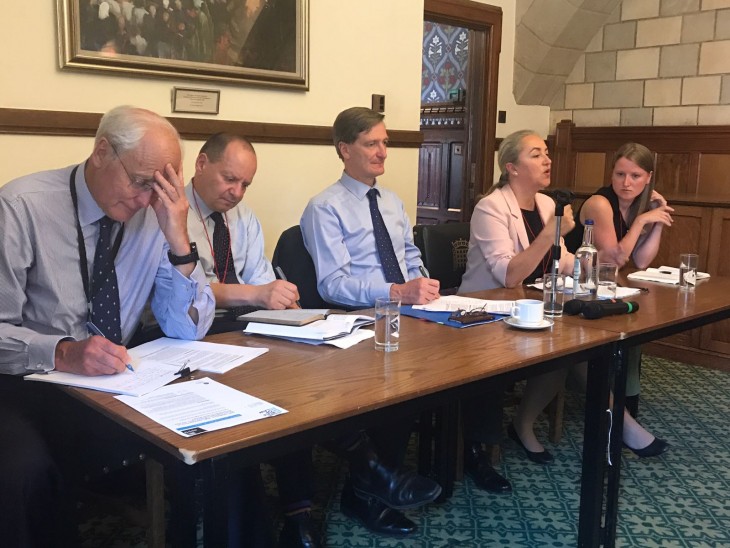 The panel discussion focused on the importance of ensuring all countries adhere to and support international law and explored how parliamentarians can hold government and others to account, including in connection with current situations of armed conflict in urban areas.
The discussion was chaired by Rt Hon Dominic Grieve QC MP and Lord Hodgson. The other speakers in the panel were Emily Knowles, programme director for the remote warfare programme at the Oxford Research Group and Professor Philippe Sands QC, professor of law and director of the Centre on International Courts and Tribunals at University College of London.
The event was co-hosted by the four all party parliamentary groups (APPGs) on drones, extraordinary rendition, human rights and the rule of law.