Tanganyika: At snail's pace
Does anyone care about Tanganyika Province? Far from the attention of the media and humanitarian agencies, the people in this part of the south-east of the Democratic Republic of the Congo are struggling to survive. The latest clashes between communities have destroyed crops and left people there with almost nothing. The first signs of hunger are showing.
Roger walks beside the river that passes through the village of Mukambe, taking his time: he is looking for snails. He has a wife and six children, and snails are practically all they have eaten for months. Occasionally, he manages to get a few sweet potatoes or cassava leaves. But mostly, it's snails.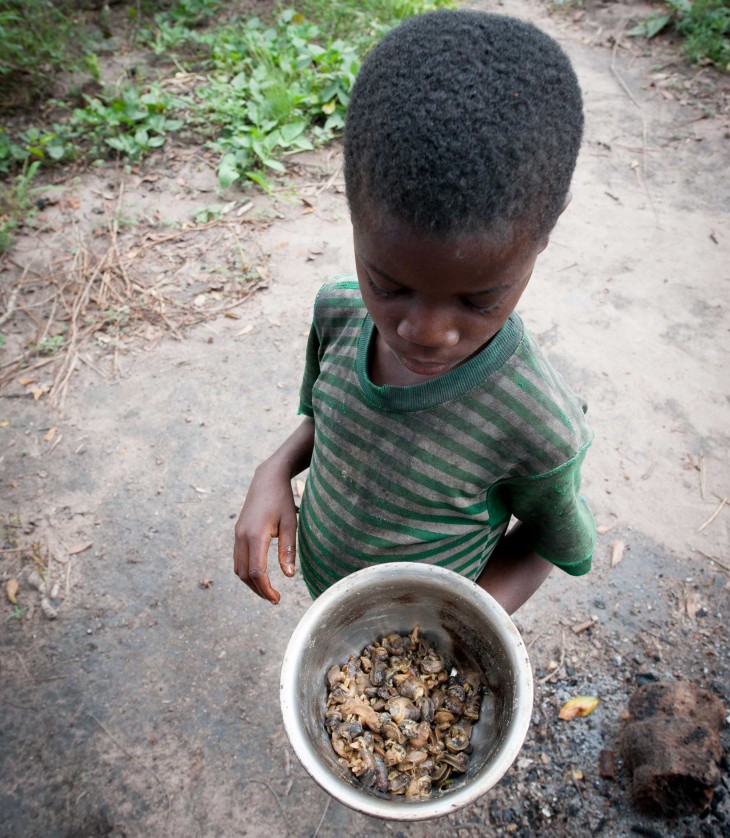 Abandoned
"I trade my snails for flour, too," Roger says. "But I don't get much." Barter has become commonplace since communal violence broke out at the end of 2016. Since then the economy has flatlined, cash has stopped flowing and already-meagre harvests are now nearly non-existent.
Around 50 small huts of earth and straw make up Mukambwe. But no cooking pot bubbles before them, no family gathers to share a meal. The children, skinny and wary, wander aimlessly. There are no smiles, no cries, no games. Just empty stomachs. The signs of malnutrition are clear.
The village is remote, almost uncharted. To get to Mukambwe from Manono, the nearest major town 140 kilometres away, is a five-hour drive along rutted, potholed roads. After that, there is a river to cross. Then, for the final 35 km stretch, only a motorbike can take you along the narrow forest paths.
Roots for medicine
In such a place, even the everyday tasks can become a problem and an obsession. Finding food. Moving. Getting medicine.
Two health centres that were operating a few kilometres outside Mukambwe were destroyed during the violence. But despite a lack of support and decent medical supplies and equipment, the centres are nevertheless up and running again. But Roger does not go there. "If you don't have any money for the appointment, they ask for a chicken as payment instead," he says. "But even that is too much. So we use roots of plants that grow in the forest as medicine."
Hygiene, too, is an issue, and the lack of drinking water a recurrent worry. People drink from the rivers and sometimes from pools on the ground after it has rained. "They collect water in jars or even plates and drink it straightaway," says Silvia Amaral, the ICRC's delegate in the area. "They don't have the money to buy even a little soap. They've been wearing the same dirty, ragged clothes since the fighting broke out."
Until Roger has the means to start farming again, he makes sleeping mats. He might be able to sell them or exchange them for a little food. But he is not optimistic about his future.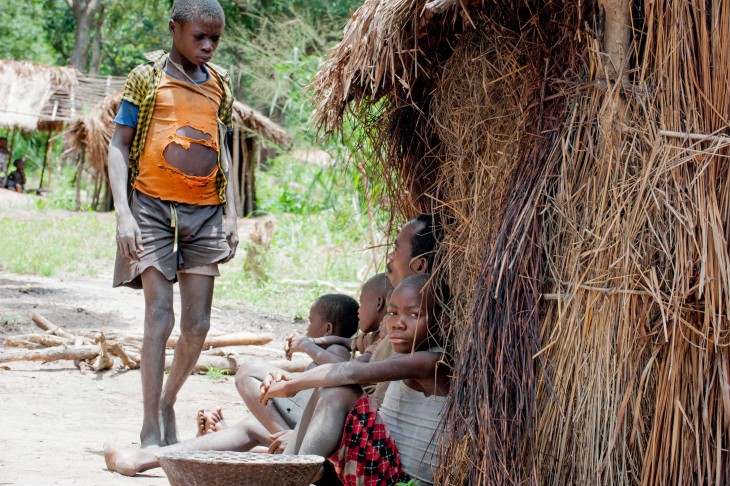 Where are the humanitarians?
Despite the desperate needs of the communities and the growing risk of starvation, humanitarian organizations are struggling to get through, mainly because of the lack of security, passable roads and funding.
And fighting between the Batwa and Luba ethnic groups has continued, in spite of the recent peace efforts by the country's government. According to the United Nations, communal violence in the province of Tanganyika displaced more than 650,000 people between December 2016 and February 2017. No one knows how many people have been injured, wounded or killed in the violence, not to mention the number of villages burnt down and crops destroyed.
Since the start of the unrest in Tanganyika Province, the ICRC has:
renovated and furnished three health centres in Muzovoi, Kanteba and Lwakato, which have treated 37,500 people
built nine emergency showers and 18 latrines, and installed three handwashing points and 32 cesspits in the hospitals of Manono and Ankorol to prevent the spread of cholera
run a mobile clinic between Muzovoi and Kamala, providing 7,735 people with free medical care
distributed essential household items to 35,600 people, food to 28,235 people and seed to 380 people.
Help us do more - donate now!

The violence and armed conflict in #DRCongo has affected millions. Families, like Roger's, experiencing food insecurity have resorted to desperate measures in order to survive. pic.twitter.com/zcblKEPvax

— ICRC Africa (@ICRC_Africa) March 12, 2018