Helping the helpers – why does psychosocial support matter?
Health-care workers should be provided with tools, equipment and support that can ensure both their physical and mental well-being. It is essential to keep this in mind when developing strategies for the protection of health care. Only then can health-care workers treat people in need in a safe and effective manner.
Ea Suzanne Akasha, technical adviser at the International Federation of Red Cross and Red Crescent Societies' Reference Centre for Psychosocial Support (PS Centre), tells us how psychosocial support benefits everyone and why managers should provide it for their staff.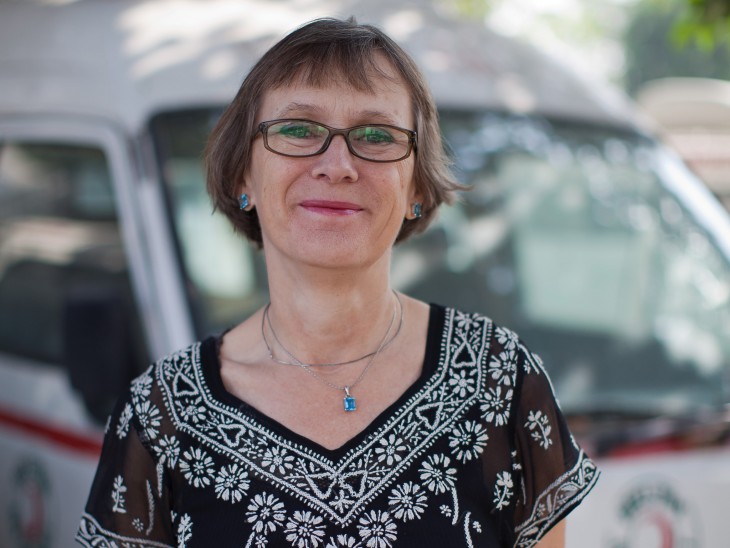 What does psychosocial support mean and why is it important?
Health is both physical and mental. You must be able to support yourself before you can support others. Front-line health-care workers are physically safer when they have equipment such as uniforms and helmets, or training, such as in improving their driving skills.
Whereas psychosocial support is about helping them understand the kind of stress they deal with at work and building up their ability to cope. It is about providing information about caring for yourself and getting help from your peers, for instance, by setting up support systems. It is important because healthy medical workers take better care of their patients.
A range of ways of providing psychosocial support to front-line health-care workers have been developed. How have they been received?
The Syrian Arab Red Crescent (SARC) recognized the role that psychosocial support could play in improving how their staff and volunteers are protected. They worked with the PS Centre to pilot a training programme in the country, as part of the PS Centre's Caring for Volunteers initiative. One part of the programme was about practical relaxation exercises to cope with stress better.
Reducing stress can help us sleep, relate to co-workers and provide care better. I taught both mental and physical relaxation techniques to volunteers, who derived immediate benefit. They in turn started teaching the techniques to the people they take care of. Psychosocial support can be provided in many ways, from such exercises to peer support systems.
How can we make sure health-care workers get the support they need?
Managers of health-care facilities play a vital role in supporting medical workers. The key is getting them to realize that learning how to manage stress makes a difference, and encouraging them to provide psychosocial support. This begins by ensuring that staff members believe that their managers understand and support them. Team spirit is really important.
Managers – and trained peer supporters – can organize monthly outings and regular meetings to listen and share experiences. They can also show appreciation for the work done to create a cohesive team where no one is left to deal with their stress and anxiety alone.
The positive impact is immediate – when psychosocial support is provided and managers are aware of these issues, health-care workers provide better care and remain able and motivated to work.
Helping those who help others
The PS Centre organizes and develops training, manuals and toolkits for helpers. It also advises and assists National Societies in implementing initiatives related to psychosocial support.
The ICRC, together with certain National Red Cross and Red Crescent Societies, is running mental health and psychosocial support programmes for community helpers in Côte d'Ivoire, Egypt, Mexico, Gaza, Syria and Ukraine.
Read: Health Care in Danger newsletter, July – November 2015