IHL App 2.0: International humanitarian law and more in your pocket
Designed for the mobile user on the go, our updated app allows you to quickly check IHL references for legal practice and discussion. From the palm of your hand, you can search, save and share – anytime, anywhere.
IHL at your fingertips
Developed by the ICRC, the IHL App 2.0 provides access, via tablet, desktop and smartphone, to more than 75 treaties and other documents relating to international humanitarian law (IHL) – most notably, the Geneva Conventions and their Additional Protocols, the ICRC's original and updated Commentaries on the Conventions and Additional Protocols, and the rules of customary IHL identified by the ICRC's 2005 study on customary IHL. Version 2.0 features over 60 law and policy documents and links, providing easy access to legal positions, publications and web pages on IHL topics of current interest.

The IHL App aims to support the promotion and implementation of IHL worldwide, by providing easy access to IHL treaties, customary rules, and related documents and links in various languages. The ICRC hopes this updated app can help professionals use IHL in their humanitarian dialogue and negotiations, inform law and policy debates, support teaching and promotion of IHL, and ultimately contribute to strengthening protection for everyone affected by armed conflict.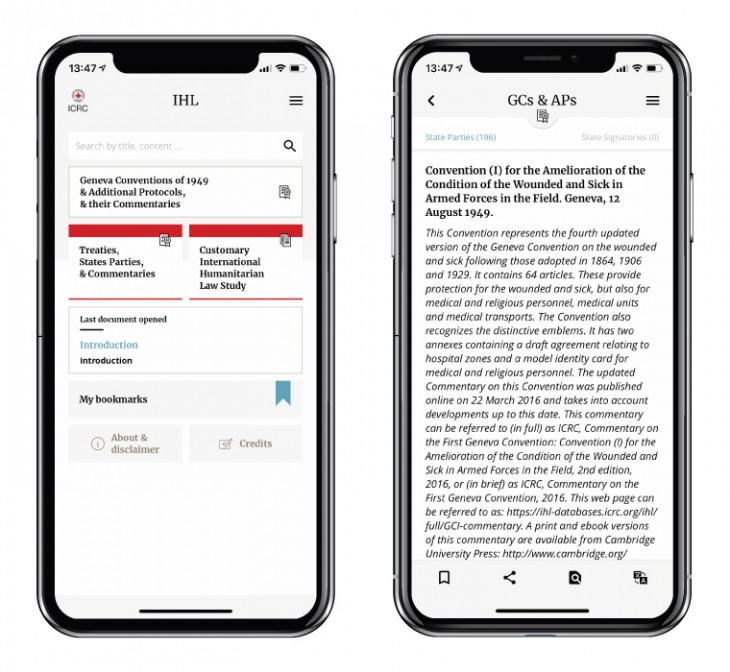 "The new IHL Digital App is fantastic! Rather than carry hard copies around, I can access all the key IHL instruments, and the ICRC Commentaries, on my phone and search them. Convenient and useful at the same time."
Access everywhere
Even when you are not connected to Wi-Fi, you can continue to access content through the app's offline mode, wherever you are.
Users can access the app in English, French, Arabic, Chinese, German, Portuguese, Russian or Spanish. Each IHL treaty article is available in both English and French, and each customary IHL rule is available in English, French, Arabic, Chinese, Portuguese, Russian and Spanish, with the documents also available as a PDF in these and other languages.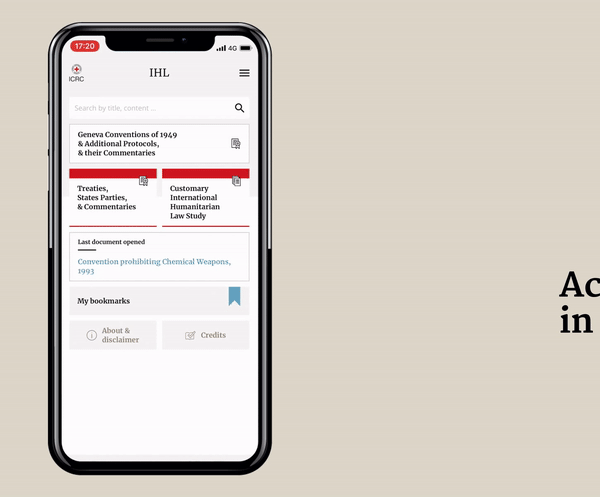 Advanced search features
Quickly search across the full content of the app, including treaties and additional protocols, to find documents with the search function. You can also use the "Find in page" feature to find specific words, phrases or numbers in a particular document.

Users can check which states have ratified which IHL treaties, even offline. With version 2.0, you can also quickly access a PDF list of all the states that have ratified the main IHL treaties, and browse those treaties by date.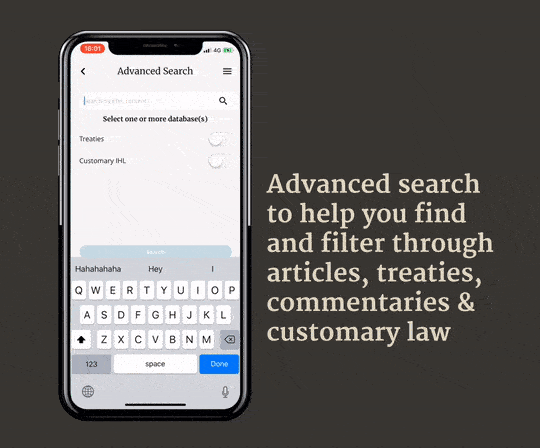 Bookmark, share and give your feedback
Save search results easily, including full documents or parts of documents, with the app's bookmark function. Personalize and organize your bookmarks from the dedicated bookmarks tab in the side menu. With this latest version, you can create your own IHL folders and sort bookmarks easily based on your preferences.

Share search results quickly to email or social media with the share button. The 2.0 update also enables you to share entire bookmark folders and allow your contacts to access them from their devices. This is ideal for professionals working together on specific IHL themes, or lecturers wanting to share legal provisions and rules on a particular topic with students.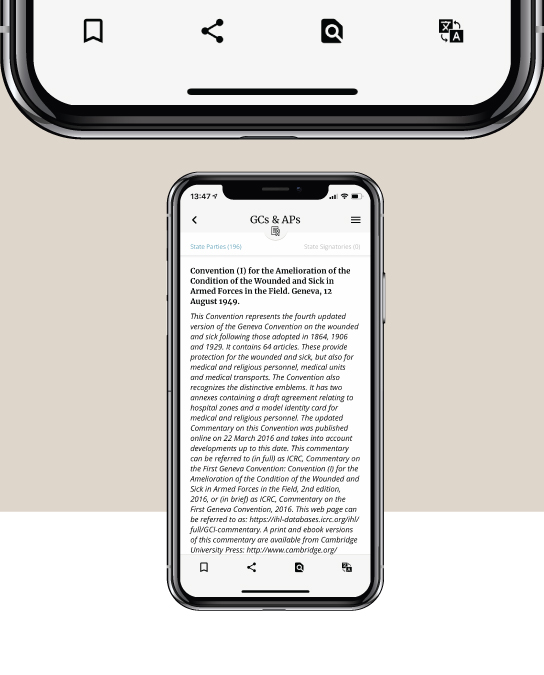 The ICRC is always looking to improve its digital tools. To provide feedback on the app, please send suggestions or observations to: ihl_tools@icrc.org