International Women's Day 2020: Women in leadership
Women in leadership positions are still a minority compared to their male counterparts, not just in Malaysia but everywhere across the world.
This is a cross-sector trend but is especially evident in the emergency and security services sectors such as those that involve the armed forces or private security agencies.
Yet, there is no denying the importance of gender balance in these critical functions. The ability to view conflict, military and detention operations through a gender lens is key to mitigating their humanitarian impact. Given the ever-changing character of today's security environment, efforts towards achieving this end have become more relevant than ever.
Growing realization to have a better gender balance is effecting gradual change across the world. More and more women in these uniformed sectors are taking up command positions that have been traditionally held by their male counterparts.
With the International Women's Day just round the corner (8 March 2020), the International Committee of the Red Cross (ICRC) regional delegation in Kuala Lumpur puts the spotlight on one such Malaysian female leader in the sector. She is not only bucking the global trend, but also proving the true value of a woman's voice in upholding human dignity and protecting humanity.
Lim Kim Mooi has been director of the Kajang Women's Prison since October 2018, overseeing some 1,400 detainees and managing a prison staff of over 400 personnel. Lim first interacted with a team of the ICRC's regional delegation in 2011 during our routine visit to the facility. She also received visits from the ICRC during her stints at the Henry Gurney School in Telok Mas, Melaka, in 2015, and the Kota Kinabalu Women's Prison in 2018. In Malaysia, the ICRC supports the efforts of the local authorities towards humane places of detention in line with national and international standards.
---
After her STPM examination (a national examination for pre-university students), the young Lim Kim Mooi applied for nine jobs, including one to become a police officer, a job that would have pleased her father.
But when she was called for an interview, Lim had to give it a pass. Despite her keenness, she had earlier committed to attending a reunion meeting of her volunteering unit in the Malaysian Red Crescent Society (MRCS) chapter in Parit Buntar, Perak. She went ahead for the meeting as scheduled, skipping the police interview in the process.
She later received a call from the prison department for an interview. During that session, one of the panelists asked what she would do if an inmate hit her. Lim thought hard about it but realized that without any context, there was no fair way to answer the question.
Taking a chance, the young Lim told the panel, "I cannot answer you right now because I do not know why and how this person hit me. Wait until someone hits me, then I will know what I'll do." Lim's thoughtful answer must have impressed her interviewers because she was later offered the job. And she hasn't looked back since.
In the past 28 years, Lim has worked at the prison headquarters and different penitentiaries across the country – from Kajang, to Kota Kinabalu, Teluk Mas and then back to Kajang, rising through the ranks and beating the odds to make it to the top. She is now the director of the Kajang Women's Prison, overseeing some 1,400 detainees and managing a prison staff of over 400 personnel.
From getting a job to finding passion in life
When Lim first landed the prison officer role, it was just a job that would pay the bills.
But when she was assigned to oversee death row inmates at the Kajang Women's Prison, her very first posting, she very quickly had a change of heart.
There were 12 death row inmates under her watch at the time.
During her daily rounds, Lim would interact with some of the inmates and observe their daily habits. She found herself particularly taken by how often she would find them in deep prayer.
They would pray the moment they woke up, then after breakfast, again in the afternoon and so on. Their religion had little bearing on this practice and the inmates would pray at every opportunity available.
But the most heartbreaking moments were the ones when the families came to visit. During the limited time they would have, both the inmates and their loved ones would inevitably break down into tears. Looking at them used to be hard for Lim, and she and her colleagues shared the pain.
This experience left a strong and lasting imprint on Lim's life. It made her realize how much these inmates, punished with death for certain choices they had made in their past, still cherished life. And it also made her think about God more often.
It was then that Lim saw how meaningful and critical her work really was and the role it played in the wider perspective of valuing human life. She saw the importance of compassion in carrying out her responsibilities and wanted to use it to bring light to the lives of those confined to dark cells and those tasked with watching them.
Enlightened by this realization, Lim fell in love with the job.
Rising through the ranks
Despite her passion, never in her wildest dreams did Lim ever think she would become a prison director one day.
Joining the prison department with an STPM qualification, she thought she would retire as an inspector (middle-level management).
But as Lim had always been (and still is) eager to pick up new knowledge and skills, she managed to complete a bachelor's degree with the University of Science Malaysia (USM) via long-distance learning, as well as several other professional courses while gaining new experiences working at different prisons.
Underpinning her grit and determination is her motto to "do your work properly and sincerely". She also feels one must not be too calculative because if you do that, the "one above" would behave similarly.
She credits her superiors, subordinates and also her family for her success, saying it would not have been possible without them. Above all, she thanks God for her achievement!
According to Lim, being a woman never hindered her progress at work. And she never allowed it to. She says she never felt there were stumbling blocks, whether real or perceived, in her rise through the prison ranks. Whatever the challenge, they were quickly eclipsed by honest, hard work.
Lim also never coveted power or position, saying, "Your work will speak for you."
Gender equality at work
As the prison director, Lim often has hundreds of staff members under her management.
When she was at the Henry Gurney School (a rehabilitation centre for juveniles) in Telok Mas, there were around 190 male staff and 50 female staff under her watch. Currently, at Kajang Women's Prison, there are around 400 female staff and 30 male staff.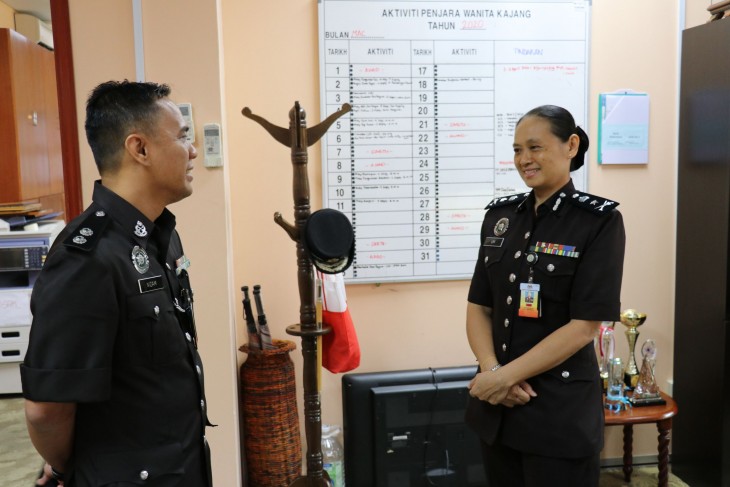 Gender is never an issue that concerns her while managing her team. She judges each person basis her or his skills and experiences, and not the gender they identify with. She also strives to enhance their confidence in their abilities, helping them grow and develop and work their way to the top. Creating a conducive workplace is among one of her main goals as prison director.
For Lim, a manager must make a real effort to respect and listen to their staff. She says her staff are her pillars of support upon whom she can rely, especially when she is new to prison. For example, when she was first assigned to the Henry Gurney School, she relied heavily on her staff for support, learning the intricacies of working in the context of a juvenile school through their experiences.
When Lim worked in the Kota Kinabalu prison, one female staff thought she was incapable of progressing to bigger responsibilities due to lack of academic qualifications, believing she would stay a prison guard for many years. But Lim knew her team member could do more than that, so she transferred her to the registration office. The staff member initially resisted and begged to be sent back, but Lim stood her ground, determined to help her grow in her career.
Eventually, the staff member realized her own capability and is now happily working at the registration office. Two of Lim's team members from Telok Mas have also risen very quickly after she discovered their talent and motivated them to excel.
"I didn't change them, they themselves made those changes possible," Lim insists.
It is evident that Lim's leadership and empowerment of staff have motivated her staff tremendously and they enjoy working with her. One of them came and whispered to us that Lim is "the best boss" he has ever had!
Humanitarian in uniform
Wearing her prison uniform and 'just' by doing her job, Lim exhibits the humanitarian values of respecting human dignity and promoting human welfare.
She works to provide a conducive prison environment for detainees to be reformed and rehabilitated, so they may return to their families and society.
Whenever possible, she speaks to detainees every day to listen to their grouses or just to have a chat with them.
Lim pointed out that when one is being detained, it affects not just him or her but the entire family. And when a released detainee returns to the family, they become whole once again. Although the society is now more open to accepting former convicts, Lim says there is much room for improvement as they remain a highly-stigmatized group.
On her involvement with the Red Cross and Red Crescent Movement, Lim said her volunteering experience with the MRCS when she was young had instilled in her the values of compassion and the willingness to help others, which are among the key motivations in doing her job today.
Since her first interaction with the ICRC in 2011, Lim said it has been a very collaborative engagement for both sides. She appreciates the ICRC greatly as she believes the detention visits have helped improve the prison, especially in areas that she might have missed.
A rewarding profession
Lim strongly encourages anyone with interest in the work she does to take up the mantle like she did, calling it a rewarding job.
"Rewarding, in this life, and after!" she says with a smile. A prison officer sitting next to her nods in agreement. "If you rehabilitate one detainee, give him/her back to the family, you bring joy to so many people associated with that one person. Imagine how much this positivity multiplies with each person rehabilitated," Lim adds.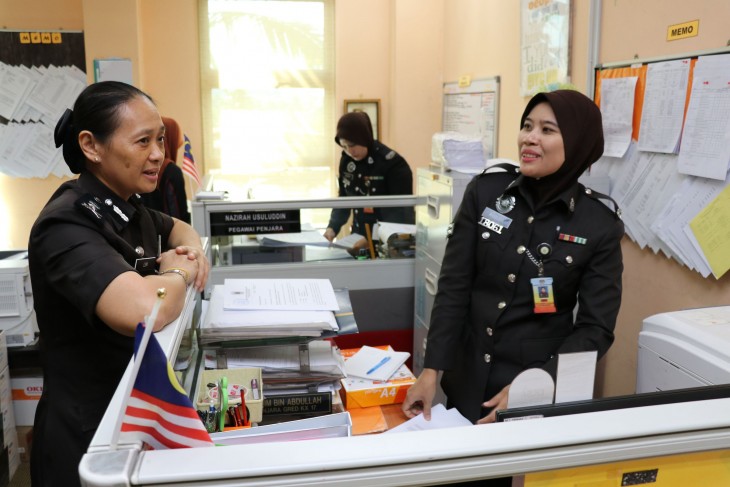 Message on International Women's Day
Lim says whatever job one decides to do, he or she must commit to do it, and most importantly, do it with integrity. She hopes that when she retires, her staff would remember her as someone with integrity and who worked sincerely.
---
The ICRC is a humanitarian organization helping people affected by armed conflict and strife around the world. We strive to secure humane treatment and conditions of detention for all detainees, regardless of the reasons for their arrest and detention.
In Malaysia, the ICRC's regional delegation in Kuala Lumpur supports the Prisons Department, the Immigration Department and the Federal Special Task Force in Sabah to address the needs of people deprived of their liberty.
Through regular visits to immigration detention centres, temporary detention centres and prisons across the country, the ICRC supports the efforts of the authorities towards humane places of detention in line with national and international standards. Efforts include promoting good health and hygiene practices and access to recreational activities for detainees.
The ICRC also supports the authorities in attending regional and international fora on best practices in the management of correctional facilities.