Mexico Annual Report 2019
In 2018, the high levels of violence in Mexico continued to cause suffering and had serious humanitarian consequences. The violence resulted in people being killed (34,202 in 2018, i.e. 23.10 for every 100,000 people), wounded, missing, displaced and leaving the country. The violence also hindered the delivery of basic education and health-care services.
In the spotlight:
By Jordi Raich, head of the regional delegation for Mexico and Central America
By Martienus De Boer, deputy head of the regional delegation for Mexico and Central America
Introduction:
The ICRC is an impartial, neutral and independent organization whose exclusively humanitarian mission is to protect the lives and dignity of victims of armed conflict and other situations of violence and to provide them with assistance. The ICRC also endeavours to prevent suffering and improve respect for people's fundamental rights by promoting and strengthening humanitarian law and universal humanitarian principles.

 

The regional delegation for Mexico and Central America has its headquarters in Mexico City and permanent offices in San Salvador, Tegucigalpa, Guatemala City and Managua.

 

The ICRC began working in Mexico in 1994, after the Zapatista National Liberation Army launched a series of armed attacks against the Mexican government in Chiapas. The ICRC obtained permission to visit those detained in connection with the clashes. In 2002, the Mexican government and the ICRC signed a headquarters agreement and the regional delegation for Mexico and Central America was established.

 

The ICRC works closely with the Mexican Red Cross to address the humanitarian needs of communities affected by violence and of migrants. Specifically, the ICRC mainly focuses its efforts on: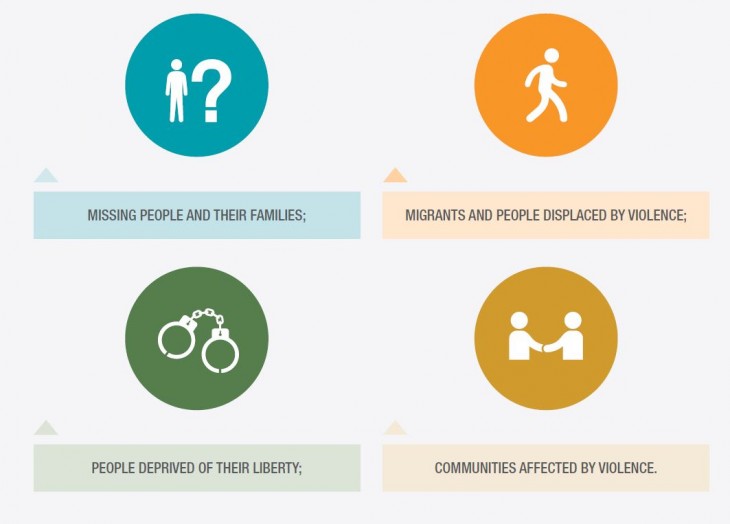 The ICRC also works with the security forces to promote and integrate international norms and standards in their law enforcement operations and raise awareness of various humanitarian issues.
58 schools
participated in programmes run by the Mexican Red Cross and the ICRC.
More than 5.000 pupils and 174 teachers
were targeted by the launch of the Club Mundos (Worlds Club) training programme on humanitarian principles run with the National Electoral Institute.
100 health professionals
participated in three specialized training courses on treating people with wounds from firearms and explosives in Acapulco, Veracruz and Cuauhtemoc (Chihuahua).
100.000 phone calls
were made by migrants using 62 posts operated by migrant shelters and the Mexican Red Cross.
18.500 migrants
benefited from infrastructure improvements in 14 shelters run by charities and supported by the ICRC.
39.000 migrants received leaflets
containing practical advice handed out in Mexico and Central America.
26.000 migrants received
health-related support from the Mexican Red Cross and the ICRC at eight assistance points.
56 amputee migrants
received physical rehabilitation services, artificial limbs and orthotic devices with the support of the Mexican Red Cross.
Almost 800 migrants
were visited in migration holding centres in Iztapalapa, La Ventosa, Mexicali, Saltillo, San Luis Potosi, Tapanatepec and Tijuana.
120 leaders of 65 associations
of families of missing people and 30 experts from civil society and international organizations participated in two national meetings to set the priorities for implementing the Missing Persons Act at the national and state levels.
800 burial recesses for the remains
of unidentified people were built in Guerrero and two ossuaries were built in Guerrero and Puebla.
215 forensic specialists and legal officials
received training in forensic disciplines and the implementation of the Missing Persons Act.
120 interviews were conducted with people deprived of their liberty
during 15 visits to 4 federal detention centres.
3.400 members of the armed forces
including 400 commanders, were trained in the use of force and 63 officials were trained as trainers.
62 members of the federal police
attended courses on human rights and humanitarian principles as applied to policing.
120 people participated in two training courses
on international humanitarian law for civil servants, academics and students.
6.200 volunteers
were trained in risk management and fostering acceptance of the Red Cross.