Myanmar: Picking up pieces and stitching a new life
Maji Kying Nang is among thousands to have been displaced from her home because of the fighting in Kachin. But she has been able to provide for her four children with the tailoring business she set up after receiving a cash grant from the ICRC.
Around 100,000 people remain displaced because of the fighting in the states of Kachin and Northern Shan. In 2015, the ICRC started a cash grant programme for the most vulnerable, in order to develop and stimulate the region's economic growth. Maji Kying Nang, one of the recipients of the cash aid in Kachin's capital Myitkyina, set up a small tailoring business. 
Like thousands of other people, this mother of four was displaced when fighting broke out again in northern Myanmar in June 2011. After fleeing her village Nam San Yang, a three-hour drive from Myitkyina, Maji arrived in the state capital with her children. After a brief stay at a relative's house, she found refuge at Le Kone Bethlehem camp, alongside 200 other people trying to lead their lives post displacement.
As she pushes on the foot pedal of her sewing machine, the 52-year-old widow carefully examines the border of a gawun she is stitching. Soon, this long shirt, which is traditionally worn by the women in Kachin, will join the piles of bright yellow, red and blue that surround her in her little room.
Seeking livelihood opportunities
"One of our main problems is the lack of income," Maji said, adding, "Though we are farmers, we can't work on our farms as they are too far away, and then there is also the risk of landmines. While some men leave the camp to work as day labourers, I am a widow and have to rely on the small business that I have set up." Maji's life before the conflict was already quite tough. Having lost her husband, she had to find a way to survive in her village to feed the children. And that's how she set up her first sewing business.
Once at the camp, Maji decided to continue sewing clothes to earn a living. "In 2015, the ICRC gave me a cash grant of 250,000 kyats (around 200 US dollars), which I used to buy a new sewing machine," she said. Currently, her work station is a little shelter made out of bamboo with a tin roof, where she sews some clothes for both women and children. Her successful business venture has helped her to educate her children.
"We choose the most vulnerable people in the camps, like Maji, and give them cash grants to develop an economic activity," explains Eteri Lotishvili, who is in charge of the ICRC cash grant programme in Kachin. From January to July 2017, more than 481 displaced people in Chipwi, Hpakant and Mai Ja Yang started or resumed business activities, most of them involving raising pigs, selling groceries or making handicrafts, after receiving the monetary support. With such programmes, the ICRC aims not only to provide a more secure future to people affected by the conflict, but also stimulate the local economy.
From struggling to survive to studying Kant
Maji proudly says that three of her children have studied at the University of Myitkyina. While her eldest son studied psychology, the second one did a course in international relations and her third son is pursuing a course in philosophy. Her fourth child, a daughter, is in high school. She says that education has brought brighter prospects for the entire family.
I am relieved because two of my children now have a job.
Her first son has been able to leave the camp and now lives in a town. Though happy to have provided her children with a better future, Maji still hopes that one day they will return to their family home and rice paddy fields.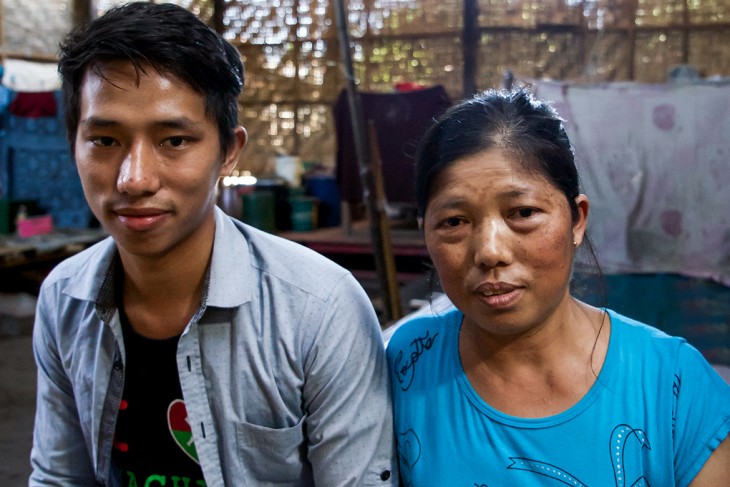 In the meantime, while Maji concentrates on finishing the gawun she is sewing, her third son deepens his understanding of the philosophical studies that are part of his university education. "Kant is my favourite philosopher," he says, as he pores over the books in the study-cum-sewing workshop.
See more on: Myanmar People