Nigeria: Communities rise from ashes in north-east
Thousands fled fighting in late 2014 between the Nigerian army and the armed opposition in Adamawa State, north-east Nigeria. Many homes were burned to the ground. A few months ago people were able to return to their towns and villages, determined to rebuild their houses and their lives.
Adana's story
Betso is a rural town in Adamawa State. Residents recall how the evening of 6 October 2014 changed their lives forever. After a long day in the fields, many farmers made their way home not knowing that the conflict had just reached them. They arrived to gunfire and the sight of their houses in flames. More than 320 houses were burned down and 40,000 people, most of them farmers, fled to neighbouring towns, with thousands crossing the border into Cameroon.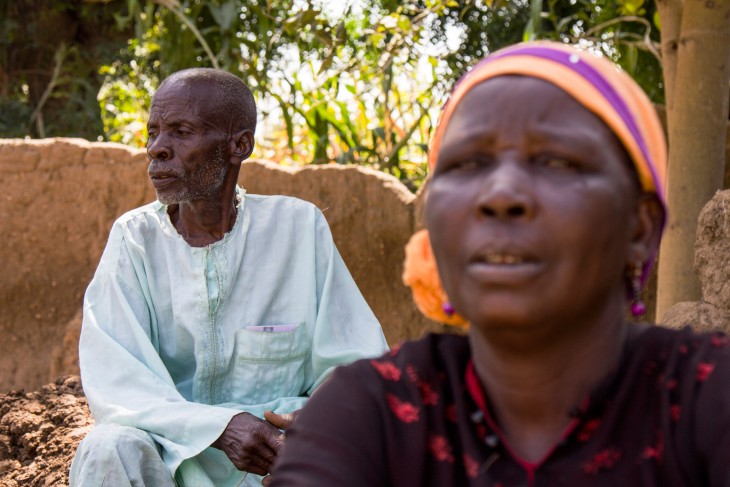 Adana Dilya, a 75-year-old farmer, saw two of his nephews killed and his ginin tabo, a traditional Nigerian house of mud, wood, stone, palm and grass, go up in flames.
"I woke up to the sound of shooting. They spared my life because I'm an old man, but I couldn't find my wife or children so I got on my bike and escaped," says Adana, sitting on the patio of his burnt-out house.
Adana pedalled 46 kilometres before someone found him on the road and put him in a truck to Hong.
"I stayed with my son-in-law in Hong for a few days, but then Hong was attacked and we all had to get out," says Adana.
When Adana returned to Betso on 26 December 2014, he found his wife and 12 children standing in the ashes of what was once their house. They had all been waiting in Cameroon until it was safe to return.
"I was happy that we were still alive but we had no food, no clothes and no money to rebuild our house. And I'm too old to rebuild it myself," Adana explains.
William's story
William Chagwa is a retired teacher from Kwa, a small town near Mubi, one of the areas most affected by the conflict.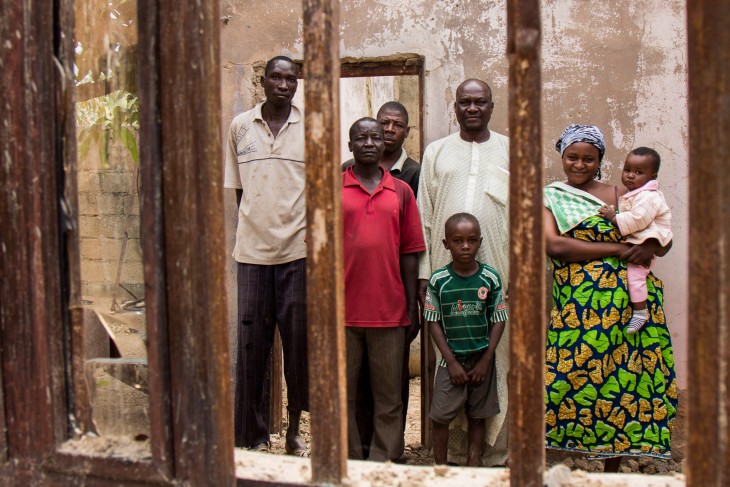 On Thursday 17 December 2014, while William and his family were out in the fields, harvesting, he received a phone call from a neighbour telling him that his house had been burnt down.
"I hid my family in the bush and went home. The harvest, our house and the money for my retirement had all gone up in flames. Kwa was a ghost town," William recalls.
In the middle of the night, William decided to take his wife, eight children and four other dependents to Hong. They trekked over 50 kilometres, climbing mountains on foot, with little food or water. After a few days there, the Chagwa family moved on to Yola, where they stayed with friends.
"After four days in Yola, people started to fear another attack, so we decided to go to Gombi. But when we got to Gombi we realized it wasn't safe there either, so we walked more than 100 kilometres to Taraba State," William tells us.
At the end of February 2015, William heard that the situation in Kwa had calmed down. He and his family wanted to go home and try to rebuild their lives. So William paid 50,000 naira ($ 250) to bring his family and dependents back to Hong.
"The driver didn't dare go into our area because of the terrible attacks he'd heard about. So from Hong we travelled the last 50 kilometres to Kwa on foot. We were exhausted, and all we had to eat during the journey were the raw beans and groundnuts we found on the ground," recalls William.
"When we arrived, I couldn't believe this place was our home. There was nothing standing. All the houses had been burnt down and most of the people in my community were dead. My relatives and one of my friends were gone. I was the only man still alive in Kwa," says William.
The ICRC responded by distributing food, seed and fertilizer to Adana, William and other returnee farmers in the area so they could restart their farms. The ICRC also helped 250 of the most vulnerable households to repair or rebuild their houses, by providing roofing materials, tools, and other building materials like windows and doors.
"Nobody is hungry any more, thanks to the food and seed we've received from the ICRC. The latest harvest was the best we've ever had," says William.
"The ICRC is also helping me rebuild our house. It would have been impossible without them. All my savings and the money I had poured into our house during the 35 years I served as a teacher were lost when the house burned down during the attack. I had nothing left. We had to restart our lives from scratch," explains William, who retired from teaching in 2013.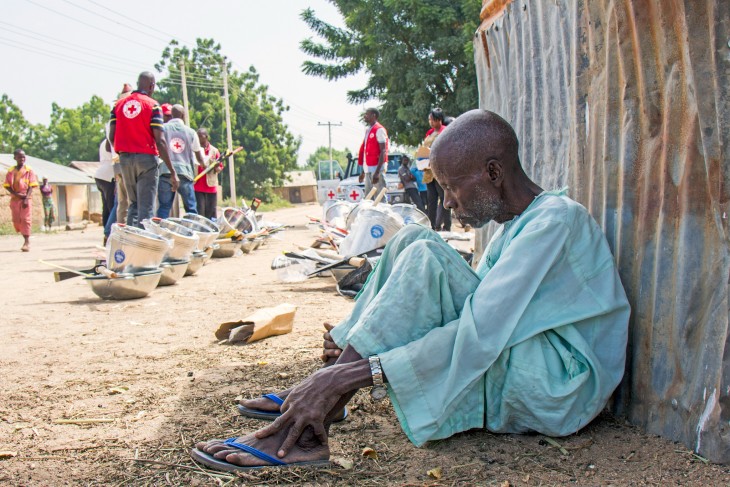 Things are looking up for Adana and his family as well. "Our lives were miserable until the ICRC came to help us rebuild our home. It was difficult to get food and water, and we were sleeping under the stars," says Adana.
Nothing will bring back the dead, and it will take years for the psychological scars to heal in Betso and Kwa. But with help, people like William and Adana are rebuilding their lives from the ashes.