Nigeria: Training first aid teams to strengthen disaster response and management
Emergency First Aid Teams (EFATs) of the Nigerian Red Cross Society (NRCS) are deployed to save lives and assist people affected by disasters such as floods, fires, road traffic accidents, violence during street protests among others. The ICRC supports the EFATs of the National Red Cross Society to be better prepared to assist people when responding to emergencies.
EFATs were originally created by NRCS to provide first aid services during emergencies and have since evolved into first responders during disasters to assist affected people. The ICRC in partnership with the NRCS supports the work of EFATs to strengthen their capacities as first responders.
Mid this month, together with the NRCS, International Federation of the Red Cross and Red Crescent Societies (IFRC) and British Red Cross Society, we trained 44 trainers of trainers on disaster response and management.
"The training was attended by participants from 22 Branches of the Nigerian Red Cross." said Priya Rai, ICRC's representative who organized the training. "Participants came from across the country to learn and share their experiences."
The NRCS Secretary General, Abubakar Kende acknowledged the importance of EFATs as a key instrument of the National Society's emergency response and management mechanism. "This training is a testimony to the continued partnership and support of ICRC and Movement partners to strengthen NRCS response to emergencies." He remarked.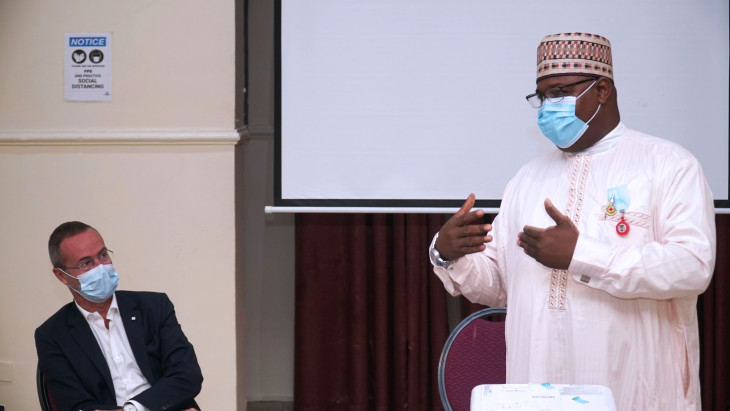 The ICRC's head of delegation in Nigeria, Yann Bonzon reiterated the institution's commitment to continued cooperation with the NRCS. He noted the important role and capacities that the National Society have bestowed upon EFATs in responding to emergencies within communities.
The training stems from the a survey of EFATS in Nigerian Red Cross Branches around the country conducted under the Emergency Preparedness for Response (EPR) project, through partnership between the ICRC, NorCross and the NRCS to address issues identified in the assessment. The development of a standard EFATs Reference Manual and EFATs Standard Operating Procedures (SOPs) were drafted and approved this year, 2021.