Nigeria's missing: "I feel it in my heart that my daughter is still alive"
Words cannot capture the anguish felt by a parent at the disappearance of a child. But Mustapha Garba is trying his best.
He speaks in a soft voice, his wife beside him. The words do not come easily, so it is left to the tears rolling down his cheeks to articulate his grief.
"She was very talkative, went to school, she was a good girl, just a normal child," he said.
The ICRC has registered nearly 23,000* missing people in Nigeria – our highest active caseload for any country worldwide. More than half of those were minors at the time of disappearance.
The volume of missing people speaks to the nature of the conflict in Nigeria and the different ways in which families become separated.
Abductions account for some of the cases. Others may be people detained without their family knowing of their whereabouts.
Combatants can go 'missing in action', while people also get lost in the chaos of fleeing violence – nearly two million people have been displaced within Nigeria by the conflict.
Whatever the cause, the pain of loved ones left searching for answers is always the same.
Never giving up
Mustapha, 53, and his family have been living in one of the sprawling camps dotted around the town of Monguno, in north-east Nigeria, for four years.
The town has seen more than 157,000 people arrive in the last few years in search of refuge from the violence that has plagued this corner of Nigeria for ten years.
"It isn't easy to survive. I am always thinking about her," Mustapha said, "we don't sleep and it affects our health."
It is four years since Mustapha's 14-year-old daughter went missing. But there is a flicker of hope. Word has reached them that she was seen alive in neighbouring Chad four months ago.
Mustapha is using the ICRC's restoring family links service, which seeks to reunite people with their loved ones.
"I'm very hopeful that she can be found, I pray that she will come back," he added.
Hope is what keeps Kaltum Bukar going as well. The 35-year-old cuts a forlorn figure as she recounts her story.
"When we arrived in this camp, we had nothing, no clothes, no food, we had to beg for food, the children would go out and beg," she said.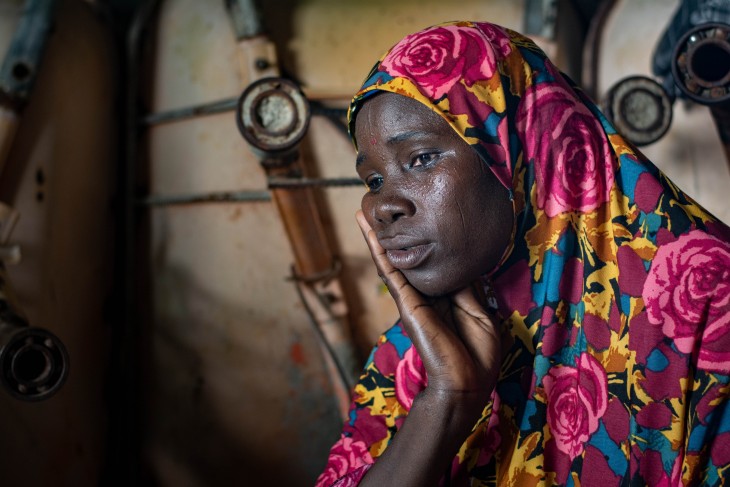 Kaltum fled her village of Kirenowa four years ago along with her husband and four children. The family made the journey to Monguno by foot.
She heard from other camp residents how some people had found missing family members through the Red Cross. Her 14-year-old daughter was last seen eight years ago.
"I can't describe the pain, I hardly sleep. I have lost a lot of weight through stress and desperation," she said.
"But I feel it in my heart that my daughter is still alive, I still have hope."
Conflict perpetuates despair
The plight of 'the missing' in Nigeria was brought into sharp focus when 200 female students were abducted from their school in Chibok five years ago.
The world has since moved on, but thousands of parents never will while they await answers.
Together with the Nigeria Red Cross, the ICRC will continue to do all we can to bring families back together.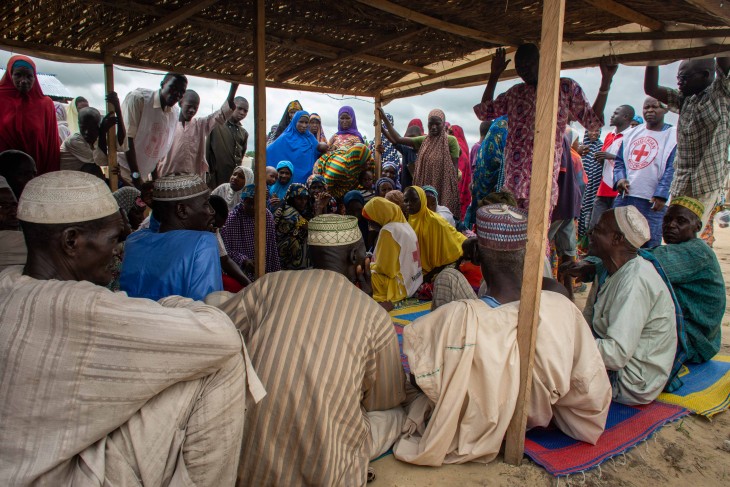 "The really worrying part is that the true number of missing people is likely to be much higher than the cases registered with ICRC," said Markus Dolder, who heads up the ICRC's work in the north-east.
"We face many challenges in trying to reunite families and top of that list is humanitarian access. Large areas remain off-limits due to insecurity. Most of those we seek to find are in places that we do not have access to due to conflict."
Despite the challenges, the ICRC has had some success. In 2018, we helped to reunite 37 families and so far this year we have helped to reunite 44 families.
"The success stories are not abundant, but that does not detract from their individual significance," added Dolder.
"When a family is reunited after years apart, the joy is something to behold. When the fate of a missing person is clarified, there follows a sense of closure."
While the likes of Mustapha and Kaltum remain in the dark, they will continue to shed tears and cling on to hope.
*Figure updated February 2021