Papua New Guinea: Family visit brings hope in East New Britain
The affection Soaka* still had for her son was clear. Stepping from a Correctional Services bus in Kinabot, East New Britain, Rabbie* extended his right hand. Soaka ignored the gesture and went straight in for a motherly hug. Pulling out of the embrace, she dabbed her eyes.
It had been almost a year and a half since she last saw Rabbie, currently a detainee at Kerevat Correctional Institution. Every time they met, through a family visit programme run by the ICRC, it was always the same: hugs, tears and bittersweet feelings.
From Buka, in the Autonomous Region of Bougainville, Soaka was born during the Second World War. Now in her mid-70s and frail, Soaka had seven children, 29 grandchildren and 10 great grandchildren together with her husband John. But John died in 2004, leaving Soaka to raise their children alone. A year later, she experienced the worst nightmare any mother could face: her youngest child, Rabbie, was accused of a serious crime – one that was to earn him a life sentence in prison. He was just 15 years old at the time.
Soaka recalled the moment the sentence was read out. It was a hot and humid day in November 2005. When the court handed down the verdict, she struggled to swallow this new reality. She had to face up to what her son had done, and the fact that he was going to spend the rest of his life in jail.
The days that followed were hard. She endured stigma and gossip. "It wasn't easy on me," she said. "I was accused of not raising my son well." She faced the criticisms silently and prayed daily for Rabbie's safety. Then things got worse. After a year and a half at Bekut Correctional Institution, Rabbie was transferred to Kerevat prison to serve the rest of his sentence. It was a blow for Soaka. Without her husband's support and very little means of making money, she knew it would be a challenge for her to maintain regular trips to Kerevat.
She set to work immediately, gardening and selling produce to raise the necessary funds for the trip. A year after her son was transferred, Soaka managed her first visit. It was heartbreaking to see her son in prison for the first time, and the farewell was tough. She wondered if she would be able to afford another trip.
One day she got a surprise visit from an officer from the ICRC in Arawa. "What would anyone want from an old woman like me?" she wondered as she greeted the officer. The news he brought almost made her knees weak: the ICRC was organising a trip for people from Bougainville who had family members serving time in Kerevat. So in 2013, she and 22 others flew into Tokua. It was her first time on an airplane.
Soaka has since been a regular on the family visit programme, although she has skipped some visits to allow others in the family a chance to also see Rabbie. This June, she took part in a visit in Kinabot, Kokopo.
For the duration of the visit, Soaka and Rabbie spent every moment they could together. The mother never once left the camp site, where tents had been erected by volunteers from the Papua New Guinea Red Cross Society to house the families and detainees. Rabbie would come to the site every morning on the bus. Soaka would pull up a chair and sit close to him as they talked, laughed and shared their meals together. In the evenings, he would return to Kerevat.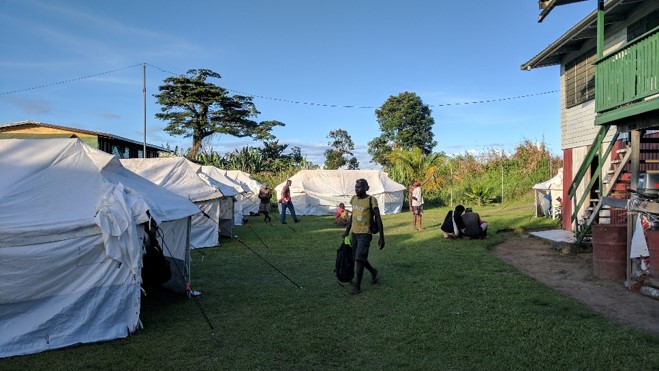 Speaking of the programme, Soaka said: "It's unique and provides us families with a chance to bond with our detained loved ones, despite our situations." It operates on the principle that every human, no matter what they have done, should be treated with dignity.
Soaka loves her son deeply, but she doesn't approve of the act he committed. "He did wrong. The state punished him and he is serving his time. I cannot punish him further by refusing him my motherly love," she said.
*Names have been changed