Papua New Guinea: Rainwater to ease burden on women of Kunu village
Life just got a little easier for the women of one village in Papua New Guinea's Southern Highlands Province.
Collecting water, traditionally the task of women in this part of the world, used to be hard and dangerous work in Kunu, a small settlement of 700 people. It meant a three-hour walk each way, leaving the safety of the village, and risking falling victim to sexual violence.
No longer. The ICRC recently installed a rainwater harvesting system in Kunu and the village now has all the water it needs.  Yapime Yakili – at 65, one of the oldest of Kunu's inhabitants – said that in her time fetching water from the local creeks put women and girls at great risk.
"Today is my happiest moment, seeing my children, grandchildren and great grandchildren fetching clean water in containers right at their doorstep," she said. "I will die happily carrying away the pain and hardship I went through in my days."
The project was funded and constructed by the ICRC with the assistance of local people. It was officially opened and handed over to the village on Wednesday 19 April, 2017 in a small but significant ceremony.
The Seventh Day Adventist (SDA) Pathfinders group staged a welcome march for an ICRC delegation, led by Head of Regional Delegation Fred Grimm, who came from Suva to witness the spectacle. He was accompanied by ICRC Mount Hagen Head of Office Kakhaber Khasaia, village councilor Thomson Yapina and other village leaders and ICRC delegates.
In his welcome remarks, local leader Nelson Rake explained that the system would not only benefit the residents of Kunu but also nearby Rakoma village and six more council wards whose children are attending Kunu Elementary School. Mr Rake said Kunu villagers used to have to travel long distances to fetch clean water to do cooking, drinking and laundry. Most of the work is done by women and children, while fathers attend to other needs, he said.
"We have pregnant mothers walking with loads of bamboo and containers to fetch water. Small children are also used to carry containers of water which is totally not right," he said.
"We have mothers who delivered babies on their way back from fetching water and the distance is about two kilometers from the village to the nearby water creek," he added.
He said the villagers of Kunu, especially mothers and girls, were over the moon.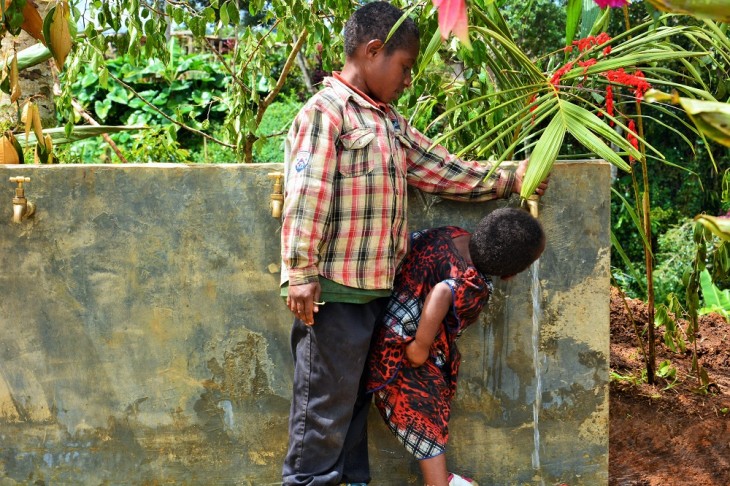 Ward Councilor Thompson Yapina said that having access to clean water would help reduce water-borne diseases, violence and other problems faced by mothers and children.
The project started on 3 January and was completed on time, with 14 tanks of 9,000-litre capacity installed and taps dispensing clean water at points throughout the village.