Philippines: Improving lives in conflict-affected communities
In parts of Luzon and the Visayas, communities suffer from the effects of a protracted armed conflict between government security forces and the New People's Army. Often living in remote and far-flung areas, these communities also struggle with poverty, making everyday life a challenge for them.
"Economic growth is often stunted in these communities, which also suffer from the insecurity caused by sporadic clashes. Because of this, they have limited access to income opportunities and, at times, basic services too," said Oualid Bech, head of the ICRC sub-delegation in Luzon and the Visayas.
As support to people suffering from the chronic effects of conflict and poverty, the ICRC carries out programs that aim to help the most vulnerable barangays (villages) and communities stand on their own feet and become more resilient.
These programs employ a participatory approach wherein the beneficiaries identify their own needs. A series of consultations and discussions with the ICRC is therefore held to determine what kind projects are suitable, and how to effectively implement and sustain them.
All projects are monitored and evaluated through field visits by ICRC staff with the support of volunteers from the Philippine Red Cross, the ICRC's primary partner in the country.
Creating opportunities
In the mountainous area of Guihulngan in Negros Oriental province, corn is the staple food and main source of livelihood of the communities. The farmers, however, had to travel to a distant town to have their corn milled, spending considerable effort and money.
The farming community identified this as a challenge, and when the ICRC stepped in to support, they proposed building a corn-milling facility. In March, the corn mill began operating, and it has already benefited farmers from seven barangays and improved the quality of milling.
It has also opened up business and employment opportunities, as the local association earns from every milling session and uses the income to employ people to maintain the corn mill. The association has earned over PHP 65,000 since March 2015. The project has also encouraged small farmers to utilize portions of their lots for corn farming.
"When we heard that a corn mill would be built in our barangay, we (residents) were very happy. Manual grinding is insufficient and cannot accommodate us all. It also takes more than an hour to manually grind 2.5 kg of corn, while machine-operated milling takes only 15 minutes," recalled Segondo Cañafuego, a 53-year-old farmer and resident of Barangay Planas in Guihulngan.
He added: "I am now planning to cover my farmland with corn because of the machine-operated mill here."
Meanwhile in Negros Occidental, also in the Western Visayas, rice farming is the primary source of livelihood. In 2015, the ICRC supported local farmers' associations in lowland barangays in Sipalay with hand tractors and rice threshers, which increased the efficiency of rice production. Like the corn mill in Guihulngan, these farm machines provide extra income to their operators and the local association.
For Lope de Vega, a fourth-class municipality in Northern Samar, the devastation of abaca farms by bunchy top virus had a severe impact on farmers' livelihoods. Abaca is considered an important "cash crop" or one that can easily be sold for its fiber. After assessing this need with the community, the ICRC provided virus-resistant seedlings so the residents could earn income from abaca again.
Helping themselves and the community
With the cash-for-work scheme, those identified as most vulnerable due to lack of stable income – such as landless laborers and seasonal farmers – will find temporary means to earn by working on projects that also directly benefit their communities.
Unskilled workers are paid at least PHP 250 a day, while skilled ones receive slightly higher amounts. They usually have the opportunity to work for 10-15 days.
These projects, which are chosen by the communities according to their needs, are not labor-intensive and can thus involve women and the elderly. In the municipalities of Juban and Gubat, Sorsogon, which have interior or upland barangays where access can be difficult, especially during rainy season, projects such as the clearing and/or widening of barangay roads and building concrete pathways to water sources were selected by communities through focus group discussions.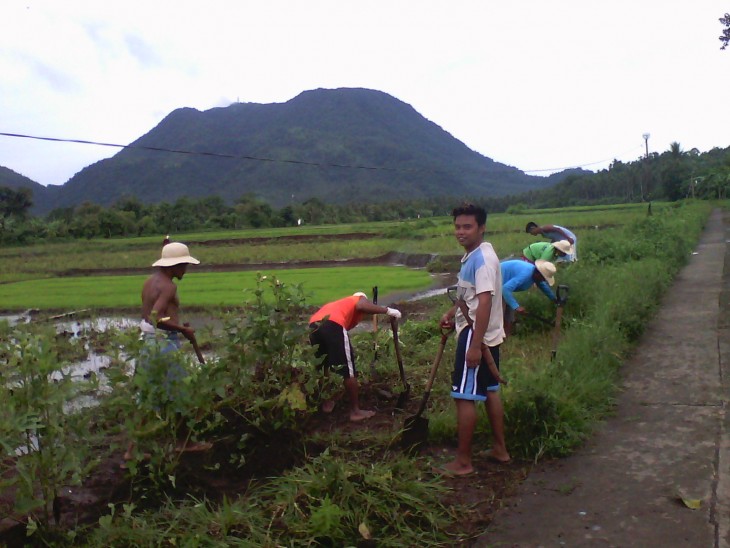 Other projects include vegetable gardens that benefit feeding programs for children, repair of churches, construction of school fences, barangay meeting places, and compost pits. In the majority of these projects, the barangays provide the materials and play key roles in overseeing their implementation.
Though temporary, the cash-for-work program provided income to 616 people in 11 barangays in Juban and Gubat in July and October.
These programs show that, by using an approach that engages the community, its people become more resilient and better equipped to rise to future challenges.
From January to September 2015, the ICRC in Luzon and the Visayas:
distributed various farm tools, planting materials, and equipment to 2,360 families;
provided short-term income to 551 people employed in cash-for-work programs;
provided conditional cash grants to 887 families for their respective livelihood projects; and
conducted various training programs and enhanced the skills of 160 people.
In summary, the ICRC has assisted 20,507 people in seven conflict-affected municipalities through programs to strengthen their resilience.
For further information, please contact:
Allison Lopez, ICRC Manila, tel: 0908 868 6884
Wolde-Gabriel Saugeron, ICRC Manila, tel: 0918 907 2125