Philippines: Moving on in Zamboanga
Zamboanga City, in Western Mindanao, is buzzing with life again, two years after armed fighting disrupted many lives.
Around 120,000 people were displaced by clashes in Zamboanga in September 2013. Thousands of structures, including many houses, were damaged or destroyed, making life extremely difficult for the affected communities.
Though most displaced people have since moved on with their lives, recovery is progressing slowly for about 17,000 of them living in 12 transition sites. Although these sites offer slightly better conditions than evacuation centers, access to clean water, sanitation, and livelihood opportunities remains a concern.
"Civilians unfortunately bear the heaviest consequences of conflict, and the situation in Zamboanga was no exception," said Marcel Goyeneche, head of the ICRC office in Zamboanga. "Thousands of displaced families had lost their homes and jobs. The slow pace of the response and the recovery had us extend our operations several times to a total of 26 months."
After providing assistance in the immediate aftermath of the siege, the ICRC together with the Philippine Red Cross (PRC) extended their support to speed up the recovery of the affected population. Below is a glimpse of how these programs helped the displaced from January to October 2015.
Ensuring clean water and proper sanitation
Due to water-supply issues generally affecting Zamboanga City, the ICRC and the PRC trucked 36,000 liters of water daily to four transition sites from February until August 2015. The ICRC still supports the city government and the Zamboanga Water District in providing water storage to displaced people in Masepla 1, 2, and 3 and in Rio Hondo through the installation of six 10,000-liter stainless steel tanks. Upon the request of city authorities, the ICRC also installed a 10,000-liter bladder in Lupa-lupa.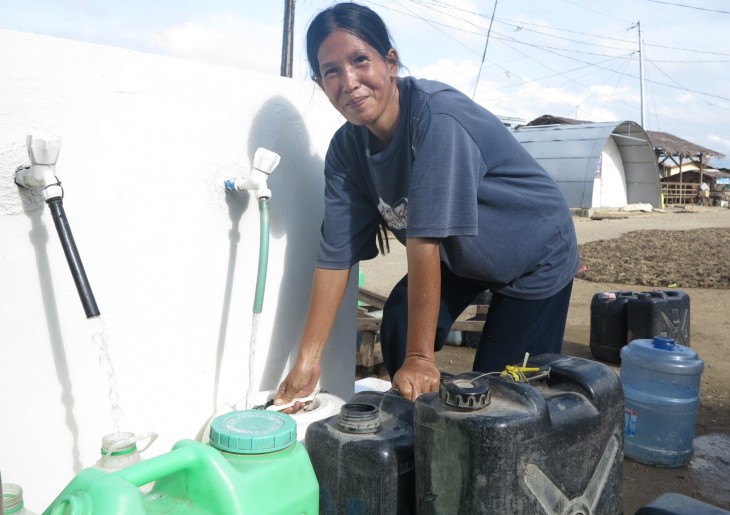 In Taluksangay, the ICRC helped provide a longer-term solution by building a permanent water supply system at the transition site to serve both the displaced and resident populations. Water started flowing in September, and eventually the project was handed over to the community's water association, which was formed to operate and maintain the project. More than 4,000 people, around 900 of whom are displaced, from Purok 4 of Taluksangay now have regular access to clean water.
"We used to struggle every day to find safe drinking water. But now we've seen how the water supply here in Taluksangay normalized," said Jurraiya Abdurajik, 37, who was displaced from Rio Hondo. "Our family now feels protected from waterborne illnesses."
Four hand pumps will also be installed in the Masepla 3 transition site, where around 7,700 displaced people will benefit upon the project's completion in December. In addition, rainwater drainage will improve the road access to Masepla 1.
To improve sanitation, the 102 latrines built in the Joaquin Enriquez stadium and in the Rio Hondo site were regularly emptied until August. Complementary to these projects, informative sessions on the importance of hygiene were held, benefiting 13,300 displaced persons; and around 1,500 hygiene kits were given to children in transitory daycare centers.
Rebuilding livelihoods – and communities
With livelihoods disrupted by the conflict, helping displaced people stand on their own feet was part of the ICRC's efforts. From January to October 2015, cash-for-work activities not only generated income for at least 820 of them but also benefited 14 community projects including desilting of canals and improving drainage systems, beautification and gardening, repairing chapels, mangrove planting, and coastal clean-up.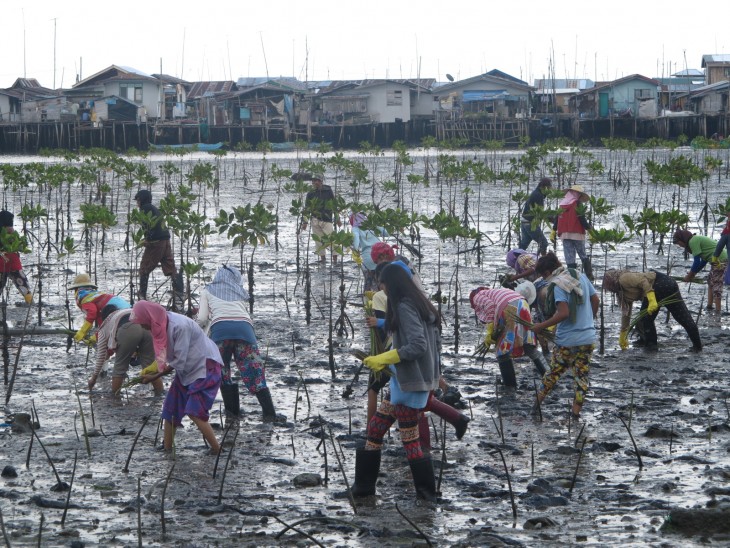 Conditional cash grants, meanwhile, have also helped displaced families to achieve a more sustainable form of livelihood. Some 840 families in seven transition sites received PHP10,000 grants each that were used to restock sari-sari stores, build boats, buy fishing gear and inputs for planting seaweed, procure sewing machines and tricycles, among others.
"I used the cash incentives to start my hairdressing business. Now life has become easier because my income can sustain my daily needs," said Borhan Vivio, 35, of the Kasanyangan transition site.
In Layag Layag, a 50-member cooperative benefited from a cash grant and training to help them plant and commercialize seaweed. This included the construction of a boat and a storage facility to support the members of the cooperative. Two concrete solar stilt driers were also built through cash-for-work – thus providing a facility for the community's use, and providing income for 120 seaweed farmers.
Improving health care and nutrition
Access to health care could also be difficult for those living in transition sites. At the Masepla transition site, where a new health station was built and handed over to the City Health Office (CHO) in April 2015, displaced people no longer have to travel 2 kilometers to the health center in Barangay Mampang to avail of primary health care services.
In addition, to ensure their preparedness for emergencies and other health issues, 40 displaced people from different sites underwent Community-based First Aid Training, also in April, so they could serve as their communities' focal points.
The ICRC also continues to support local authorities and infrastructure in their nutrition and health programs for the displaced.
An example is the feeding program that started in 2014 but has been turned over to the City Health Office as of June 2015 due to the improvement in malnutrition rates. The ICRC provides supplies to the CHO for both severely and moderately malnourished children in transition sites and in barangays with a high number of malnourished children.
An estimated 661 children with moderate to severe malnourishment benefited from this program from January to September 2015.
The Zamboanga City Medical Center has also received support from the ICRC since 2014 in the form of essential medicines for the treatment of displaced and other vulnerable people. This quarterly support will continue in 2016.
Challenges remain
After more than two years, the ICRC will be phasing out its assistance program to the displaced population in Zamboanga by January 2016, as local authorities address the remaining needs.
"Although we are concluding our support to people displaced in 2013, we will pursue a dialogue with authorities to find safe and dignified solutions for the displaced," said Goyeneche. "Their move to permanent shelters must also be addressed quite soon."
The ICRC remains close to the population through its office in Zamboanga, and stands ready to assist in humanitarian emergencies together with the PRC.
The ICRC, which has been visiting people detained in relation to the internal armed conflicts, will carry on its work to ensure the inmates' dignified treatment and that they maintain links with their families. It will also continue promoting awareness of and respect for international humanitarian law among weapon bearers.
For further information, please contact:
Allison Lopez, ICRC Manila, tel: 0908 868 6884
Wolde-Gabriel Saugeron, ICRC Manila, tel: 0918 907 2125