Philippines: New and safer homes for thousands of Haiyan survivors
When Typhoon Haiyan swept through the Philippines in November 2013, it left widespread devastation in its wake. Over a million homes were destroyed.
Together with the Philippine Red Cross, the ICRC has built nearly 4,500 storm-resilient houses for vulnerable families on Samar Island. Each house is equipped with its own sanitation facilities.
The methodology and processes behind the construction of the homes is detailed in the new report: Typhoon Haiyan shelter response in the Philippines.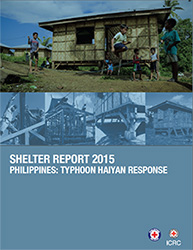 The report also includes:
An overview of lessons learnt from previous experience (Typhoon Bopha, December 2012)

The development of best practices during implementation

A selection of external and internal designs, and details on the maintenance of these types of homes

The timing of this report follows the completion of the storm-resilient houses and the sanitation requirements, finished in mid 2015.