Philippines: Supporting displaced families in central Mindanao
Manila (ICRC) – Around 4,000 families displaced by the recent fighting between armed groups in central Mindanao are being assisted by the International Committee of the Red Cross (ICRC) and the Philippine Red Cross (PRC).
It is almost a month since people in the affected communities started to flee from their homes. Some have sought shelter in temporary evacuation centres, while others have been staying with relatives, in Pikit, North Cotabato, or in Pagalungan, Maguindanao.
"We left our homes because we feared for our lives. The fighting was less than a kilometre away from where we lived. The evacuation centre was already crowded, so my family and I had to sleep on the ground under a tree. We left all our belongings at home," says 48-year-old Muhammad Impus from Barangay Kalbugan in Pagalungan.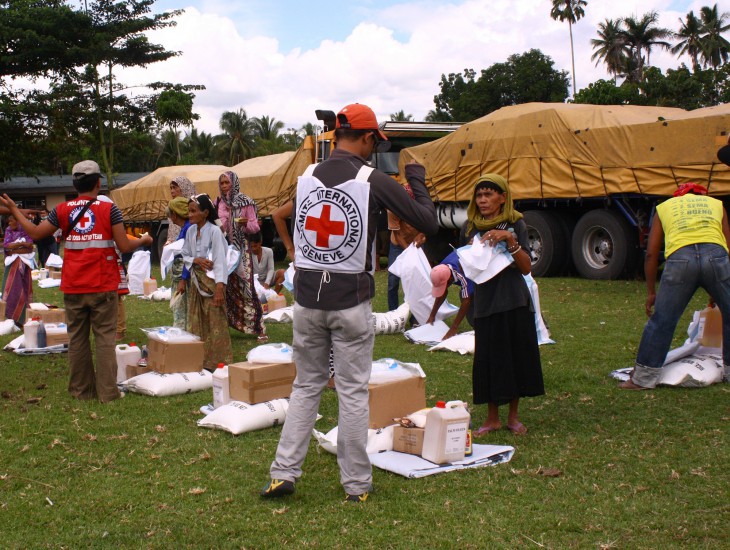 On 25 and 26 February, the ICRC and the PRC distributed two weeks' worth of food rations, along with hygiene kits, tarpaulins and jerry cans, to 1,696 families, or around 8,000 people, in Pagalungan.
"This will supplement the assistance being provided by the authorities. We will make a similar delivery of relief items to 2,275 displaced families in Pikit," explains Maria Carmen Echezarreta Inurritegui, head of the ICRC office in Cotabato.
Every day, as from today, the ICRC will truck 28,000 litres of clean drinking water provided by the Pikit Water District to two evacuation centres in Pagalungan.
As it is important that health facilities in areas affected by armed violence are able to treat wounded people, the ICRC provides regular support for five hospitals in Mindanao. In central Mindanao they are the Cotabato Provincial Hospital and the Dr. Amado Diaz Provincial Hospital, both in North Cotabato, and the Maguindanao Provincial Hospital.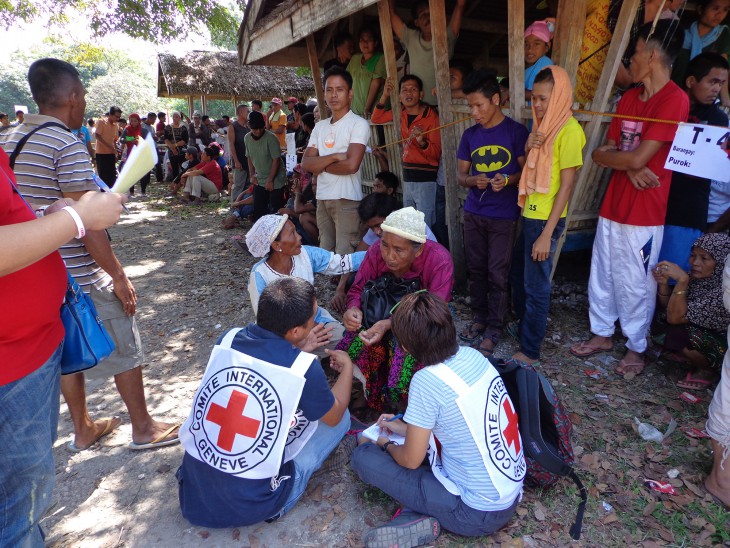 The ICRC will continue to closely monitor the humanitarian situation in the provinces of North Cotabato and Maguindanao and, together with the PRC, it remains committed to assisting vulnerable people in need of support.
The ICRC is a neutral, impartial and independent humanitarian organization, whose mandate is to protect and assist victims of armed conflict and other situations of violence. In Mindanao, it has offices in the cities of Davao, Zamboanga, Cotabato and Bislig.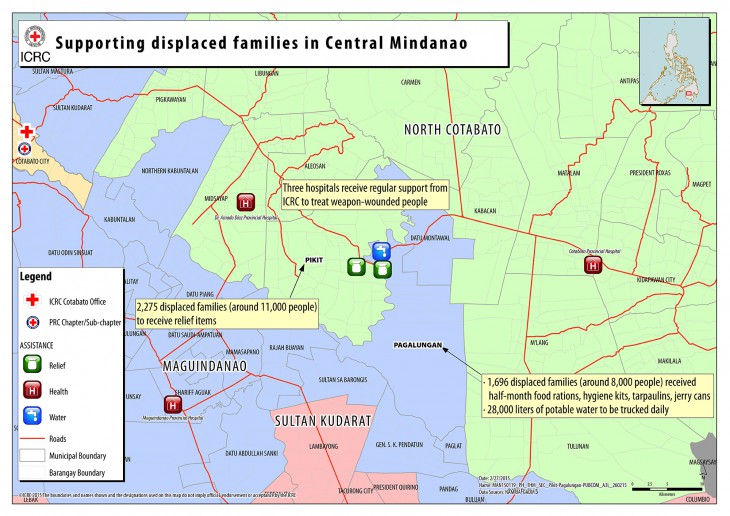 For further information, please contact:
Allison Lopez, ICRC Manila, tel: +63 908 868 6884
Wolde-Gabriel Saugeron, ICRC Manila, tel: +63 918 907 2125