Philippines: Typhoon Haiyan survivors back in business
One year after Super Typhoon Haiyan ripped through the Philippines, hundreds of thousands of people whose livelihoods were devastated are returning to work with the support of the International Red Cross and Red Crescent Movement.
Almost 30,000 households have so far received cash grants enabling them to earn a living again as part of the Philippine Red Cross's three-year 360-million-dollar recovery plan for 500,000 people on Leyte, Samar, Cebu, Panay and Palawan islands.
Initial data show that farming, rearing livestock and setting up local convenience shops are the top three income-generators for those who have received Red Cross support. Pigs, goats, chickens and stock for convenience or "sari-sari" stores are among the most popular items being bought by Haiyan survivors with the grants they receive.
"Kick-starting livelihoods is key to the long-term recovery of disaster-hit communities. We have made this – and housing – a priority," said Richard Gordon, chairman of the Philippine Red Cross. "One year after Haiyan robbed so many families of their income, we are seeing people resume their work and others even setting up new businesses."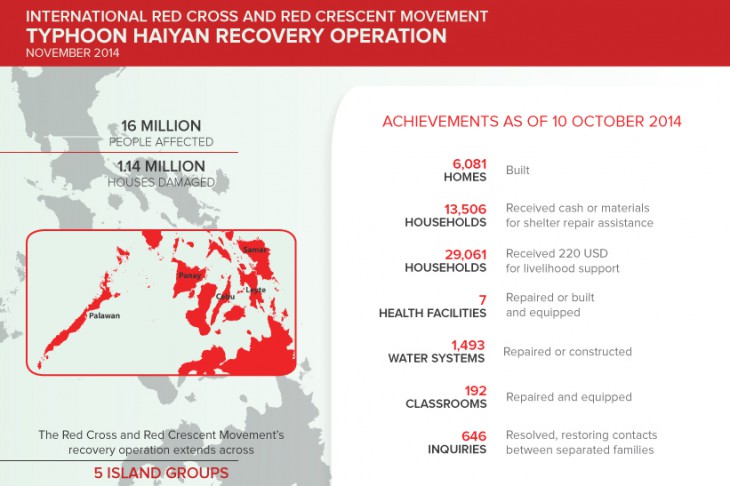 International Red Cross and Red Crescent Movement: Typhoon Haiyan recovery operation
Six million workers saw their means of earning a living either destroyed or seriously impaired by the disaster – and close to half of these people were already struggling, with incomes at or below the poverty level before the typhoon struck.
Father-of-three and rice farmer Jessie Lape Jr, from Luca in Ajuy, Panay, said: "The typhoon wiped out our crops and we had nothing to harvest – it was a desperate time. But the support we received has changed everything. I suddenly had the money to buy seed and repair tools, and now I have crop insurance. I can sleep easier knowing we'll be in a better position when the next typhoon hits."
Vocational training in sustainable farming techniques, hog rearing, bookkeeping and arithmetic, and advice on how to diversify and grow businesses are also part of the Red Cross support package.
More than 1.3 million people received emergency relief in the immediate aftermath of the disaster. One year on, the Red Cross's long-term recovery plan is targeting some of the neediest typhoon survivors.
Building safer shelters and providing community training in construction practices are a central part of the plan, which places resilience and risk-reduction at its heart. Courses for masons and carpenters are being held and more than 6,500 fishermen have received cash to buy boats or repair their damaged vessels.
Over 6,000 houses have already been rebuilt and within the next 15 months 40,000 families will have received safer homes. Nearly 200 school classrooms have been repaired or rebuilt so far and rural health facilities are also being restored.
"Recovery is well under way, but there are still humanitarian needs on the ground," said Gwendolyn Pang, secretary-general of the Philippine Red Cross. "We are working across 400 communities (barangays) to ensure people get the support they need to rebuild their lives."
Since Haiyan devastated the region, the Philippine Red Cross together with the International Federation of Red Cross and Red Crescent Societies and the International Committee of the Red Cross have been supporting hundreds of communities. Red Cross and Red Crescent national societies from around the world are also working across the country as part of the typhoon recovery effort.
Video, b-roll, photo galleries, case studies and more details on the Philippine Red Cross recovery programme.
Spokespeople are also available for interview.
Further information
In the Philippines:
Robert Gonzaga, communications manager, Philippines Red Cross, t

el: +63 909 687 8872,

rigonzaga@gmail.com

Kate Marshall, communications delegate, International Federation of Red Cross and Red Crescent Societies, t

el: +63 998 960 6287 or +63 928 904 7115, 

kate.marshall@ifrc.org, Twitter: @kateamarshall
In Geneva:
Benoit Matsha-Carpentier, Senior Communications Officer, 

International Federation of Red Cross and Red Crescent Societies, m

obile: +41 79 213 24 13, 

benoit.carpentier@ifrc.org

Ewan Watson, public relations officer, ICRC, t

el: +41 22 730 33 45, mobile +41 79 244 64 70, 

ewatson@icrc.org, Twitter: @EWatsonICRC