Tanzania: Taking physical rehabilitation a step further
Emmanuel Patuka stands upright with his left leg elevated by a low stool in the gait training room, at the Comprehensive Community Based Rehabilitation Hospital (CCBRT) in Dar es Salaam, Tanzania.
He uses his hands to hold on to a rail for balance. The act of placing one leg on a stool, is called weight transferring. This is an important process in physical rehabilitation and is used to assess a person's comfort and ability to use the prosthetic leg.
Mussa George sits on a chair in between a 5-meter long metallic railing as he waits for his prosthetic leg. A friend sits beside him. Moments later, he receives his prosthetic leg, already fitted with black and white sneakers, from a prosthetist/orthotist specialist, Ruth Onesmo.
"I like wearing sneakers during physiotherapy because they are comfortable for walking," Mussa explains.
Mussa whose leg was amputated after a cancerous illness, has been undergoing physical rehabilitation for three weeks. He gently applies some powder and wraps an elastic bandage on his residual limb in preparation to fit the prosthetic leg.
He treads slowly supporting himself on the rails until the end of the track and back. He is expected to continue with this process until he is able to walk unsupported with his prosthetic leg.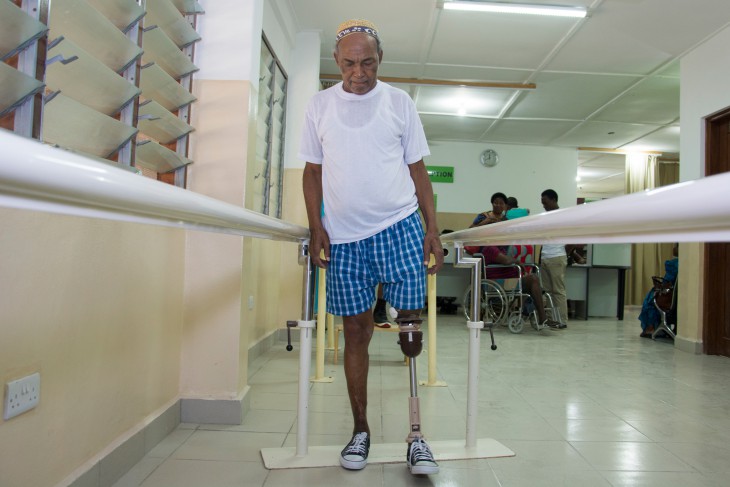 Mussa and Patuka, are some of the beneficiaries of the services provided by CCBRT whose prosthetics and orthotics unit is supported by the ICRC Special Fund for the Disabled (SFD). In Tanzania, SFD and CCBRT hospital partnership has impacted the lives of many people in the country since 2009. The partnership has supported CCBRT to develop a comprehensive department that includes the prosthetics and orthotics unit together with the physiotherapist and occupational therapist units that today offer a range of physical rehabilitation services. It also has a specific treatment hall, referred to as the Banda, which is dedicated to rehabilitation of children affected by Cerebral Palsy.
The ICRC Special Fund for the Disabled focuses on reducing barriers and challenges faced by persons with disabilities by strengthening national capacities, improving accessibility to physical rehabilitation services and training of orthopaedic technicians, physiotherapists as well as rehabilitation centers' managers. By providing sustainable, affordable, quality physical rehabilitation services for people with disabilities, the SFD is transforming the lives of tens of thousands of people and their families in developing countries.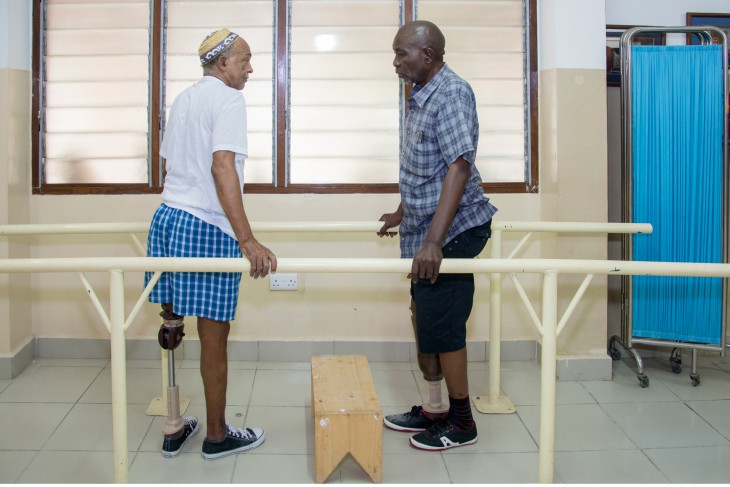 Globally, in 2015, physical rehabilitation services were provided to some 51,000 people with disabilities, including mine incident survivors. Twenty-six physical rehabilitation service providers and five professional schools continue to receive support from the SFD ortho-prosthetists and physiotherapists in 14 countries around the world, including Tanzania.
The Special Fund for the Disabled was initially set up by the ICRC in 1983 to ensure the continuity of projects of ICRC's Physical Rehabilitation Programme. In 2001, SFD became an independent organisation under Swiss law, therefore SFD activities are not included in the ICRC budget. They are funded independently through the SFD appeal.
For more information, visit ICRC Special Fund for the Disabled.