Preventing Civilian Harm in Partnered Military Operations: A Commander's Handbook
Parties to armed conflict rarely fight alone. We've seen this across the globe – the Philippines, Afghanistan, Yemen, the Caucasus, across Africa, and elsewhere. Whenever a partnership is formed, there is the potential to either lessen conflict-related damage and suffering or worsen it
The International Committee of the Red Cross (ICRC) wrote a handbook for military commanders and staffs to help them plan and conduct operations with partner forces in ways that prevent or reduce civilian harm and suffering.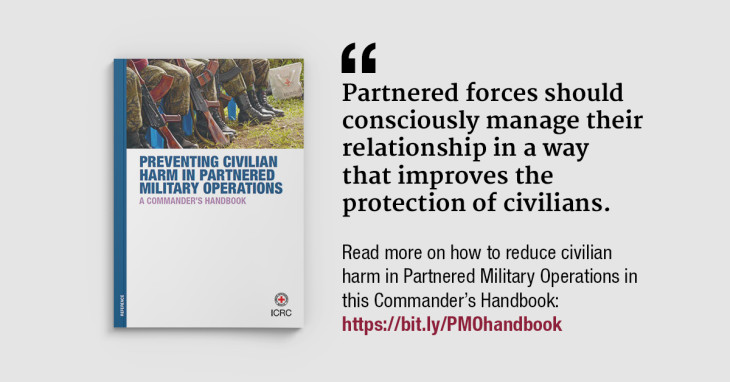 A Partnered Military Operation (PMO) is established for the purpose of achieving a specific military aim during conflict. It can exist between state armed forces or between a state armed force and a non-state armed group. PMOs take various forms, such as training or equipping partner forces, providing battlefield support, furnishing a partner with intelligence or logistic support, or even contributing to a partner's capture and detention-related activities.
Partnered forces can consciously manage their relationship in a way that prevents or reduces risks to civilians. The PMO commander's handbook is a tool to help partners do just that – to reduce the adverse humanitarian effects of PMOs on civilian populations.
It offers considerations, suggestions and guiding questions to assist commanders and staffs to better understand the humanitarian implications of conflict.


It provides a framework to help staffs focus on potential humanitarian implications of a PMO, beginning with initial preparations through facilitating civilian protection after a PMO ends.


It presents proactive measures to:
- foster law of armed conflict compliance by partners;
- identify and mitigate potential risks to civilians
- positively influence partner behaviour;
- and stimulate awareness in partners' and own force's approaches that can potentially harm civilians.


 It encourages policy advisers and commanders to view civilian harm more broadly and recognize the harmful effects on a population resulting from critical infrastructure damage that can disrupt essential services and jeopardize health, safety, and well-being.


In April 2021, the ICRC published Allies, Partners and Proxies: Managing Relationships in Armed Conflict to Reduce the Human Cost of War. The PMO Commander's Handbook operationalizes concepts presented in Allies, Partners and Proxies and encourages further development of processes and practices that prevent and reduce harm to civilians during PMOs.
The timing of the handbook's release coincides with a Partnered Military Workshop in Nairobi, Kenya 28 – 31 March 2022 in which senior officers from 30 countries and international organizations participated.
Further resources: