Republic of Korea: Fostering international humanitarian law experts in East Asia
13 Southeast and Northeast Asian countries gathered in Seoul, Republic of Korea, for the 'Tenth Southeast and Northeast Asia Session on International Humanitarian Law (IHL)', an intensive training course on IHL. The event, held from 17 to 21 August, was jointly organized by the ICRC and Korea University School of Law.
The Southeast and Northeast Asia Session on IHL (SNAS) brought together over 50 participants, such as military and police officers, law professors, diplomats and humanitarian workers. Countries represented included Cambodia, China, Indonesia, Japan, Republic of Korea, Lao PDR, Malaysia, Mongolia, Myanmar, Philippines, Timor-Leste and Vietnam – joined by Red Cross and Red Crescent Societies from Mainland China, Japan, Myanmar, Republic of Korea and Taiwan.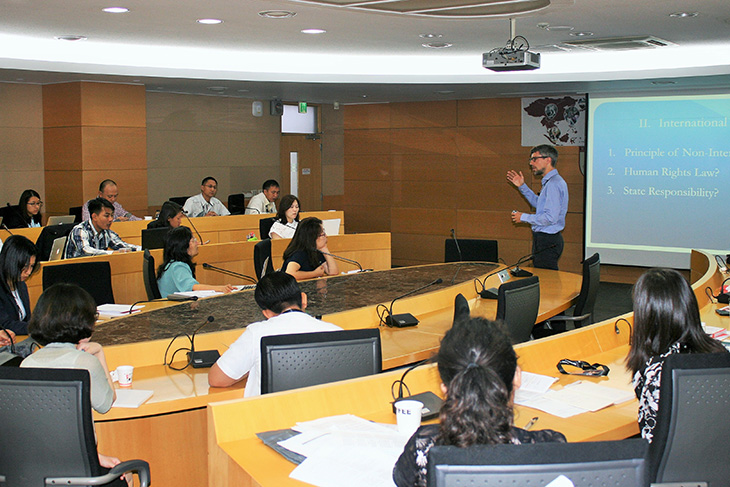 The event is an annual seminar which aims to enhance the participants' knowledge of law applicable in armed conflict and other situations of violence, through a series of lectures, discussion sessions, and sharing real-life IHL cases. The seminar is designed for those who teach international law and policy, or work in related fields and deal with humanitarian issues.
"I am very proud that SNAS has been organized in Korea for the first time," said Gianni Volpin, ICRC Representative in the Republic of Korea. "We have found a fertile environment for promoting humanitarian law, policy and action, and Korea University is a very good partner. With the evolving nature of armed conflict and the challenges of providing principled humanitarian assistance, we need to multiply our efforts to ensure that the rules are known and respected. SNAS provides a great opportunity for the representatives of Southeast and Northeast Asia to keep abreast of IHL and its development."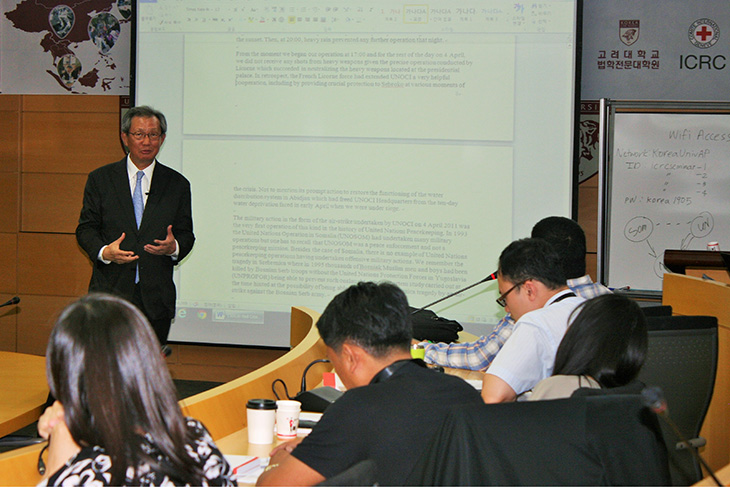 This year, specialists in international humanitarian law from the ICRC, and law professors from China, Japan, Republic of Korea, Philippines and Singapore gave lectures on a variety of subjects, such as the protection of civilians and detainees in armed conflict situations, preventing violence against health care and more.
"The session has created a venue to discuss the latest developments in the field from a regional perspective" explained Richard Desgagné, ICRC Regional legal adviser for East Asia.
Lt. Harold Cabunoc, Chief of the Public Affairs Office of the Armed Forces of the Philippines, who participated in the event remarked, "The use of actual scenarios from past and present armed conflicts has given the participants more insights on how IHL must be applied in different situations or environments."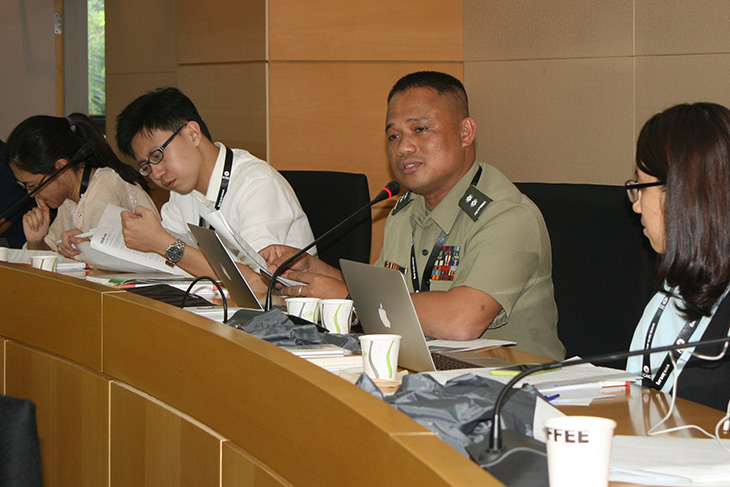 Also, Dr. Pham Lan Dung, Dean of the Diplomatic Academy of Vietnam, commented, "Even though I teach international law myself, I was able to learn from the practitioners and professors, not only from their expertise in the field but also their teaching methods." On a similar note, Lt. Col. Xaysomphou Sivanh, Deputy Director of the Treaty and Law Division at the Ministry of National Defence of Lao PDR, said, "I am glad that I have much to take back from the SNAS - to be abl to utilize the principles and cases covered during the lectures in organizing IHL workshops for army officers in Lao PDR."
Dr. Liu Huawen, Senior Researcher at the Institute of International Law of the Chinese Academy of Social Sciences, emphasized that the event is a great opportunity for exchanges. "It was great that participants from neighbouring countries in Southeast and Northeast Asia, with such diverse backgrounds, could come together to learn, interact, and share ideas and experiences on IHL," Dr. Liu Huawen added.
Finally, Ms. Vandanet Hing, a Researcher at the Royal University of Law and Economics of Cambodia, stated, "What is armed conflict? How do we make such a classification? When and where does IHL and/or Human Rights Law apply? These simple questions have become more complicated to address in the complex world we live in today, and I do support and appreciate the ICRC's efforts to make these issues clearer."