Republic of Korea: Workshop on humanitarian law protecting journalists
Journalists from leading media houses and communication colleagues from humanitarian organizations in the Republic of Korea came together for a workshop organized by the International Committee of the Red Cross (ICRC) entitled "International Humanitarian Law and Protection of Journalists". The first-of-its-kind workshop was held on 1 November, in Seoul, and was attended by 10 participants.
The workshop focused on understanding humanitarian law, which is meant to limit the devastating effects of armed conflict and other violence, and its scope in protecting journalists working in the midst of hostilities. "Media professionals reporting on armed conflicts or other situations of violence continue to pay a steep price for the risks associated with their work. Yet, by highlighting or reporting on conflicts and voicing victims' concerns, journalists can contribute to shaping the opinions of the general public and decision-makers on the humanitarian consequences of armed conflicts," said Georgios Georgantas, the head of the ICRC mission in Seoul.
Laying out the context, he stressed the role that the ICRC can play as a neutral, independent and impartial humanitarian organization that has over 150 years of experience in assisting and protecting people caught in conflict. The workshop was an opportunity to train journalists to protect themselves better while reporting in hostile environments.
Although journalists reporting from conflict zones are inevitably exposed to dangers, the greatest threat they face is deliberate acts of violence against them with many being attacked and even killed while on duty. To effectively help journalists on potentially-dangerous assignments, the ICRC has set up a hotline (+41 79 217 32 85) to extend help in case media professionals are arrested, detained, reported missing, wounded or killed.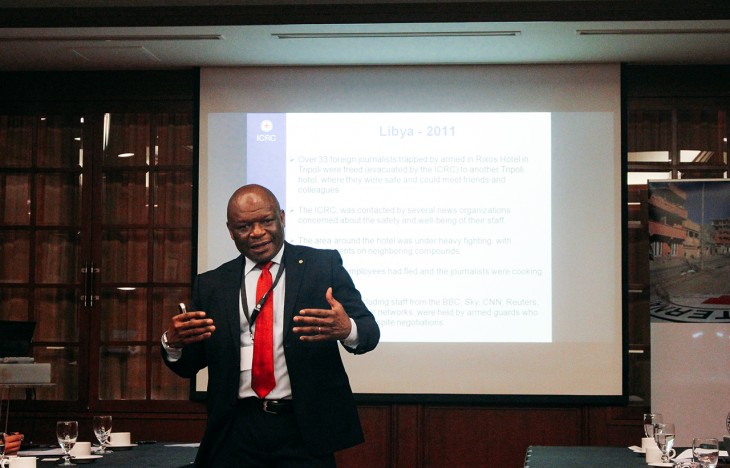 Valery Mbaoh Nana, the head of communication of the ICRC regional delegation in Beijing, explained how the hotline works and shared instances when it had helped such as in Tripoli, Libya, where journalists were evacuated from Rixos Hotel in an ICRC vehicle on 24 August 2011.
A journalist from national daily JoongAng Ilbo, Intaek Chae, also shared his experience of following the ICRC teams to cover humanitarian activities at Cox's Bazar, Bangladesh, where people who have fled violence in Myanmar are seeking refuge. He talked about the role that the ICRC plays in the region and stressed the importance of building good relationships between journalists, the ICRC staff and other humanitarian organizations.
The ICRC mission in Korea has been working since 2015 to promote international humanitarian law and foster support for ICRC activities in the region.