Roots of Restraint: The rules of war and how to influence behaviour in conflict
More armed groups have emerged in the last seven years than in the previous 70. So how do you influence them to respect the rules of war?
This was the subject of discussion at the Royal United Services Institute (RUSI) on Monday night as the ICRC presented its new report 'The Roots of Restraint in War'.
The report, which is the culmination of two years of research, seeks to better understand the changing battlefield dynamics.
It provides new evidence that talking to armed groups can produce positive results for civilians and humanitarians.
We're heading to @RUSI_org later for the #London launch of our 'Roots of Restraint' study.

It's been two years in the making, so what's it about and why is it so important? @Brian_McQuinn explains... https://t.co/rPx2Jc4ugi #IHL pic.twitter.com/dUgTdA1esQ

— ICRC UK & Ireland (@ICRC_uk) June 25, 2018
Complex conflicts
The ICRC seeks to speak to all sides involved in war to secure access for humanitarian assistance and to ensure respect for the rules of war.
However, the increasing number of decentralized groups on the battlefield – often connected through shifting alliances – makes talking to and influencing all sides more difficult, but not impossible.
Speaking at the event, Dr Fiona Terry, one of the report's authors, said: "Let's look at what works: is it the training, is it the law, what makes an impact on restraint?"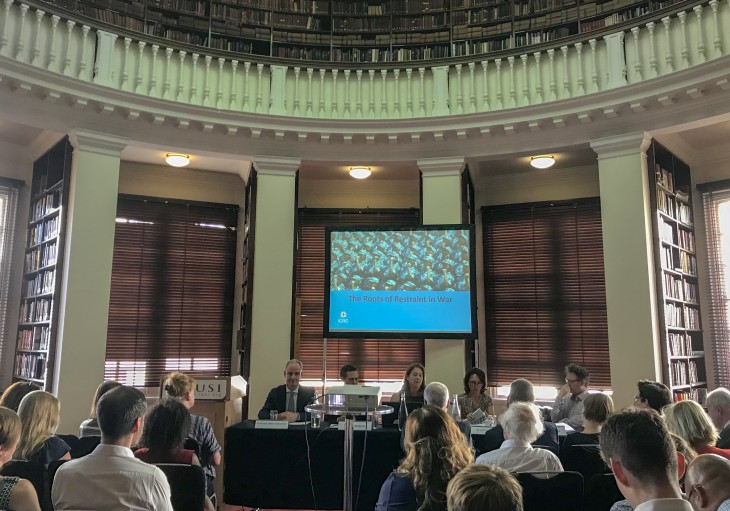 The study finds that in the current changing conflict environment, more influence can be exerted on armed groups by understanding how a culture of restraint is socialized within them.
The panel discussed how business, religious or community groups may be sources of influence for this culture of restraint.
Gilles Carbonnier, the ICRC vice-president, said: "It's extremely useful to focus on what works. To understand examples where a military or armed group has displayed restraint. What are the ingredients?"
Wrestling with the rules
One example presented was from South Sudan, where wrestling competitions form a rite of passage into manhood. During a first-aid training session with a cattle-keeping group, an ICRC staff member asked a couple of young men to explain the rules of a wrestling match.
After they had done so, he sought clarification on who was a legitimate opponent, pointing to an old woman and asking if she could be challenged to a match.
Predictably, derisive laughter followed as the young men responded that women, old men and children were deemed too weak to partake in this noble sport. Parallels were then drawn with protected categories of people under the rules of armed conflict.
"The recognition [in the report] that different military organisations may need different approaches to shape their behaviour is refreshing," added Dr David Whetham, a reader in military ethics in the defence studies department of King's College London.