Somalia: Water, an extra-precious resource during severe drought
Water is precious everywhere, but there are few places on Earth where water is as precious as in Somalia right now.
The Horn of Africa region is fighting a severe drought that threatens thousands of lives. It's a reminder during this year's World Water Day how valuable water is for those without it.
Pastoralist families across Somalia are uprooting their lives and moving in search of water that their animals – goats, sheep and camels - can drink before dying of thirst. Somali families that grow crops using irrigation now stare at dry rivers and empty farmlands.
Though the climatic conditions in Somalia frequently alternate between drought and floods, the current dry spell is as severe as many residents have seen in their lifetime.
Residents have told the International Committee of the Red Cross (ICRC) that hundreds of their livestock have died. Some families have even lost loved ones to extreme thirst. Communities are flocking to any water source they can find.
"Boreholes are pumping water for almost 24 hours a day, especially now during the drought," said Fernando Resta, the ICRC's water and habitat coordinator. "There is an overcrowding of livestock and humans around boreholes as these are the only water sources available'.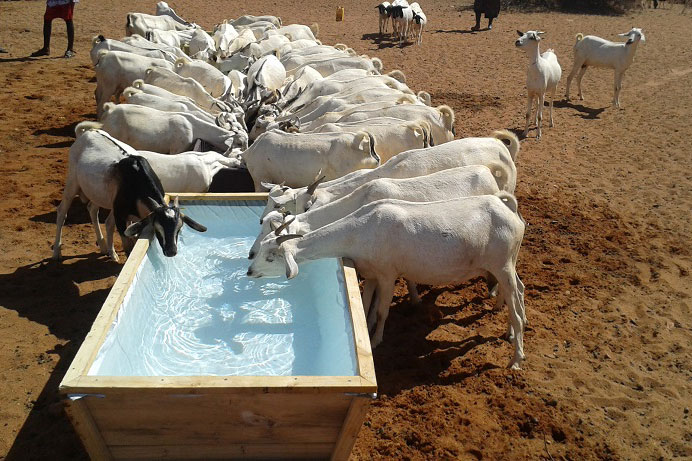 To assist families in need, the ICRC is providing temporary animal troughs and onion tanks – flexible, open-top storage tanks -- to increase the capacity of communities to store water.
The tanks can hold 5,000 litres of water pumped from a borehole. This ensures that there is more water for animals to drink. In Matabaan town, five such tanks have already been installed.
Residents are also flocking to dry river beds to dig for water, a traditional coping mechanism that is used during the dry season. The ICRC assisted the community on the outskirts of Garowe by building subsurface dams to avoid losing underground water from the river beds. These dams have been in place for seven years and still contain water to this day.
The ICRC's emergency drought response has reached 500,000 persons. They have been assisted with either food or cash, house hold items among them blankets and mosquito nets, and chlorine tablets to purify water. Medical supplies to the ICRC supported health structures have been increased.