South Sudan: Airdropping food into marshes
The ICRC is currently airdropping and distributing food rations in Toch, South Sudan, a remote area in Jonglei state – accessible only by boat or aircraft – where 1,500 of the 3,500 families registered by the ICRC for assistance are displaced.
Over the last year, the small village of Toch has seen its population triple as thousands of people have moved to this swampy area in the northern part of the country to escape the continuing violence. Many have come from nearby Unity state.
The operation that began on 25 August is expected to last for about ten days. During this period two cargo planes running daily rotations will bring more than 400 tonnes of food for a population of nearly 22,000 in the area. Sorghum, beans, salt, sugar, oil and a nutritional supplement for children are among the items being distributed.
"With no harvest in 2014 and little chance for it to happen this year, the resident community is overwhelmed by hosting a large number of internally displaced people with such scarce sources of food, which mainly consist of water lilies and wild vegetables," said Aslan Tukhuzhev, an ICRC delegate who manages distributions in South Sudan.
"Following discussions with local authorities and a recent assessment conducted by our teams on the ground, there is a definite need for assistance here," he emphasized.
In Toch, as in many other places throughout the country, the ICRC is working closely with the South Sudan Red Cross (SSRC). David Dak Chak of the SSRC in Fangak county, who has been helping with food distribution, said: "The airdrops here are particularly challenging. There are snakes and other animals hiding in the long grass. It can be dangerous but there are no other alternatives to bringing food into this area. It's flooded everywhere."
In addition to the food rations delivered to both residents and displaced people, the latter, considered even more vulnerable, are also being provided with fishing kits to help them improve their livelihoods.
Some of the people we're helping in the drop zone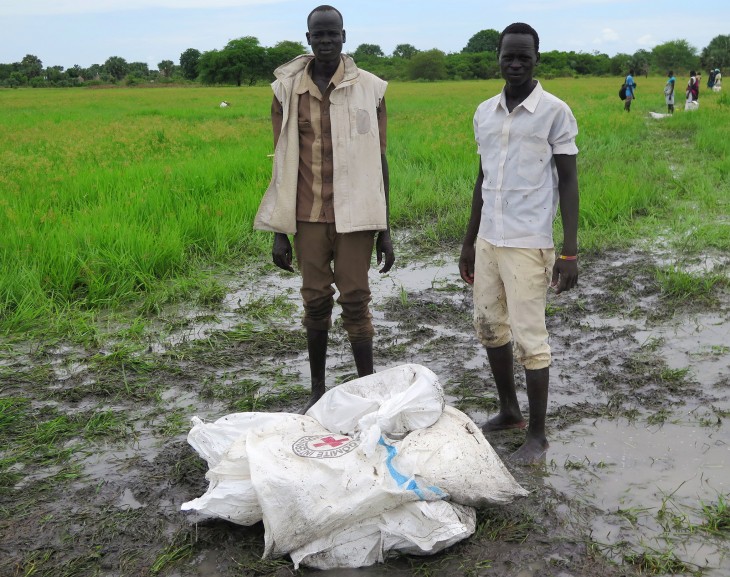 Deng Wal (25, left) and his brother Lam Gatkuoth (22) came from the boma [village] of Kuerdeng, about four hours away on foot. "We heard about the food distributions," he said. "We are eating fish and water lilies but that's not enough". The brothers will share the food with 20 other family members and relatives.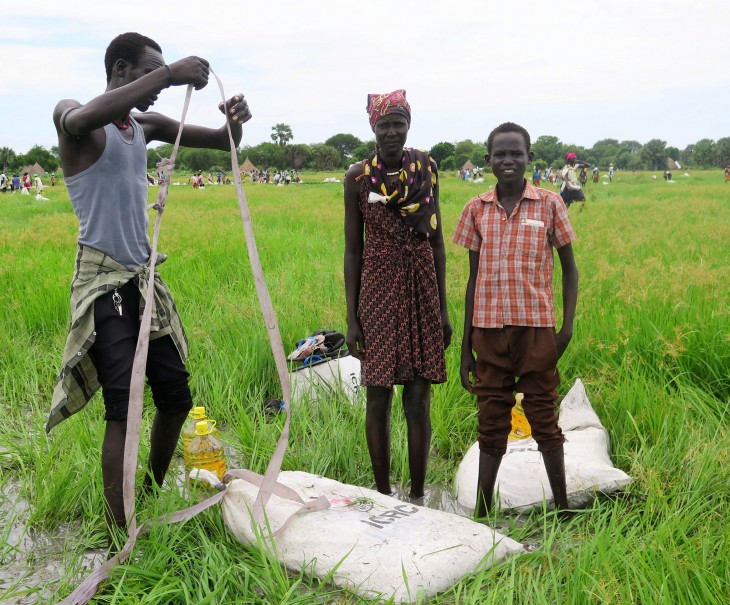 Tut Baab (14) and his mother Nyajal Kulang, who are also from Kuerdeng, said: "The bags and the oil we received today are for the family. We are 15 people."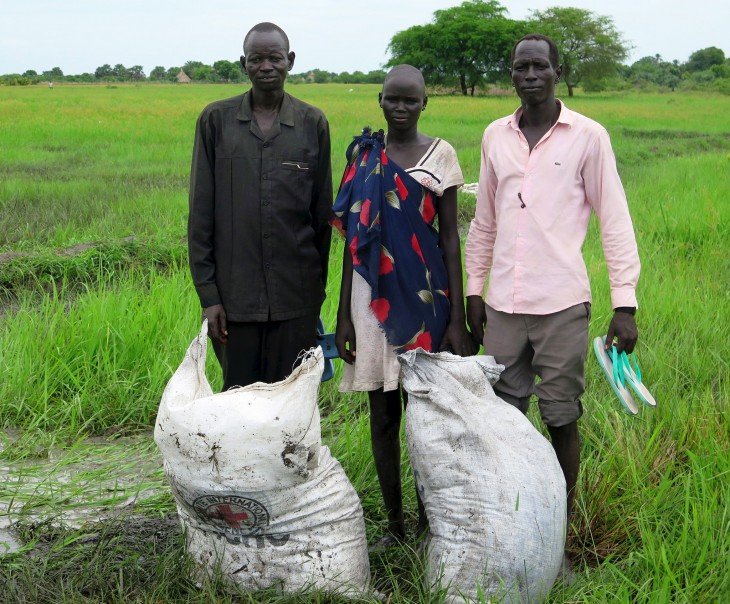 Nyakoand Bar (13, centre), who lives near Kuerdeng, travelled with her father Bar Yuol (left) and her uncle Gai Gatpan. "The most difficult thing is to carry the bags, which are heavy," she said. "We walked for six hours to reach Toch. It's good we've got food now."
Nyajuma Luony (19, left) and her cousin Nyasunday Gatbel (19) fled Leer in Unity state a year ago because of the fighting. They now live in Toch with their families, numbering 22 in all. "It's not easy here because it's always flooded, but it's safe," said Nyajuma.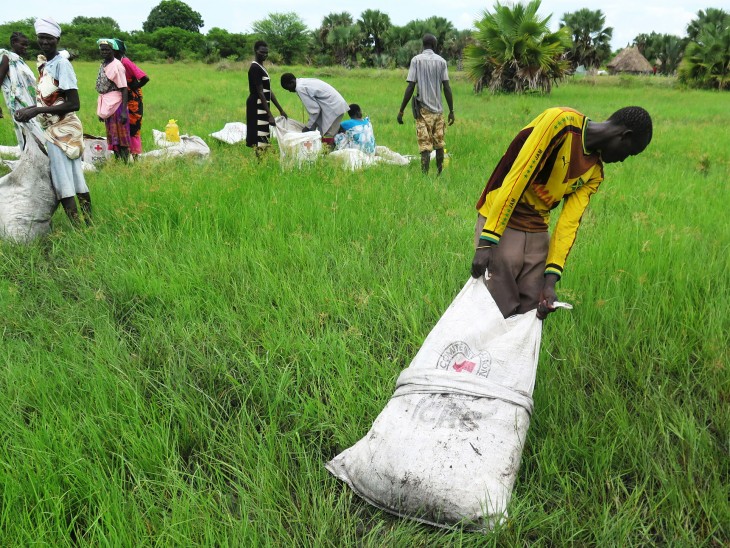 Magok Yut (32) left Bentiu in May 2015 with his wife and three children because of the fighting. He said: "I took a canoe to come here. I live now in Old Fangak. We need the food."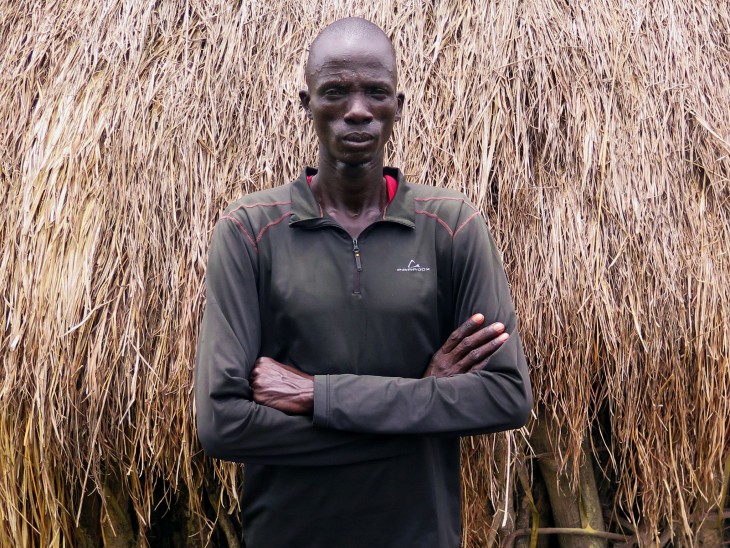 Thong Jal (45), his two wives and ten children arrived from Koch, in Unity state, just a few days ago. It took them five days to reach Toch by canoe. "We are nine families and we all left Koch because of the violence," he explained. "My home is not far from Toch and I saw and heard the ICRC planes, so I came to see what's happening. I am just looking."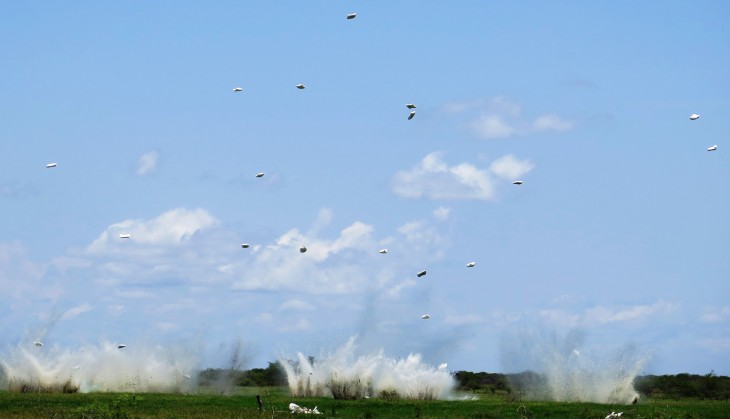 Toch is located in a remote area, surrounded by swamps which makes the airdropping of food rations particularly challenging.
All photos: CC BY-NC-NC / ICRC / Yamila Castro