South Sudan: Midwife's heroic actions save mom and newborn twins
When Grace* arrived at the Maiwut Primary Health Care Centre in South Sudan's northeast region she was in extreme pain and distress. Little did she know that she was actually in labour and about to give birth to not one, but two babies. Fortunately, Annet Monoji Juan, a midwife with the International Committee of the Red Cross, was on duty to help deliver the babies and save Grace's life. 
Annet's quick thinking and expertise in emergency labour management helped bring two healthy babies into the world, much to the surprise and gratitude of Grace and the trainee midwives in attendance.
When I realized she was having another baby, I immediately administered intravenous line prevention to prevent her from going into shock and it didn't take long before her second baby was born. Grace and her twins are reported to be happy, healthy, and indeed grateful to Maiwut health center and Annet.
In a country where giving birth can be a dangerous and even deadly experience, Annet's work as a skilled and qualified midwife is vital. With one of the highest maternal mortality rates in the world, it's clear that more needs to be done to provide access to quality maternal child health care in South Sudan. Annet and the ICRC work tirelessly to train and build the capacity of midwives and health center staff, as well as to encourage pregnant women to attend antenatal clinics and seek the care they need.
"The successful delivery of the twins was a real-life training lesson for the new nurses with no midwife skills who mostly have never received any formal training and instead learn on the job," said Annet. The ICRC works with traditional birth attendants who try to persuade women to do prenatal checkups during the early stages of their pregnancy.
According to Annet, this pregnancy was quite an ordeal for Grace as her culture stigmatizes women who fall pregnant while still nursing a child. To hide her pregnancy, she attended an ante-natal clinic just once. Giving birth in South Sudan can also be a matter of life and death, with the country having one of the highest maternal mortality rates in the world due to labor and delivery complications. Annet said to prevent this, delivering a child under the care of skilled and qualified midwives is considered necessary and can help save mothers and babies during labour and delivery.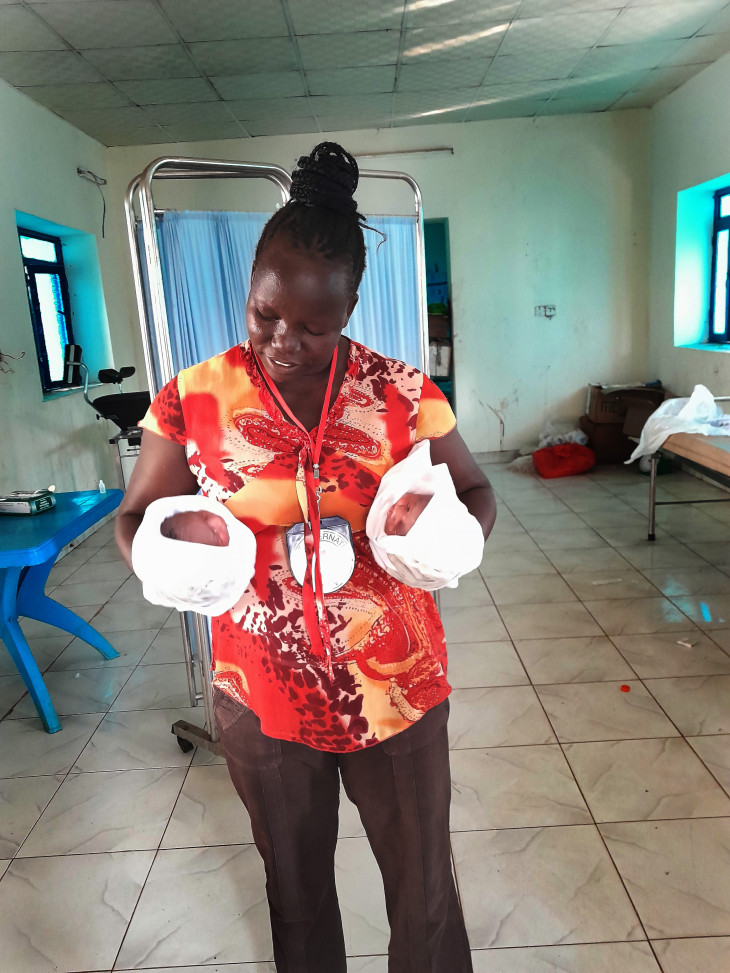 One of the challenges is a need for country midwives with formal training, as nurses have less knowledge of midwifery. At her training and capacity-building sessions and workshops, she focuses on improving the support rendered by the ICRC by evaluating and initiating activities and building on the capacity of the staff. Her advice to midwives is to encourage pregnant women to attend antenatal clinics as this will help identify any complications in the early stages of their pregnancies.
The ICRC supports the Maiwut Primary Health Center to ensure that people in the area have easier and safer access to primary and secondary healthcare services, including antenatal care for women, surgical care, outpatient consultations, routine immunization, malnutrition (growth and monitoring consultations), and family planning.
The ICRC also supports the Physical Rehabilitation Program. Felicity Gapes, ICRC's Deputy Health Coordinator, said that there had been 680 births recorded at Maiwut Center in 2022. The number of women unable or unwilling to access skilled maternal child health care for deliveries in Maiwut and across South Sudan remains concerning.
The successful delivery of Grace's twins was a true testament to the importance of skilled midwives and the impact they can have on the health and well-being of mothers and babies. With the support of experienced midwives like Annet and the ICRC, we can work towards ensuring that all women have access to safe and quality maternal child health care.