Venezuela: Humanitarian response focuses on supporting vulnerable people
During the first quarter of 2022, the International Committee of the Red Cross (ICRC) continued to assist and protect people caught up in the armed violence in Venezuela, particularly those affected by January's violent clashes in the states of Apure and Aragua. Guided as always by the principles of humanity, impartiality, neutrality and independence, we responded rapidly to support people living in these and other states across the country. We have worked to make improvements in the areas of health care, water and sanitation, protection and forensic science. We have carried out detention visits and activities to reconnect people separated from their loved ones, and we have worked to strengthen people's economic security.
By taking a multidisciplinary approach, not only have we provided those affected by armed violence with the aid they need, but we have also strengthened their capacities. This capacity-building includes supporting the training of forensics staff and health-care workers, helping people in need of technical support to rebuild their livelihoods and supporting the work of Venezuelan Red Cross volunteers, with whom we work closely.
The year ahead will present significant challenges as we adapt and refocus our activities in order to help those who are most in need.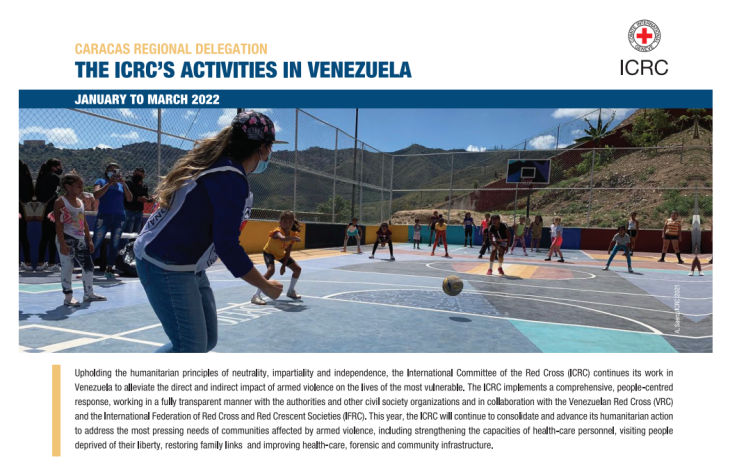 Here are some of the activities that the ICRC has carried out in Venezuela between January and March 2022:
89,716 people were seen
at primary health-care centres supported by the ICRC.
40,847 people received
emergency medical treatment at health centres supported by the ICRC
84 tonnes
of medical supplies were distributed to 9 hospitals and 10 primary health-care centres.
1,886 people received
77,689 meals and micronutrients at 7 community kitchens.
2,692 connectivity-related services
(phone calls, Wi-Fi connections and battery charging) were provided, and 2,690 people on the move received advice at 13 points in different parts of Venezuela.
10,223 personal hygiene kits
and soap were distributed to 8,681 people deprived of their liberty at 10 prisons.
50 officers
from the Venezuelan national police attended seminars on domestic and international legislation governing the use of force in law enforcement operations.
50 officers
from the Venezuelan armed forces in the state of La Guaira took part in a workshop on International Humanitarian Law and rules on the Use of Force.
2,275 body bags
and 92,393 items of medical, hygiene and other supplies for forensic purposes were provided to 19 forensic institutions.
64 volunteers
from 9 VRC branches received training in Safer Access and operational risk management.