Venezuela: Working together with communities
In the second quarter of 2022, the International Committee of the Red Cross (ICRC) continued to address the needs of people affected by armed violence in the states of Caracas, Miranda, Bolívar, Táchira, Apure, Zulia, Aragua and Falcón. We involved affected people at every stage of the process, ensuring they were able to take an active role in finding solutions to improve life in their community.
As always, the Fundamental Principles of humanity, impartiality, neutrality and independence underpinned our operations across the country, which included improving the infrastructure of health care centres, places of detention and forensic facilities, and upgrading essential services in affected communities, A We also continued our work in two other important areas: reconnecting people separated from their loved ones and developing livelihoods projects to help strengthen people's economic security.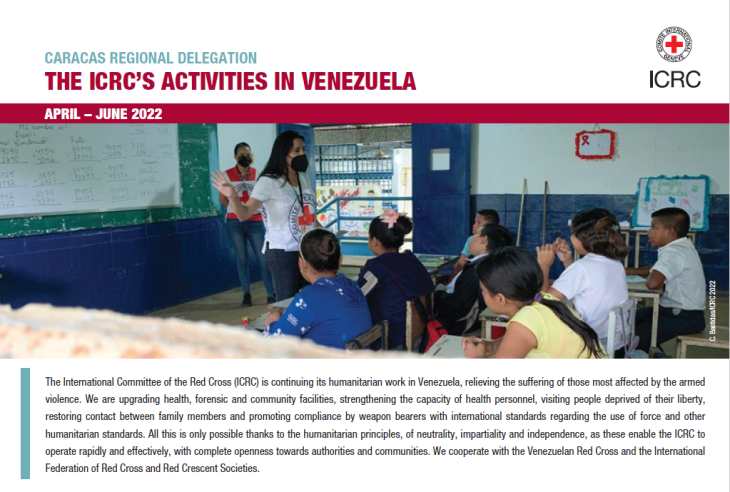 hese are some of the activities carried out by the ICRC in Venezuela during April-June 2022:
77 tonnes
of medical supplies were distributed to 9 hospitals and 9 primary-health-care centres.
20,586 people
received emergency medical care and 80,250 people received primary health care in ICRC-supported centres.
76 families
of people who have disappeared in Falcón State underwent psychological assessment.
12 branches of the Venezuelan Red Cross,
plus the VEN911 emergency service, firefighters, the civil defence, the SIAMU comprehensive emergency medical care system and the Ángeles de las Vías volunteer paramedic service all received support with training and donations of medical supplies.
1,939 people
received one meal a day in 7 ICRC-supported canteens.
48 young people received
financial training to help them launch income-generating projects.
3,836 connectivity-related services
(calls, Wi-Fi connections, battery charging, etc.) were
12,523 personal hygiene kits
and bars of soap were handed out at 10 prisons.
121 personnel from the national forensic medicine and science service,
the public prosecutor's office and the Scientific, Criminal and Forensic Investigation Unit, took part in the third scientific session on good practice in the area of forensic identification and victim care
250 officers of the Venezuelan army
and 80 from the Venezuelan national police, the CICPC and Guaira State Police attended seminars on national and international legislation governing the use of force in law-enforcement operations.
128 volunteers at 21 branches of the Venezuelan Red Cross
received training in Safer Access, managing operational risks and safe driving. 78 volunteers from 7 branches and subcommittees received training on Restoring Family Links.