Webinar Series on Humanitarian Affairs in Asia: Access to Education in Conflict
The ICRC together with Sanata Dharma University in Indonesia and its Jesuit universities' network in Asia are co-organizing the Third Part of the Webinar Series on Humanitarian Affairs in Asia with the theme of "Access to Education in Conflict."
This third webinar will discuss the ways in which conflict-affected population access education in their challenging context in Asia. What are the challenges faced by people in making sure their children can safely go to school? What opportunities are there to improve access to education in the region? What role can humanitarian organizations play? The speakers will address the topic from their own perspectives and field experiences.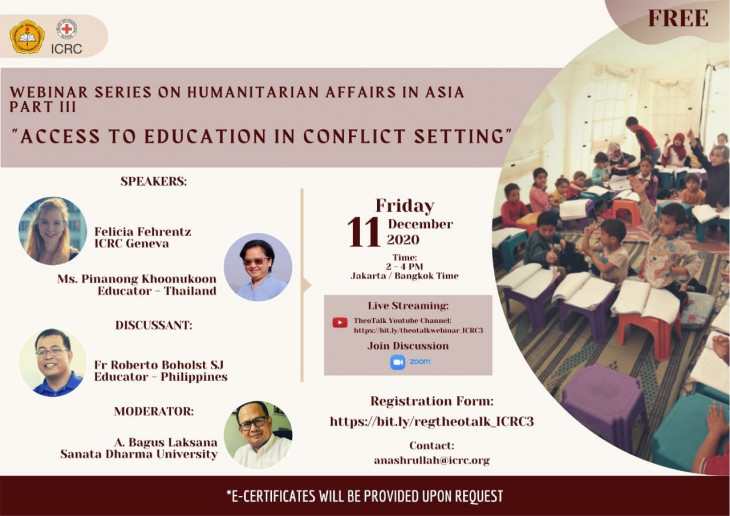 The event will be held on 11 December 2020 at 2-4pm Jakarta Time (7-9am GMT)
Speakers:
Felicia Fehrentz, ICRC Access to Education Project Officer, Switzerland
Pinanong Khoonukoon, Educator, Thailand
Discussant:
Fr. Roberto Boholst SJ, Educator, Philippines
Moderator:
Fr. Bagus Laksana SJ, Dean of the Faculty of Theology of Sanata Dharma University, Indonesia
The event is free and open for the public and internal ICRC participation but registration is required. To get the Zoom link please register here. It will also be broadcast live on the YouTube channel of Sanata Dharma University here.