Women humanitarians: Strength, power, perseverance
This World Humanitarian Day, we celebrate women who provide life-saving aid to people affected by armed conflict. Women play an important role in humanitarian response, from physical rehabilitation to the delivery of emergency supplies. Meet six women who bravely help people in times of crises. 
Cheryl Arellano, manager of Davao Jubilee Foundation Inc., a physical rehabilitation center
"As a woman humanitarian, I've faced life-changing challenges and opportunities. I've felt the urgent need to address gender equality, women's leadership, and participation in times of crisis. Let us give humanitarian action a woman's face. Women in humanitarian action put compassion at the forefront. It is beneficial to have women as frontline responders in conflicts and disasters. The need to address gender-based violence, sexual health and reporductive rights are often lacking in mainstream humanitarian action. Women's presence breeds resiliency as we are natural nurturers.
Let us move towards not only accountability but ensuring actual improvements on how people access assistance and protection. The needs of people affected by crisis are often shaped by gender.
It is time to recognize the contribution of women in playing lead roles in humanitarian action. It takes a concerted and coordinated effort to put humanity in humanitarian action."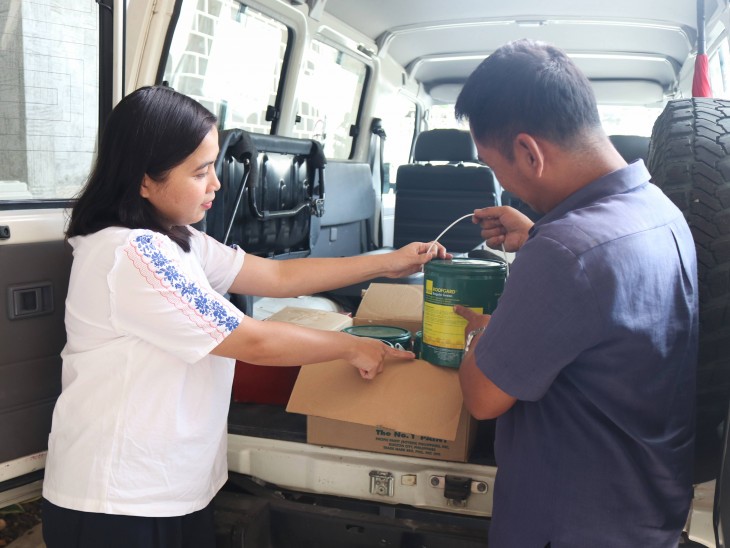 Nahannie Kamensa, logistics officer, ICRC Cotabato office
"It's often perceived that women face multiple challenges at work with regard to the acceptance of their professional inputs, but as a wife and mother, I feel proud and thankful that in a team with all-male subordinates, my ideas are supported and fully respected.
I am a logistician working for more than five years in the ICRC. We are not in the front line. We are always behind the scenes doing the formidable tasks of supplying resources needed for our humanitarian response, as fast and flexible as possible.
I am a native Bangsamoro from Datu Piang, a place where conflict has always been present. Having the opportunity to help these communities and seeing the beneficiaries smile despite their difficult situation give me personal and spiritual fulfillment."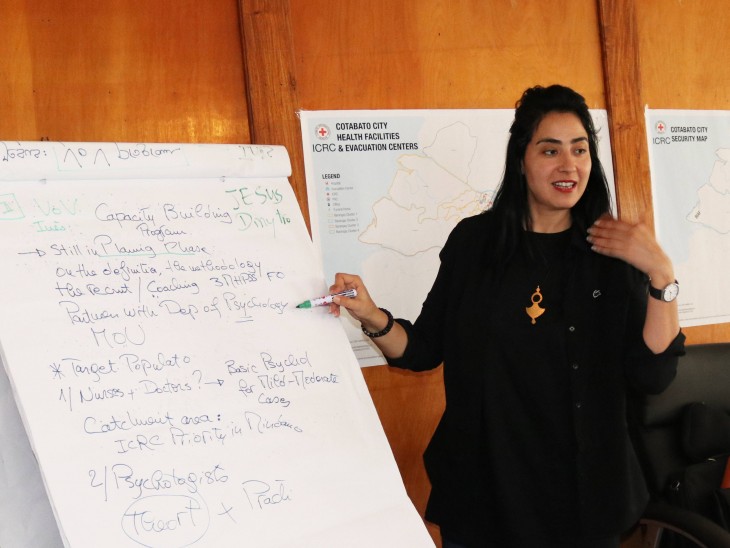 Ines Belkhodja, Mental Health and Psychosocial Support delegate, ICRC Cotabato office
"As a woman expatriate, who works in various places as mobile staff, my role here in Philippines is to support the local system in Mindanao with delivering Mental Health and Psychosocial Support, using the participatory approach, building local capacities, and strengthening the resources already present in the country to ensure sustainability.
Out of three delegates here working on MHPSS, I am the only woman. In our line of work, it is crucial to have gender balance as we often deal with highly sensitive cases. I saw how comfortable women can be to talk about their struggles with fellow women either because of personal preferences or culture.
I've been to different countries devastated by armed conflicts. I witness how women support in elevating the lives of affected people. As a woman, I feel blessed that in my own ways, I am contributing to the betterment of the lives of those suffering from trauma caused by conflict."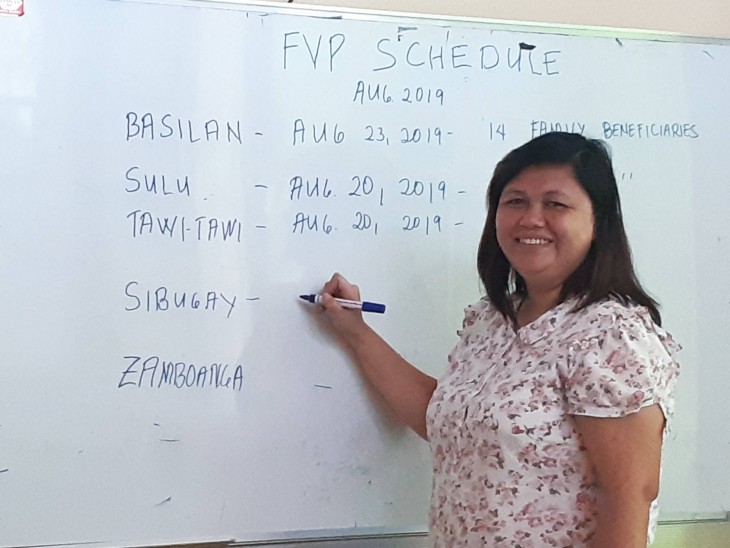 Gina Zorayda Tiamwatt, Family Visit Program assistant, ICRC Zamboanga office
"Through the family visit program, I have helped many families reconnect with their detained loved ones. Facilitating visits and encouraging families to be reunited with their loved ones behind bars gave me personal fulfillment and have helped me grow professionally--in a way, you balance building trust and respect with the detainees as well as their families, but at the same time, stay within professional limits and boundaries.
Each of us has a responsibility to our nation and we should not let anything stop our willingness to help, just because we are women.
Being a Tausug woman, I became strong through my experiences but I never lost the passion to help people and make them realize that in midst of darkness, there can be light. This is what working for the ICRC has allowed me to do. I always encourage the detainees and their families to be positive and to never lose hope. That despite the distance, there is always a way to be reunited."
Rajema Grace Villegas, protection field officer, ICRC Zamboanga office
"We visit people affected by armed conflict who are now barren with their essential needs. We see men and women who struggle to find means to feed their children and protect their families.
As a humanitarian worker, I feel it is always a privilege for me to reach out to these people and spend time listening to their stories. It is very important to know how they see themselves, to understand how they want to improve their situation and their coping strategies. Women, in particular, are more vocal in expressing their sentiments. They become leaders and peacemakers at the same time.
In one occasion, during our visit to a community frequently affected by conflict, a group of women openly asked where and how they will know about 'women's rights.' These women who are victims and survivors opened up to ask what they had to know to withstand their difficult condition. They had hopeful faces I will never forget.
As we direct our efforts toward relieving the plight of the affected civilians, we see how the women stand out in braving the odds to protect their families. Being a mother myself, I can feel how protective I can be and how I can fit into different roles in order to secure and provide for my loved ones."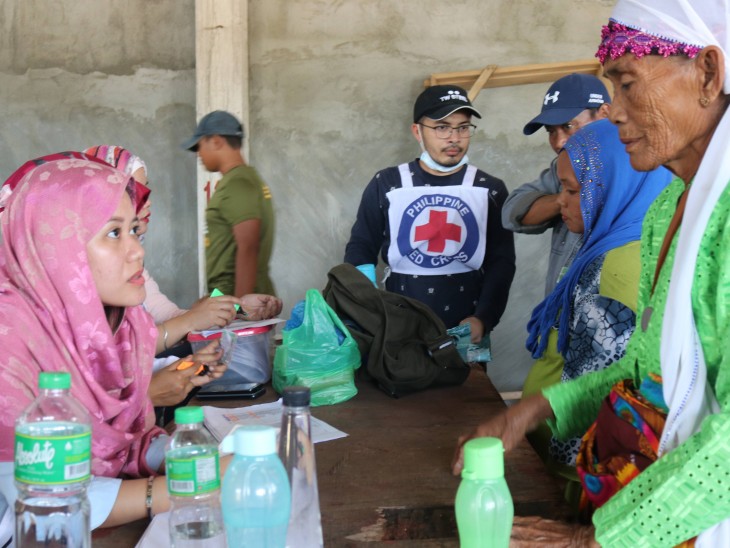 Jenny Anne Apias, economic security field officer, ICRC Cotabato office
"Providing economic assistance to conflict-affected communities is equally challenging and fulfilling for women doing humanitarian work. My job entails going to the field and talking to a displaced person about how armed conflict forces them to flee their homes and disrupts their sources of livelihood.
My work focuses on how we can help conflict-affected families to meet their basic needs and to provide them with livelihood support. Among those who receive ICRC's in-kind and livelihood assistance are women, children, and the elderly who are identified as the most vulnerable in times of conflict.
Being in the field gives me a first-hand experience on working with women who are suffering due to the protracted conflict. As a woman, I provide a gender lens in the team by emphasizing the special needs of women in the context of household economic assistance."