Great Zimbabwe University heading to Arusha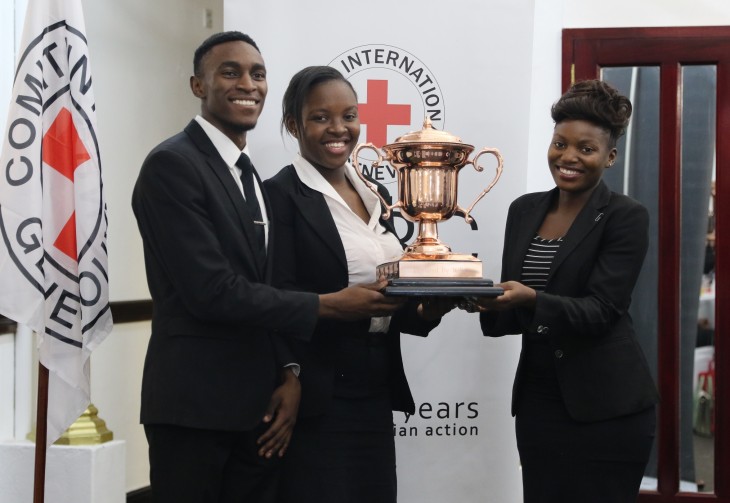 Zimbabwe (ICRC) - For the first time since their debut in the Zimbabwe International Humanitarian Law (IHL) Moot Court in 2015, Great Zimbabwe University won the coveted trophy.
The team represented by Makomborero Carl Muropa, Ashley Muza and Kundiso Charmaine Rusike beat Midlands State University in the final of the Competition chaired by Honourable Justice Jester Charewa at the High Court of Zimbabwe on 11 October 2019.
Kundiso Charmaine Rusike was also selected best speaker in both the preliminary and the final rounds of the competition.
"I am excited. The opportunity is humbling. From this experience, I've learnt that there is always room to improve. This experience has taught me that international humanitarian law is a broad subject and there is always more to learn," Rusike shared following the big win.
The preliminary round on 9 October 2019 saw law students from the University of Zimbabwe, Midlands State University, Great Zimbabwe University and Zimbabwe Ezekiel Guti University battle it out for a place in the final.
Head of the ICRC mission in Zimbabwe, Chérine Pollini, congratulated all participating teams adding that IHL is at the heart of the ICRC's work.
"Over 13 years, this competition has witnessed tremendous growth, giving an opportunity to many law students to develop their knowledge of IHL as well as their advocacy skills. The competition has provided an ideal opportunity for Zimbabwean law students interested international law careers to gain practical, relevant experience," Pollini said.
In this year's 13th edition of the competition, the International Commission of Jurists (ICJ) partnered with the ICRC for the national competition.
"Moot court competitions offer a platform for students to increase their knowledge on international humanitarian law and acquire skills that will be useful in their future practice when they become lawyers and judges and will be required to deliver justice," said Arnold Tsunga, Africa director of the ICJ.
The competition is aimed at promoting better awareness of IHL among law students at universities in Zimbabwe, encourage students and academics to carry out research that addresses challenges facing IHL and develop student advocacy skills in an environment of friendly competition.
Great Zimbabwe University will represent Zimbabwe at the All Africa IHL Moot Court Competition in Arusha, Tanzania, in November 2019. They'll go up against an average of ten Anglophone African universities.
Zimbabwe has won six of the last 12 editions of the regional competition in Arusha. Past participants in the competition have gone on to be amongst the top advocates and lawyers in Zimbabwe's legal community while others have become part-time academics teaching IHL in Zimbabwe.