Where does your money go?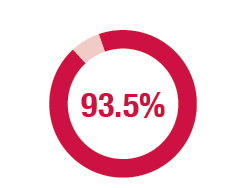 93.5% of donations are used directly for the ICRC's work in the field.
The ICRC's budget is financed entirely by voluntary contributions. Every donation is important to the ICRC, and we are grateful for each contribution we receive. Your generosity will help us alleviate the suffering of conflict victims worldwide and is a source of encouragement to the ICRC in Geneva and its delegates in the field.
Facts & figures
90 francs
feeds a family fleeing conflict for two months.
150 francs
gives a community 80 jerrycans to store and transport clean water.
500 francs
provides temporary shelter to 40 families displaced by conflict.
Frequently Asked Questions
Find the answers to frequently asked questions about donating to the ICRC, including where your money goes, earmarking, online donations, tax and privacy.
Contact the ICRC
If you have any questions about making a donation to the ICRC or the work we do, then please check out our FAQs or click below.