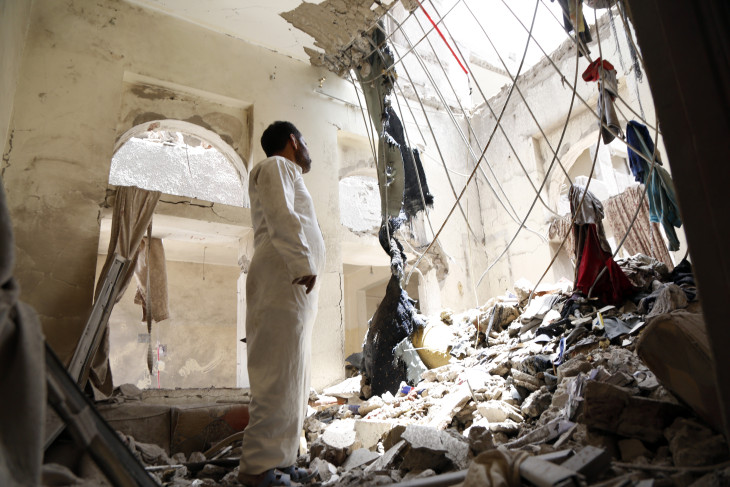 The protracted armed conflict in Yemen has been raging for seven consecutive years, following a decade of localized armed conflicts that have generated a massive humanitarian and protection crisis across the country.
 Multiple dynamic front lines impact the civilian population, which is struggling with not only the consequences of the fighting but also the consequences of a worsening economic situation. According to IOM, the fighting in Marib, Al-Bayda, Hodeida, Shabwah, Taiz, Al-Jawf, and Hajjah has led to the displacement of more than 157,500 people in 2021.  
 Thousands of civilians have lost their lives or their properties and an estimated 4.3 million people have fled their homes since the start of the conflict, including approximately 3.3 million people who remain displaced and 1 million returnees. Thousands of people remain detained by the parties to the conflict and many others are missing.
 Essential services are on the brink of collapse, leaving millions of Yemeni people in a dire humanitarian situation. Due to the ongoing conflict and the subsequent economic crisis, Yemen is said to face the largest food security emergency in the world. The ongoing war between Russia and Ukraine will impact Yemen as Yemen imports most of its wheat needs from those two countries. Across Yemen, approximately 16.2 million people—representing 60 percent of the Yemeni population—are experiencing crisis levels of acute food insecurity or above. There are more than 4.7 million children and women who are acutely malnourished.
 Only half of the health facilities are estimated to still be functional. The majority of people cannot afford medical treatment or lack access to health centers. An estimated 7.4 million people require services to treat or prevent malnutrition, including 4.4 million who are in acute need. This includes 3.2 million people who require treatment for acute malnutrition: 2 million children under 5 and 1.14 million pregnant or lactating women.
 The ICRC's priority in Yemen remains to protect and assist victims of the conflict and reinforce support to fragile essential systems. In 2022, the ICRC will focus on four main sectors: Health, Economic Security, Water, and Protection in addition to other humanitarian activities that aim at alleviating the suffering of the Yemeni people. But only a political solution can bring an end to the suffering of the Yemeni people and prospects for a better future.
 Yemen Key Figures (Ref OCHA & UNICEF)
80% of the population,

20.7 million people

– out of a total population of 30.5 million – are currently in need of humanitarian assistance.

14.3 million people

are in acute need. The severity of needs is deepening, with the number of people in acute need a staggering 27 percent higher than last year. 

16.2 million

people are food insecure. 
4.71 million children and women are acutely malnourished. 
17.8 million lack access to safe water and adequate sanitation services, including 12.6 million people who are in acute need. 

Only 51% of health facilities

are functioning and less than 50% of births are attended by skilled health personnel. 
An estimated

20.1 million

people lack access to basic healthcare.
An estimated

4.3 million

people have fled their homes since the start of the conflict, including approximately 3.3 million people who remain displaced and 1 million returnees.