Fraudulent emails and websites
Important information about fake Red Cross / Red Crescent emails and websites
Attention iPhone users
We have been made aware of two fraudulent websites that are targeting users of iPhones. These are not official sites of the ICRC or Red Cross and have been taken down.
Please use caution when clicking on any links to these sites: www.icrcworld.com and www.redcrossworld.com.
Update: 26 August 2016
Bogus emails purporting to come from our head of operations for the Near and Middle East, Robert Mardini.
Fraudulent mails are currently circulating, purporting to be from Robert Mardini, our head of operations for the Near and Middle East, involving business deals and the transfer of money. Needless to say, these are not from Mr Mardini. It is worth noting that the emails come from an outlook.com address, whereas all ICRC email addresses end in icrc.org or cicr.org.
The website below is not an ICRC website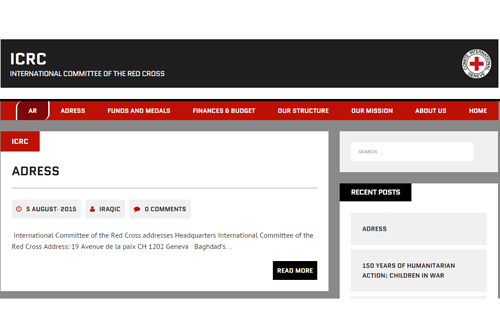 Bogus emails purporting to come from ICRC president Peter Maurer
Emails from "pmaurer(dot)icrc15(at)gmail(dot)com" are not from Peter Maurer. All ICRC email addresses end in icrc.org or cicr.org.
"Money transfer" scam
Emails are currently circulating that appear to be from our president Peter Maurer or from our Director of Communication and Information Management Charlotte Lindsey, in which "they" ask the addressee to help them handle a large sum of money originally belonging to someone who has died.
As you may imagine, this is a fraud.
"Property buying" scam
Fake messages are currently circulating that use the names of at least two members of ICRC staff (Robert Mardini and Helen Durham), saying that they want to purchase property in a range of different countries. Any message like this is of course a fake and you should delete it.
If you receive any unsolicited emails that look suspicious, please treat them with caution. The only source of valid information is the ICRC website, www.icrc.org. In case of doubt, please contact us by email.
Fraudulent fundraising attempts
A number of fraudulent websites are using the names or emblems of the Red Cross or Red Crescent to solicit donations for the victims of conflict or natural disaster.
Please donate to the Red Cross and Red Crescent Movement through official channels only.
There are also fraudulent emails in circulation that invite people to pay for fake employment or training opportunities or for attendance at non-existent conferences.
If you wish to donate to the Red Cross or Red Crescent, please use the authorized channels, which are as follows: