Human Resources, Finance and Administration - working with us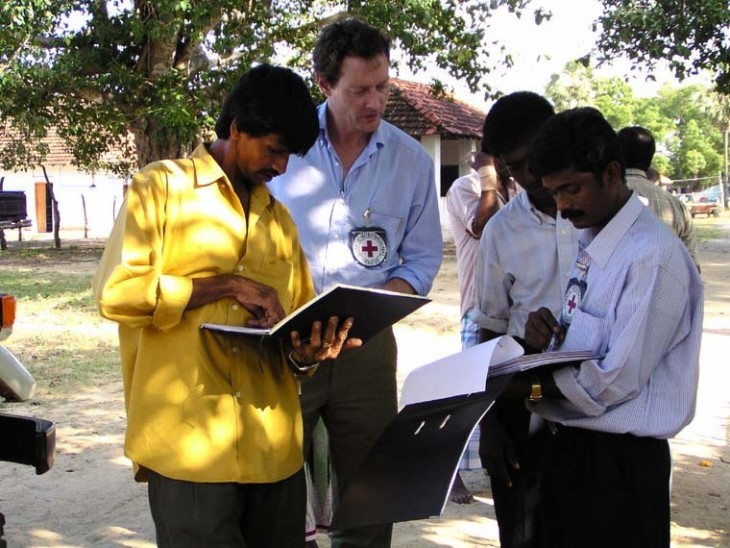 With over 15'000 staff members and a budget close to 2 billion Swiss francs, the ICRC is always looking for talented and bilingual (French and English) HR specialists and finance professionals, as well as management assistants, willing to lend their skills to our humanitarian cause.
Below is a non-exhaustive list of mobile field functions hired by the ICRC.
Please note that all positions are not continually open.
Finance and administration manager
As a Finance & Administration Manager in the field, you oversee all financial resources and administrative aspects of the ICRC structure (delegation, sub-delegation). As its "administrative backbone", you play a vital role in ensuring that the office(s) are run in an efficient manner thereby contributing to the smooth implementation of ICRC's humanitarian operations.
Your task
1. Financial Controlling
- You are accountable for the integrity of the financial and analytical accounting and reporting in the field, which includes the supervision of the accounts department, and participation in the preparation and of the annual budget and its implementation with regular forecasting and risk reporting 
- This entails a permanent assessment of the financial situation (including treasury) of the office / country organization and are expected to act as advisor on all financial / economic affairs to the humanitarian project teams regarding efficiency of spending, cost-control and analysis of budget deviations, project controlling; measures needed to respond to changes in the operating context and providing finance training & coaching to department coordinators & management team members as required. 
- You apply institutional guidelines and policies to the local context and ensure adherence to them. You ensure control mechanisms are in place with the purpose of identifying and mitigating potential financial and other risks and uphold ethical standards at all times 
- You act as co-signatory and finance interface for both authorities and commercial parties (suppliers, banks etc.) 
- As the internal focal point for finance-related compliance matters, you are expected to steer the implementation / alignment of all activities related to ICRC's Compliance programs/requirements.

2. Human Resources
- On a sub-office level, in close coordination with the country HR Manager, the F&A Manager acts as HR- responsible for staff members under local contract and ensures traditional activities along the HR-cycle are carried out correctly

3. Facilities Management
- You oversee the day-to-day management of offices & operational premises, maintain an adequate maintenance and passive security setup adapted to provide adequate working conditions to all staff members and up to standard living condition for mobile staff members
- You supervise the internal travel/hospitality desk, in charge of international and domestic travel arrangements, visas, accreditations and visitor accommodation

Your profile
- Strongly motivated by humanitarian work
- Open-minded and adaptable
- Responsible and well-organized, solution oriented
- Capable of managing a team
- Good at both listening to others and maintaining confidentiality and intercultural skills 
- Excellent ability to work in a team and under pressure in a potentially dangerous environment

Selection requirements
- Very good command of English and French (B2 level mandatory), written and spoken is a prerequisiste. Knowledge of an operational language   such as Arabic or Russian is an asset
- University degree in Business Administration or Finance/Accounting
- Minimum of two years experience in Financial Management and Accounting, including some experience in Financial Controlling.  
- Experience of working abroad or in an international environment, ideally in contexts with challenging living conditions, including security constraints. 
- Strong analytical & quantitative skills to dedicate to a humanitarian, nonprofit organization 
- Confident using IT Office tools including Business Intelligence tools such as "Tableau" and solid practice with ERP's.
- Solid negotiation skills in order to secure best possible commercial conditions on various goods and services (banks, property owners etc.)

Our operational & field constraints
- In line with the principle of neutrality, the ICRC does not assign personnel to a country of which they are nationals
- Candidates must be prepared to accept unaccompanied postings (i.e. no spouse, partner, children or dependents) for at least the first 24 months
- Candidates must be in good health and will have to do a medical check-up prior to departure in the field (ICRC medical standards)
- Candidates must possess a driving licence for manual transmission vehicles !

What we offer
- Rewarding work in a humanitarian and multicultural environment
- A ten-day integration program and a two week Finance & Administration course prior to departure and further in-house training opportunities depending on career progression
- Length of assignment: typically 12 months for the first 2-3 missions, 18 to 24 months thereafter
- The function as "Finance & Administration Manager" offers you a fascinating spectrum of new professional experiences in challenging operating environments, combined with an attractive career plan
- Attractive social benefits
- Join an ICRC talent pool and be considered for future assignments elsewhere
HR manager
Your task
The purpose of this position is to deliver HR services in a Delegation, in order to enable line managers and employees to adequately respond to operational challenges in the field. Through a Human Resources presence at the Delegation level, this role implies direct supervision of providers of HR services within the Delegation. Main responsabilities:
- HR Strategy: Understands the Regional and the Delegation HR strategy and oversee its implementation within the Delegation; Reports to the Regional HR Partner at the HQ and the Centres of Expertise any relevant information that may shape the Regional HR strategy and priorities as well as the design of HR policies and processes.
- HR Execution: Be accountable for the delivery of HR services in a Delegation; Validates and ensures HR processes and policies are delivered consistently and accordingly to guidelines from Centres of Expertise; Reports to the Regional HR Partner at the HQ in the execution of all initiatives within the Delegation.
- Support to Line Managers: Advises and guides Line Managers in the execution of core people management responsibilities.
- Supervision of HR Responsibles/HR Assistants: Supervises HR Teams in the execution of daily HR activities and provides necessary guidance and advice
- HR Projects: Implements ad-hoc HR projects and initiatives from HR.

Your profile
- Strongly motvated by humanitarian work
- Ability to develop the role with exemplary conduct and to represent the HR function in the field
- Ability to guide, support, delegate appropriately and provide developmental guidance to HR staff under her/his direct supervision
- Ability to advise key stakeholders on all aspects of people management and development
- Strong interpersonal skills with the ability to create and maintain partnerships at all levels of the delegation, both with staff and managers
- Excellent and effective communication and listening skills and ability to interact collaboratively in a multicultural team
- Strong analytical, decision making and organizational skills and ability to handle multiple priorities in an autonomous manner
- Cultural awareness and commitment to encourage diversity and inclusion in the workplace.

Selection requirements
- Very good command of English and French. Knowledge of another ICRC working language used in the field (Spanish, Arabic or Russian) is a strong advantage 
- Strong Academic background, with at least 5 years of relevant experience in an HR generalist or HR Manager function 
- International experience, preferably in the humanitarian sector is a distinct asset
- Fully conversant with IT tools
- Commitment to the ICRC's humanitarian mandate

Our operational & field constraints
- In line with the principle of neutrality, the ICRC does not assign delegates to countries of which they are nationals
- Available to live in locations as assigned, without family members, for at least 24 months
- Candidates must be in good health and will have to do a medical check-up prior to departure in the field (ICRC medical standards)
- Driving licence for manual transmission vehicles, and ability to drive such vehicles independently in unfamiliar terrain

What we offer
- An opportunity to practise your profession in a humanitarian and multicultural environment
- Several HR training courses and access to further in-house and/or external training
Bilingual assistant
Your responsibilities
Your role is to provide the necessary high level administrative support to the smooth running of an operational delegation in the field, using your expertise in the areas of organization and information management and your command of computer tools as well as your ability to share your knowledge. In this team support function, you will:
- Be responsible for information management in the delegation and sub-sites. Propose suitable measures for the flow and sharing of information and documents, making use of the tools available. Manage and monitor collaborative spaces and databases - including access- and insure that general information is updated in the reference tools.
- Be reference person for ICRC protocol, rules for correspondence, document security, filing and intermediary archiving and how to use standard computer technology. Ensure that all users understand the need for and apply ICRC related policies and procedures. Train and support users on above mentioned topics.
- Support the management team of the delegation, ensuring a coordinated and consistent work flow. You will be responsible for the general secretarial work of the management and will, amongst others tasks : share with concerned and manage paper/electronic mail, autonomously send answers or draft responses according to the institutional protocol, ensure filling, manage with precision the agendas, organise and prepare meetings, take minutes of meeting.
- Have to train, supervise and support a small team.

Your profile
- Strongly motivated my humanitarian work
- Open mindedness and capacity to adapt
- Sense of responsibilities and organisation 
- Interest for information management
- Ability to work within a team and under pressure in difficult security contexts 
- Coordination and organization skills 
- Strong communication and pedagogical skills 
- Analytical skills and ability to produce synthetic documents or instructions
- Service and solution oriented attitude
- Commitment to the ICRC's humanitarian mandate

Selection requirements
- Higher education qualification or equivalent. Recognized training in assistantship, an asset
- Minmum of 3 years work experience in a similar function and in a conflict zone area

Our operational & field constraints
- In line with the principle of neutrality, the ICRC does not assign delegates to countries of which they are nationals
- Available to live in locations as assigned, without family members, for at least 24 months
- Candidates must be in good health and will have to do a medical check-up prior to departure in the field (ICRC medical standards)
- Driving licence for manual transmission vehicles, and ability to drive such vehicles independently in unfamiliar terrain
Data administrator
Your responsibilities
The data administrator manages and processes data relating to individuals and events covered by the ICRC's mandate such as prisoners of war and other detainees, missing persons, children separated from their families and violations against civilians and their property. In so doing, he/she contributes directly to the activities of the Protection department in our offices abroad. His/her main duties are the following:
- Managing database - including access- and insure that general information is updated in the reference tools
- Following up data collected in the field
- Managing documents and information
- Compiling detailed and complex analyses and statistics
- Establishing and maintaining data update procedures
- Supervising and training colleagues in the Protection department
Most of the data administrator's work takes place in an office, in an ICRC delegation abroad.

Desired profile and skills
- Very good command of English and French, additional language an asset&nbsp
- Bachelor degree in Information Management, Social Sciences or a related field. Qualifying professional experience may be accepted in lieu of the university degree&nbsp
- Three to four years' professional experience, including at least two years using and managing computer data&nbsp
- Fully conversant with and keen interest in working in Windows environment (Excel, Words, …) and Web tools&nbsp
- Knowledge of MS Dynamics, MS Report Builder and SQL an asset&nbsp
- Strongly motivated by humanitarian work&nbsp
- Open-minded, adaptable and creative&nbsp
- Responsible, possessing good organizational skills, methodical and precise&nbsp
- Strong analytical and evaluative skills, self-disciplined&nbsp
- Willingness to learn new technology&nbsp
- Ability to work in a team under pressure in a potentially dangerous environment&nbsp
- Propensity for supervising and training staff&nbsp
- High sense of discretion in dealing with confidential information

Our operational & field constraints
- In line with the principle of neutrality, the ICRC does not assign delegates to countries of which they are nationals
- Available to live in locations as assigned, without family members, for at least 24 months
- Candidates must be in good health and will have to do a medical check-up prior to departure in the field (ICRC medical standards)
- Driving licence for manual transmission vehicles, and ability to drive such vehicles independently in unfamiliar terrain

What we offer
- Rewarding work in a humanitarian and multicultural environment
- A two-week orientation course and other opportunities for further in-house training
- Generous social benefits
- Length of assignment: 12 months
- Join an ICRC talent pool and be considered for future assignments elsewhere
Facts & figures
110
mobile field finance and administration managers deployed in 2017
12-18
new finance and administration managers recruited each year