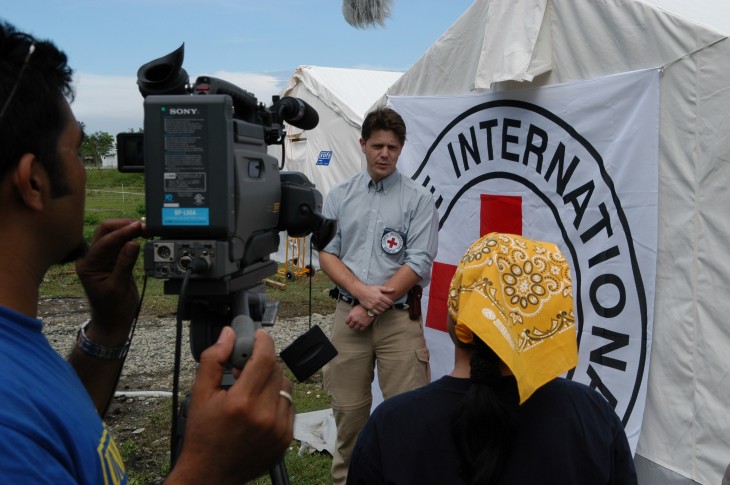 Communication is key to ensure respect for the life and dignity of people affected by armed conflict and other situations of violence. Hundreds of field communication experts enhance the ICRC's acceptance by populations and authorities and contribute to facilitate access to people in need. Our communicators reinforce ICRC messages calling for behaviour change by groups and states involved in armed conflict and armed violence. Powerful field communication helps our organization to influence decision-makers and the public at large by shaping the debate on the need to protect people in war, and it generates financial and other support for the ICRC
Below is a non-exhaustive list of mobile field functions hired by the ICRC.
Please note that all positions are not continually open.
Communication delegate
Your tasks
The communication delegate is a specialist who provides an ICRC delegation with the expertise and means to analyse perceptions and communication needs, and who proposes, implements, updates and evaluates communication strategies at local, national and regional level. The objective is to ensure the necessary understanding and support of the ICRC and its humanitarian action, as well as knowledge and respect of international humanitarian law (IHL), facilitating access to the victims of armed conflict and the support of those who determine their fate. Activities range from strategy development, to the production of communication tools (AV, publications, Web content and social media platforms), media relations and IHL teaching programmes for the military, universities and schools.
- Liaise with ICRC operations in defining priorities and provide technical support, training and advice to all staff involved in communication
- Develop communication strategies aimed at building and managing networks
- Carry out specially tailored presentations and workshops for specific target audiences such as arms carriers, local leaders, beneficiaries of ICRC humanitarian action
- Carry out target group analysis for monitoring and impact assessment of communication activities
- Ensure the availability and distribution of relevant communication material (printed, online and audiovisual)
- Support the local Red Cross or Red Crescent national society in the development of its own communication.
- Commitment to the ICRC's humanitarian mandate

Selection requirements
- Ideal age: 25 to 40 years years old
- Very good command of English and French. Knowledge of another ICRC working language used in the field (Spanish, Arabic or Russian) is a strong advantage
- Minimum of 2 years professional experience in communication-related positions eg. multimedia journalist, spokesperson, public relations officer)
- International experience with a humanitarian organization is an advantage
- University degree relevant to communication is a distinct asset eg. journalism, mass-media, public relations, film making and photography)
- Knowledge of the Red Cross/Red Crescent Movement an asset
- Fully conversant with common IT tools, in particular with multimedia tools

Our operational & field constraints
- In line with the principle of neutrality, the ICRC does not assign delegates to countries of which they are nationals
- Available to live in locations as assigned, without family members, for at least 24 months
- Candidates must be in good health and will have to do a medical check-up prior to departure in the field (ICRC medical standards)
- Driving licence for manual transmission vehicles, and ability to drive such vehicles independently in unfamiliar terrain
Facts & figures
60
mobile field staff deployed in 2017
400
resident field communication experts in 2017
80
staff members at our headquarters in Geneva in 2017