Forensic science - working with us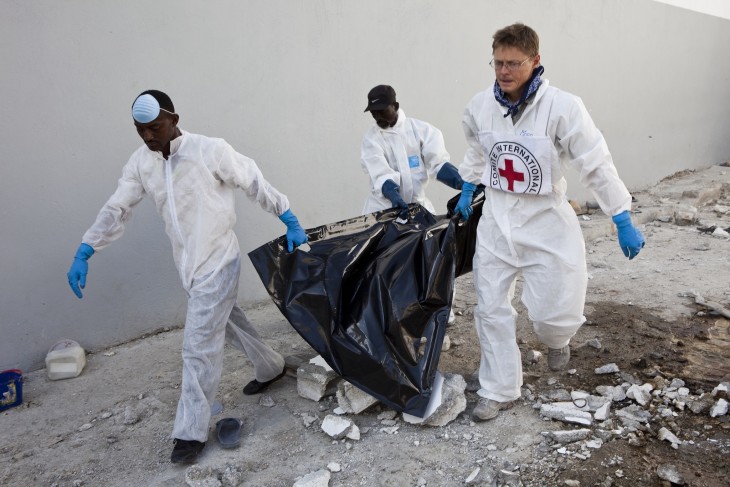 When people die during war, catastrophes or migration, their bodies must be handled professionally and with utmost respect of their inherent dignity. The remains of individuals must be found, recovered, documented and, where possible, identified. These tasks are a core component of the ICRC's humanitarian forensic action, a new field in forensic science developed by the organization. Humanitarian forensic action consists in the application of forensic science to humanitarian activities. The ICRC's forensic professionals are charged with the development and implementation of humanitarian forensic action worldwide, principally to help ensure the proper management of the dead, to help resolve and prevent the tragedy of people missing and to bring solace to bereaved families. The ICRC's forensic activities are managed by the Forensic Unit, which is seated in the organization's Protection Division.
Below is a non-exhaustive list of mobile field functions hired by the ICRC.
Please note that all positions are not continually open.
Forensic specialist
Your task
To contribute towards the implementation of ICRC's humanitarian forensic action by:
- Promoting and supporting the effective implementation of relevant forensic standards and procedures, including for the management of the dead, for preventing and resolving the missing and for other applications of forensic science to humanitarian action
- Assisting forensic institutions and practitioners involved in humanitarian forensic action
- Contributing to the effective implementation of the ICRC's strategies in humanitarian forensic action
- Providing specialized advice on human remains and forensic sciences to relevant stakeholders and institutions
- Carrying out appraisals and assessments on forensics and human remains as required by ICRC field operations
- Helping define specific objectives and strategies aimed at supporting medico-legal and other external structures relevant to the missing, forensics and human remains
- Supporting ICRC field operations to implement objectives related to humanitarian forensic action
- Contributing towards the ICRC's policy, strategies and tactics related to issues requiring forensic assistance
- Representing the ICRC where necessary for furthering the organization's principles and goals in humanitarian forensic action
- Contributing to the dissemination of all relevant information on humanitarian forensic action, both within the ICRC and beyond, including the preparation and presentation of appropriate materials for diverse audiences
- Actively promoting the ICRC's and other relevant international standards applicable to humanitarian forensic action, including participation and/or organization of appropriate initiatives for this purpose
- Training relevant external stakeholders and ICRC staff, on issues related to humanitarian forensic action, including forensics in data collection and management and management of human remains and data collection
- Participating and contribute towards maintaining an optimal team environment necessary to meet growing organizational needs related to humanitarian forensic action.

Selection requirements
Required
- Forensic case-work experience
- Qualified forensic practitioner with at least 5 years' proven experience and practice in forensic case-work applied to humanitarian or human rights investigations
Highly Preferred
- Experience in Management of the Dead from Emergencies/DVI, with particular experience and skills in high-throughput mortuary management and forensic identification methods in mass casualty events
- Knowledge and experience with technical and non-technical laboratory SOP's, and data management
- Proven experience and skills in delivering forensic training and a capacity to adapt the message to diverse audiences
- Broad based (multi-disciplinary) technical and non-technical knowledge and experience related to the scientific and legal identification of human remains and an integrated forensic reconciliation process
- Experience with policy development and associated exchanges with concerned authorities
- Experience in development of technical and non-technical guidelines and protocols
- Experience and skills in rapid situation analysis and strategy development
- Proven networking skillsCommitment towards highest forensic scientific and ethical standards
- Understanding of and professional experience with cultural diversity, gender equality and equal opportunities
- Commitment to the ICRC's humanitarian mandate

Your profile
- Proven contribution to relevant scientific publications in the field of forensic practice, especially as it applies to humanitarian and human rights investigations
- Experience and practice in negotiations and public relations, particularly applied to the promotion and implementation of professional and ethical standards related to the field of expertise
- Excellent interpersonal skills, including experience and capacity to work constructively in teams under considerable pressure
- Experience in technical and non-technical report writing
- Experience in strategy development, implementation, monitoring and evaluation
- Project and staff management experience
- Excellent level of oral and written English; other languages an asset
- Driving license (must cover manual transmission – a license for automatic -transmission vehicles only is not sufficient)
- Preparedness to accept a deployment to non-family postings (i.e. no spouse, partner, children or dependents) may be a requirement for some positions
Facts & figures
2003
the year when ICRC's forensic activities were launched
50
forensic professionals currently employed worldwide
70
countries where the ICRC implements forensic programs and activities