Field, Protection & Detention - working with us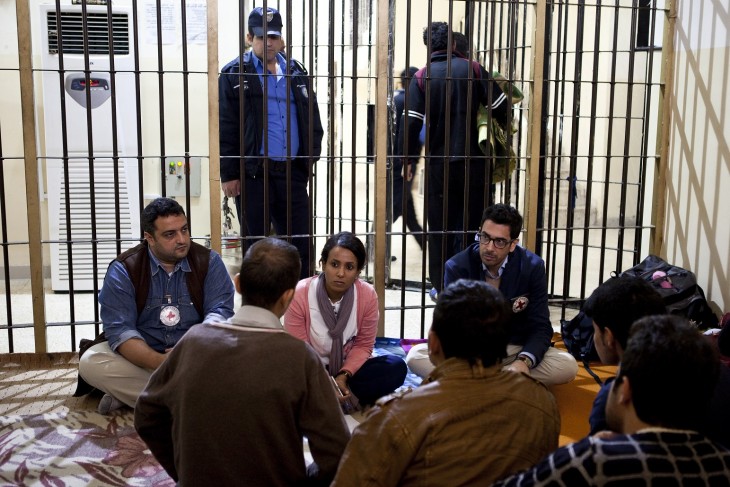 As the custodian of the International Humanitarian Law (IHL), the ICRC's mandate (delivered by the international community) focuses on providing humanitarian protection and help to people affected by armed conflict and other violence, or – as our mission statement puts it – "other situations of violence". This means violence that has not reached the threshold of an armed conflict but is carried out by large groups and has consequences in humanitarian terms. This involves visiting prisoners of war and civilian detainees, searching for missing persons, passing messages between family members separated by conflict, reuniting families, spreading the knowledge of IHL, negotiating for humanitarian purposes etc.
Below is a non-exhaustive list of mobile field functions hired by the ICRC.
Please note that all positions are not continually open.
ICRC delegate
ICRC Delegates are deployed all over the world to contribute to the organization's mandate and assignment of ensuring humanitarian protection and help for victims of armed conflict and other violence. Their responsibilities vary according to the duty station and may evolve rapidly based on operational needs on the ground. Under the management's supervision, they are responsible for the following activities (non-exhaustive list), with a specific focus on detainee-welfare activities depending on the context:

Accountability and responsibility 
- Contribute to the analysis of the general situation and help the people on the ground. Contribute to the definition, planning and implementation of ICRC activities in the area under their responsibility in close coordination and cooperation with relevant ICRC Departments (Economic Security, Health, Protection…);
- Develop and maintain a network of relevant interlocutors, including non-governmental and local organizations, with special emphasis on weapon bearers and the civilian society;
- Follow-up on protection related information (e.g. protection of civilian population, restoring family links, missing people files);
- Produce timely and concise internal reporting, in compliance with confidentiality;
- Prepare, participate in and follow-up on visits to places of detention; ensure that detainees are being treated with dignity and humanity (e.g. conditions of detention, treatment and respect for judicial guarantees); conduct interviews with detainees and follow-up on protection related information (e.g. restoring family links, follow up of individual sensitive cases); take part in expanding or consolidating the delegation's contacts and networks with detention stakeholders; contribute to the management of information related to detention, while complying with confidentiality;
- Represent and promote the ICRC mandate and activities;
- Contribute to the security of ICRC staff and assets in the area under his/her responsibility, according to the delegation's security rules and procedures;
- Together with the Cooperation Department, maintain good network and partnership with RC/RC branches and Movement partners present in the area of responsibility;
- Together with the Communication Department, organize and carry out ICRC operational communication sessions to target audiences.

Essential minimum qualifications and professional experience required
- Bachelor degree level or equivalent
- Minimum two years of professional experience
- Voluntary or humanitarian experience
- International exposure
- Fluency in English and 2 other working languages of the ICRC such as French, Spanish, Arabic or Russian
- Fully conversant with IT tools
- Prepared to live in locations as assigned by the ICRC, without family members, for at least 24 months
- Prepared to work under pressure in a potentially dangerous environment
- Driving licence for manual transmission vehicles and ability to drive such vehicles independently in unfamiliar terrain
Essential competencies
- Ability to assume responsibility and autonomy
- Ability to adapt to changing situations and react adequately
- Understanding of security risks and capacity to follow security rules and procedures
- International exposure
- Analytical and organizational skills
- Team work and collaboration
- Strong communication skills
- Ability to work in a multicultural environment, with multidisciplinary teams
- Flexibility
- Beneficiary and client focus
- Team and project management experience an asset )

Our operational & field constraints
- In line with the principle of neutrality, the ICRC does not assign delegates to countries of which they are nationals
- Candidates must be in good health and will have to do a medical check-up prior to departure in the field (ICRC medical standards)

What we offer
- Rewarding work in a humanitarian field
- A tailored integration programme
- Opportunities for further in-house development and career growth
- Competitive employment package

Additional information
- Type of mobility: International
- Length of field assignment: 12 months minimum
- Starting: Depending on operational needs - continuous

Watch the delegate video
Watch the interview of our delegates
Watch the detention delegate video
Prison systems adviser
Your tasks
a) With the ICRC delegations:
- Within a multidisciplinary framework, undertake to provide advice and guidance concerning assessment and analysis of detention and related criminal justice systems; actively participate in visits to places of detention, helping delegations in developing their capacity to understand the underlying or systemic causes of humanitarian problems;
- Provide technical advice and guidance concerning the management of places of detention and development of other relevant aspects of detention and related criminal justice systems;
- Provide advice to delegates at senior management and working level on how the ICRC can best help the authorities at various levels in their efforts to improve relevant aspects of the detention or related criminal justice systems;
- Prepare thematic papers, and analysis of policies, legislation, national, regional and international trends and other topics of humanitarian relevance in the particular context, for internal or external use.

b) With the authorities:
- Consistently with the delegation strategy, help in developing long-term strategic planning processes for the improvement of detention and related criminal justice systems, or where such change processes exist, support continued development and implementation;
- Provide technical expertise concerning the management of places of detention and development of detention and related criminal justice systems, in line with the humanitarian concerns identified and internationally recognised standards;
- In line with the delegation strategy, develop and maintain relationships with a range of authorities, professional organizations, other stakeholders and interlocutors in the region;
- Help the delegation in supporting the emergence of an inter-institutional dialogue on detention-related matters (such as with the detaining authorities, law enforcement agencies, the judiciary, Ministries of Health and Finance etc.);
- Participate in and/or co-organize events aimed at improving mutual understanding of detention /criminal justice systems-related strengths and constraints; exchanging experiences and sharing good practices;
- Contribute to the design of a coherent ICRC training strategy for prison staff, in line with the operational priorities identified by the delegation, and mobilisation of the needed resources (e.g. training by the delegations' staff, invitation of external experts, exposure to best practices or other contexts)

c) With the institution:
- Contribute to the development of ICRC institutional policy and tools for detention / criminal justice systems-related support, particularly systemic support, including discussion, documentation and sharing with HQ of interesting practices and lessons learnt;
- Contribute to the development and implementation of training programmes at field and HQ levels as necessary;
- Participate in external conferences and other meetings where detention systems and related issues are discussed;
- Develop comprehensive knowledge of the programming and engagement of other humanitarian organizations active in penitentiary/related criminal justice systems in the relevant country/region and share this as necessary.

Essential knowledge and skills
- Advanced degree in social science, management or criminal justice;
- Comprehensive knowledge of prison operations, management and development of detention systems;
- At least 10 years' experience in senior management/policy roles within places of detention or related criminal justice systems;
- Experience conducting analysis of detention / related criminal justice systems in conflict affected and fragile states;
- Experience in developing adherence to international standards and promoting good practices in detention / related criminal justice systems;
- Experience in building capacity and providing advice at both the policy and operational levels, in project and change management, mid to long-term strategic planning processes and reform / development plans;
- Comprehensive knowledge of main problems and current debates in the academic and professional world linked with detention and criminal justice systems; in particular, but not exclusively, non-custodial measures and sanctions, sentence management, overcrowding, drugs and detention, vulnerable groups, etc;
- Experience in working in different parts of the world and/or a wide network in these areas would be an asset
- Experience in developing strategy and addressing issues related to overcrowding (mitigating its consequences but also acting on its legal and judicial causes) and supporting the design and construction of the prison estate would be valuable

What we offer
- Rewarding work in a humanitarian and multicultural environment
- Attractive social benefits
- Length of assignment: 12 months
- Join an ICRC talent pool and be considered for future assignments elsewhere
Delegate for the missing files
Your tasks
In accordance with the priorities, objectives and strategies set by the delegation and under the supervision of the Protection Coordinator (and / or the Deputy Protection Coordinator in charge of Missing), the Missing Delegate is responsible for the implementation of the activities in relation to the Missing file (Please specify the specific activities She/he follows up and whether these are at the local and/or regional levels). She/he contributes to the definition of the strategy in relation to the Missing file as well as to the coherence of the programme with other protection activities and other programmes (especially Forensic, Psychosocial, Jur, EcoSec etc). She/he directly supervises (number) staff assigned to the Missing file and/or provides technical and/or functional support to those who are actives in the field of the Missing working in other sites of departments (if relevant).

Selection requirements
- Minimum of 2 years humanitarian work experience such as training and capacity building experience, and/or experience leading multidisciplinary teams, preparing strategies and action-plans, planning and developing multi-year projects and/or equivalent multicultural experience in the field of missing persons and their families 
- Well-developed writing and summarizing skills.
- Open-minded and adaptable
- Practical knowledge of the International Red Cross and Red Crescent Movement an asset.
- University education or equivalent.
- Very good command of English and French.
- Knowledge of another ICRC working language used in the field (Spanish, Arabic or Russian) is a strong advantage
- Fully conversant with common IT tools
- Commitment to the ICRC's humanitarian mandate

Our operational & field constraints
- In line with the principle of neutrality, the ICRC does not assign delegates to countries of which they are nationals
- Available to live in locations as assigned, without family members, for at least 24 months
- Candidates must be in good health and will have to do a medical check-up prior to departure in the field (ICRC medical standards)
- Driving licence for manual transmission vehicles, and ability to drive such vehicles independently in unfamiliar terrain
Facts & figures
over 100
mobile field delegates deployed in 2017