Languages and Interpreting - working with us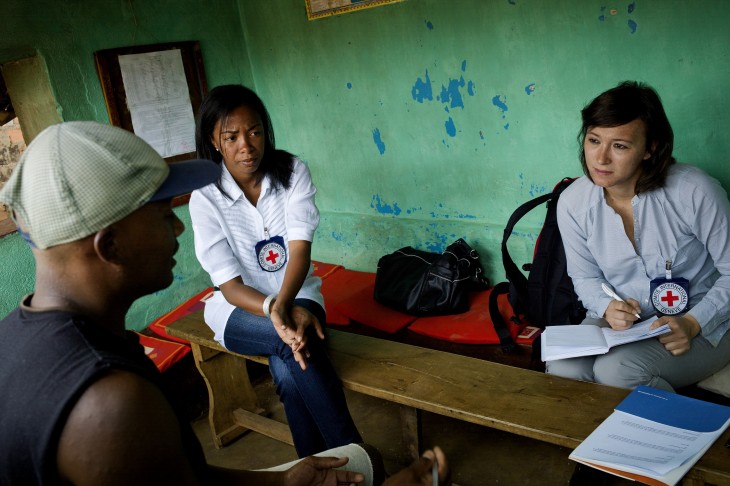 Interpreting in the ICRC is as much about interpreting the spoken word as it is also about being able to understand and integrate into a country's culture and environment and the ability to connect with local people and therefore establish trust. The ICRC is present in 80 countries around the world and it is the responsibility of the interpreter within the team to have this knowledge and act as a vital link between the delegate and the beneficiaries, local and government officials as well as any other ad-hoc interpreting needs that arise.
Interpreters are most needed in countries where the language is seldom taught elsewhere in the world for example (the list is constantly evolving):
Amharic
Arabic
Azeri
Bengali
Burmese
Farsi
Hausa
Khmer
Kinyarwanda
Kirundi
Pashto
Rohingya
Sinhalese
Somali
Swahili
Tamasheq
Tamil
Thaï
Tingrinya
Turkish
In order to remain neutral and impartial, we do not work with interpreters who originate from the country of the interpreted language.
Below is a non-exhaustive list of mobile field functions hired by the ICRC.
Please note that all positions are not continually open.
Intepreters (no specific diploma required)
Languages: Amharic; Azeri - Turkish; Bengali; Burmese; Farsi; Hausa; Hindi / Urdu; Khmer; Kinyarwanda; Kirundi; Pashto; Somali; Swahili; Tamil / Sinhalese; Thai; Tigrinya

Your tasks
- Oral interpretation: from the given language to English, and English to the given language during confidential interviews with people deprived of liberty, ICRC institutional dissemination, ICRC dialogue with authorities, activities to establish the family links, including Red Cross Messages delivery, family tracing and visits to families of detainees
- Written translation: translation of the given language (newspaper articles, correspondence, etc.) into written English

Your profile
- Strongly motivated by humanitarian work. 
- Open-minded and adaptable, able to work in a team.
- Able to work under pressure in a potentially dangerous environment.

Selection requirements
- University education/degree in interpretation or translation an advantage.
- 2 years of professional experience as interpreter or translator is an advantage.
- Very good command of English and of the given language.
- Commitment to the ICRC's humanitarian mandate

Our operational & field constraints
- In line with the principle of neutrality, the ICRC does not assign personnel to a country of which they are nationals
- Candidates must be in good health and will have to do a medical check-up prior to departure in the field (web link)
- Driving licence (for manual transmission vehicles) 
- Candidates must be prepared to accept unaccompanied postings (i.e. no spouse, partner, children or dependents) for the first two missions (minimum 12 months each)

What we offer
- A three-week orientation course in Switzerland prior to posting abroad.
- An opportunity to help the victims of conflict engrossing, rewarding work in unusual situations.
- Ample support in integrating into the new working environment.
Senior Arabic translator/reviser
Your tasks
Under the direct supervision of the Detention team leader, the senior translator/reviser has the following responsibilities:
1. supervise and manage the delegation's Arabic translation service namely:
- manage deadlines in order to deliver translations on time
- revise translations done by others with a view to ensuring quality
- provide written translations of all relevant official correspondence with authorities and/or confidential texts
- edit written documents if and when necessary
- liaise with the language teams in Geneva and Cairo, whenever necessary
- set up internal procedures/mechanisms to centralize requests from various departments within the delegation.
2. when needed, provide interpretation for delegation events (e.g. seminars, workshops, official meetings)
3. interpret for Detention teams during detention visits

Selection requirements
- University degree and/or post-graduate qualification in translation
- At least five years of professional experience in translation, revision and editing
- Experience of managing a team
- Native Arabic speaker
- Excellent writing skills in English and Arabic
- French language skills an asset
- Ability to give guidance and coach staff
- Commitment to the ICRC's humanitarian mandate

Your profile
You can:
- ensure terminological and stylistic consistency of texts
- adapt technical texts for a wide readership
- work independently and as part of a team
- work under pressure and meet tight deadlines
You are keen to learn and develop professionally.

What we offer
- An opportunity to help the victims of conflict
- Engrossing, rewarding work in unusual situations
- Ample support to integrate into the new working environment
- Excellent social benefits and insurance package