Logistics - working with us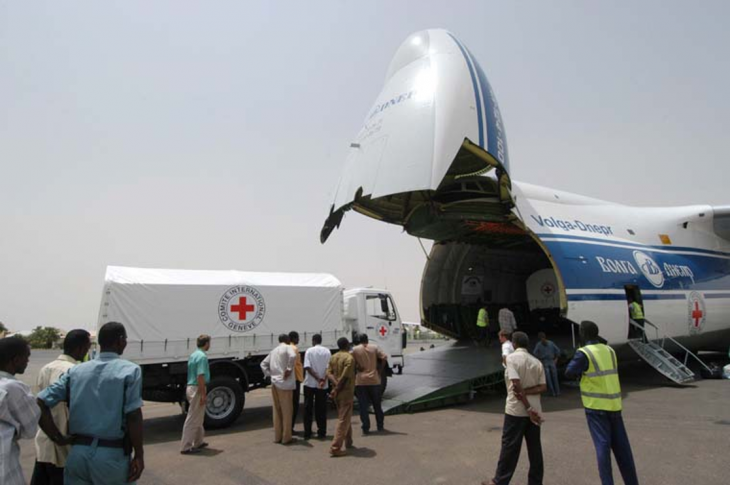 In the field of relief, the ICRC strives to meet the essential needs of people affected by armed conflict. During the crisis, it provides them with emergency food, water and shelter so that they can survive. After the crisis has passed, it helps them regain their food self-sufficiency and resume economic production.
The task of the ICRC's Logistics Division is complex and requires considerable resources. In order to carry out its relief operations, the ICRC maintains a fleet of 3,000 vehicles and has hundreds of warehouses scattered across the globe. The warehouses contain emergency stocks worth 60 million Swiss francs. An additional 350 million francs of supplies are purchased on average each year. The bulk of the ICRC's supplies is kept in two separate logistics bases: Geneva and Nairobi. In Nairobi, which specializes in relief, the ICRC stocks enough non-food aid to meet the needs of 100,000 people for a period of three months. The Geneva base stocks medical supplies and sanitation and water-supply equipment. Over 150 expatriates and 3,000 delegation employees around the world – general logisticians, medical logisticians, purchasers, stock managers, air-operations managers, vehicle-fleet managers, mechanics and drivers – put their skills at the ICRC's service to ensure that victims of armed conflict receive the assistance they need.
Below is a non-exhaustive list of mobile field functions hired by the ICRC.
Please note that all positions are not continually open.
Logistician Specialist
APPLY

Your tasks
The ICRC logistic specialist is the backbone of ICRC assistance activities. He/she is responsible for procurement, ensures warehouse maintenance, deals with customs formalities, monitor stock levels, draws up budgets with the delegation administrator, analyses costs, and trains and supervises local personnel.

Selection requirements
- Excellent command of English and French compulsory.
- Recognized qualification in Logistics (Supply Chain, Purchasing, import/export, transport, warehouse management, etc ...).
- Minimum of 3 years professional experience in Logistics
- Humanitarian field experience an asset
- Fully conversant with IT tools
- Commitment to the ICRC's humanitarian mandate

Our operational & field constraints
- In line with the principle of neutrality, the ICRC does not assign delegates to countries of which they are nationals
- Available to live in locations as assigned, without family members, for at least 24 months
- Candidates must be in good health and will have to do a medical check-up prior to departure in the field (ICRC medical standards)
- Driving licence for manual transmission vehicles, and ability to drive such vehicles independently in unfamiliar terrain
Medical Logistician
APPLY

Your tasks
To provide logistics services and support to ICRC health programmes. Key responsibilities are the following:
- Planning: participate in project designs, anticipate needs for supplies, carry out the procurement for projects, and keep abreast of changes in medical supplies in close cooperation with the Health Department
- Supply chain management and purchasing, using local suppliers where possible
- Inventory control: analyse demands, prepare regular forecasts, calculate replenishment orders and initiate procurement accordingly
- Stores and stock management: manage medical stores ensuring security and maintenance, and making sure that medical stocks are kept in proper storage conditions
- Distribution management: ensure accurate and complete documentation is prepared for all consignments
- Customer service: act as a focal point for medical logistic and health staff
- Quality control
- Reporting
- Staff management and training

Selection requirements
- Registered health professional with commercial training or higher education in logistics and supply chain management
- Minimum of 2 years field experience in humanitarian health assistance or medical logistics
- Good knowledge of essential drugs, medical renewables, medical materials and equipment (commercial and/or humanitarian assistance) conversant with information systems 
- Very good command of English and French. 
- Knowledge of another ICRC working language used in the field (Spanish, Arabic or Russian) is a strong advantage 
- Fully conversant with IT tools
- Commitment to the ICRC's humanitarian mandate

Our operational & field constraints
- In line with the principle of neutrality, the ICRC does not assign delegates to countries of which they are nationals
- Available to live in locations as assigned, without family members, for at least 24 months
- Candidates must be in good health and will have to do a medical check-up prior to departure in the field (ICRC medical standards)
- Driving licence for manual transmission vehicles, and ability to drive such vehicles independently in unfamiliar terrain
Purchaser
APPLY

Your task
- Process specific purchase orders and establish contracts with suppliers, ensures all related information is available in the local database or filing system
- Negotiate purchase conditions and purchase all specific goods and services as specified in the requests
- Implement and follow-up ICRC purchase strategy for each family of product with the Geneva responsible purchaser
- Anticipate the needs together with the logistics co-ordinator
- Assist procurement officer to clarify problematic requisition orders
- Supervise and train national staff dealing with purchase
- Participate to procurement planning with SCA, warehouse, transport and medical logistics
- Participate to the choice of the supply source
- Negotiate and purchase: spot purchase, quotation, tender
- Follow-up the procurement process until goods are delivered by the supplier
- Sort out the quality claims and to validate suppliers invoices
- Visit and prospect suppliers, select and evaluate them
- Ensure maintaining of suppliers' and items' databases and filing
- Keep and update the purchase procedures
- Keep and update "tableau de bord": with activities and anomalies indicators (e.g.: purchase orders, purchase values and consolidated volumes of suppliers/families/sites, anomalies etc)
- Maintain good filing system for PO files, suppliers files, products files
- Assist in tenders for transport and clearing

Selection requirements
- Qualification in related field and purchasing knowledge, negotiation and competitive bidding skills, management of product portfolio
- Minimum of 2 years purchasing of operational and strategic purchasing experience in commerce, industry and/or humanitarian field
- Very good command of English and French.
- Knowledge of another ICRC working language used in the field (Spanish, Arabic or Russian) is a strong advantage
- Good understanding of the supply chain processes
- Additional competency: engineering degree in mechanic, civil engineering, agronomy, or equivalent
- Commitment to the ICRC's humanitarian mandate

Our operational & field constraints
- In line with the principle of neutrality, the ICRC does not assign delegates to countries of which they are nationals
- Available to live in locations as assigned, without family members, for at least 24 months
- Candidates must be in good health and will have to do a medical check-up prior to departure in the field (ICRC medical standards)
- Driving licence for manual transmission vehicles, and ability to drive such vehicles independently in unfamiliar terrain
Vehicle Fleet Manager
APPLY

Your tasks
The ICRC vehicle fleet manager supervises the road transport movements in the infrastructure of delegations, sub-delegations and local offices. In addition to maintenance and planning of the vehicles (both trucks, heavy-duty 4x4 and light cars), he/she should also be the guardian of good usage and knowledge of the vehicles by the users.

Selection requirements
- Higher eductaion qualification or recognized certificate in light and heavy vehicles technology 
- Sound theoretical and practical knowledge of 3 phases current 
- Developed administrative knowledge in vehicle management
- Logistic skills for transport setup.
- Very good command of English and French.
- Knowledge of another ICRC working language used in the field (Spanish, Arabic or Russian) is a strong advantage 
- Fully conversant with IT tools including fleet management software
- Commitment to the ICRC's humanitarian mandate

Our operational & field constraints
- In line with the principle of neutrality, the ICRC does not assign delegates to countries of which they are nationals
- Available to live in locations as assigned, without family members, for at least 24 months
- Candidates must be in good health and will have to do a medical check-up prior to departure in the field (ICRC medical standards)
- Driving licence for manual transmission vehicles, and ability to drive such vehicles independently in unfamiliar terrain
Airops Manager
APPLY

Your tasks
ICRC Air-Operations Managers are responsible for the management of ICRC chartered, leased or owned aircraft in a cost effective, safe and efficient manner. The Air-Operations Manager will coordinate the activities of the aircraft, crew, ICRC staff, passengers and cargo in an ICRC mission to optimise resource utilisation. He/she shall make sure that flights performed safely in often a dangerous environment with all necessary permissions.

Selection requirements
- Minimum tof 2 years working experience as flight dispatcher or pilot in an airline
- Recognized training in aviation management and flight dispatching. Valid licence in flight dispatch (JAA or FAA) or licence as airline pilot
- Very good command of English and French.
- Knowledge of another ICRC working language used in the field (Spanish, Arabic or Russian) is a strong advantage 
- Familiarity with word processing, and spreadsheet software
- Commitment to the ICRC's humanitarian mandate

Our operational & field constraints
- In line with the principle of neutrality, the ICRC does not assign delegates to countries of which they are nationals
- Available to live in locations as assigned, without family members, for at least 24 months
- Candidates must be in good health and will have to do a medical check-up prior to departure in the field (ICRC medical standards)
- Driving licence for manual transmission vehicles, and ability to drive such vehicles independently in unfamiliar terrain
Water Engineering Buyer
APPLY

The "Water and Engineering Buyer" (field position) oversees the entire procurement process for electromechanical, hydraulics and construction categories in an ICRC's delegation. In his/her capacity, he/she ensures that procurement is carried out in line with standard institutional policies and procedures.

Your task
• Identify with relevant departments (mainly Water & Habitat, Premises and Economic Security) the main items needed for electro mechanics, hydraulics and construction purchases and service contracts.
• Conduct sourcing campaigns for the identified items, assess suppliers and contractors, compile relevant technical documentation and share it with all operational actors. Contextualize with the Lead buyer and the regional office the ICRC purchase strategy according to the local availability and quality of items.
• Participate in the development of technical specifications and price estimation for the main items.
• Follow-up regional procurement process until goods are delivered to the requester
• Process local procurement according to ICRC procedures (organize tenders, prepare selection table with requester, negotiate purchase conditions, establish contracts, ensure quality control, evaluate suppliers)
• Contribute to the tendering of the service contracts (propose additional contractors, participate to the analysis and selection)
• Supervise and train national procurement officers
• Keep and update the purchase procedures, maintain good filing system for PO files, suppliers files, products files

Selection requirements
- Prepared to accept unaccompanied postings (i.e. no spouse, partner, children or dependents) during the first 24 months of collaboration
- Engineering degree in mechanic, Electro mechanic, civil engineering, or equivalent and procurement knowledge, management of product portfolio
- Minimum 3 years in construction equipment engineering, electro-mechanical engineering or a relevant field of activity
- 1st experience in procurement, experience in the humanitarian field is an asset
- Written and verbal English mandatory, French an asset
- Good understanding of the supply chain processes
- Additional competency: Diploma in related field such as purchasing, supply chain management
Your profile
- Strongly motivated by humanitarian work
- Open-minded and adaptable, empathic and diplomatic
- Able to work in a team, under pressure in sometimes a dangerous environment
- Good management, administrative and communication skills
Facts & figures
29
new logistics mobile fieldstaff recruited in 2016
1489
applications for logistics mobile field positions recieved in 2016