Afghanistan's health-care quandary: Travel treacherous roads for help, or wait for dawn?
In Afghanistan, getting to a central hospital may mean choosing between travelling dangerous roads at night and risking death by waiting for the next day. Just a little extra training for the dedicated staff of local hospitals can enable them to treat a wider range of injuries, reducing the need for people in pain to make journeys of several hours.
Severe burns had scorched the skin of two frightened children – the boy only eight years old and the girl just five. The staff at Ghazni Hospital said they often refer these severe cases to Kabul.
For most families in Afghanistan, taking their loved ones to hospital is often difficult and risky. The Ghazni-Kabul highway is notoriously dangerous. Buried bombs, sporadic fighting, menacing check points, and the more mundane but equally deadly traffic accident all make the trip treacherous. The dangers double after dark, when many of the hospital's patients would arrive from injuries sustained in front-line fighting.
During the Taliban era of the 1990s and up until 2004, the ICRC had a surgical team in Ghazni Hospital. Many of the problems faced during that era – a lack of modern equipment, overworked staff – are still apparent today. And the hospital has no orthopaedic, vascular, neuro or thoracic surgeons, forcing staff to refer patients to Kabul, a three-hour drive away.
So when an ICRC surgical team arrived in Ghazni for three weeks this summer, during a six-month deployment to frontline hospitals in Afghanistan, the staff were overjoyed.
"We thought people had forgotten us," exclaimed general surgeon Sayed Mohammad Mobin, who has worked at the hospital for 16 years and remembers the last ICRC surgical team stationed there. "We became very motivated when we saw the ICRC return."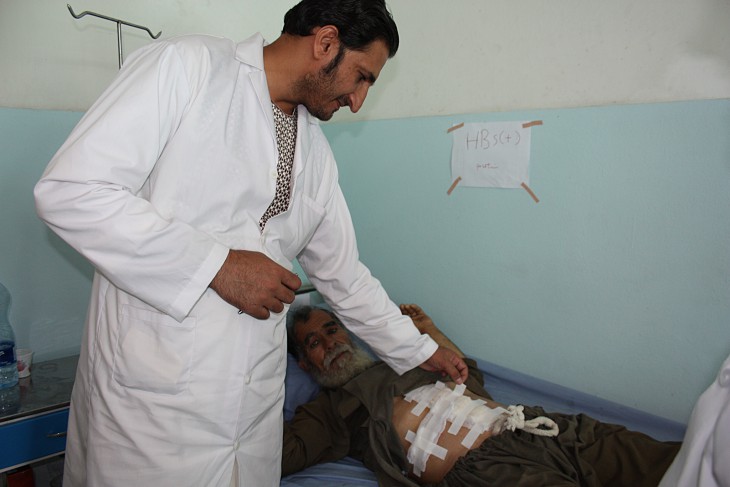 Ghazni lies at the crossroads of four conflict-affected provinces. People wounded in war and seriously ill patients come from miles around. Because of the dangers in the region, many families are hesitant to bring wounded or ill relatives to the hospital after nightfall if the patient's condition is not life-threatening. But waiting until dawn can sometimes prove fatal.
Even one un-crossable checkpoint can affect thousands of ordinary civilians. International humanitarian law applies to armed conflicts, protecting health facilities, patients, medical staff and vehicles being used for medical purposes. Delaying ambulances, laying explosive devices on roads, or entering a hospital with guns and threatening the staff, are all violations of that law.
Luckily for the two Afghan children suffering from severe burns, the ICRC surgical team arrived while they were in Ghazni Hospital.
"We weren't used to dealing with burns," admits Shakeela Shahabi, an Afghan ward nurse. "So we have generally been referring burns patients to Kabul."
The ICRC team prescribed painkillers and suggested warm showers before changing the children's dressings, said Barbara Turnbull, the project manager for the ICRC surgical team. "We soon noticed a remarkable improvement in their condition, which impressed everyone," she said.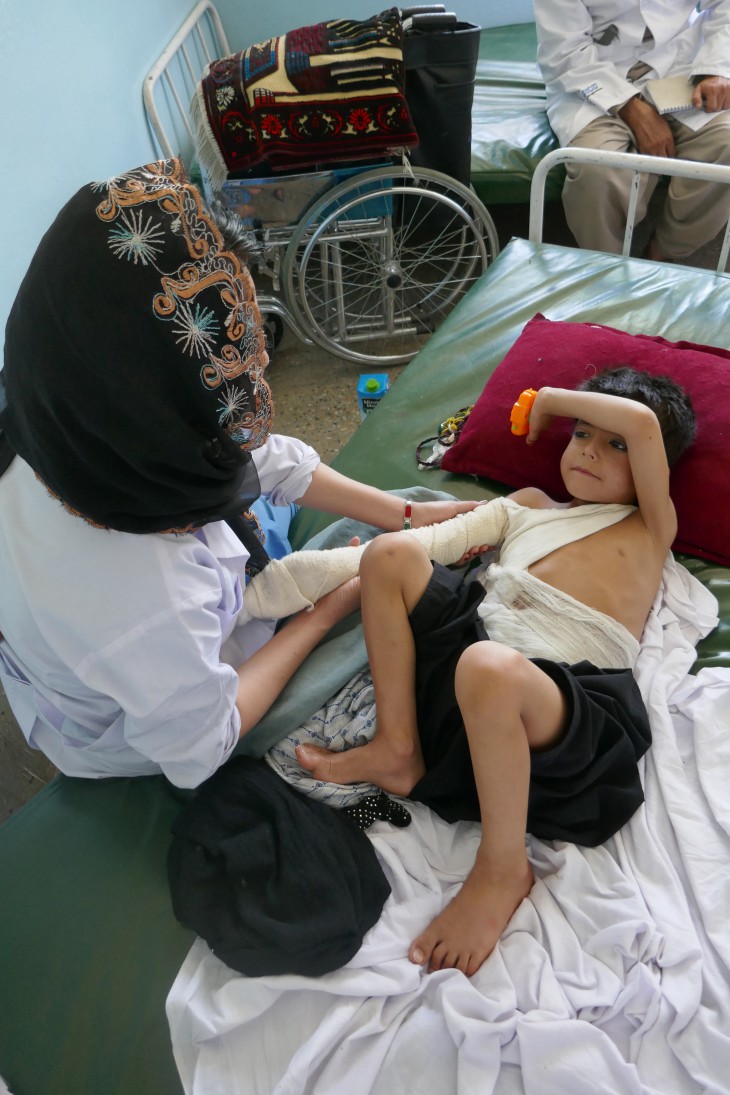 The team's physiotherapist also showed Shakeela and the children's mother some simple exercises that the children could do at home to prevent tightening of the burned skin, known as contractures.
The ICRC team talked with the hospital staff about ensuring respect for health workers and facilities. The staff reported being under huge pressure from several sides, including patients' relatives and armed men who sometimes brought weapons into the hospital and demanded priority treatment. The ICRC staff suggested putting up posters with messages about protecting health care services and personnel so that those carrying weapons would see them.
The ICRC surgical visit only lasted three weeks, but hospital staff hailed it as a success. Shakeela noted that although she and ICRC physiotherapist Anne Bois d'Enghien were unable to speak the same language, "we were like sisters" while working with patients.