Burundi : economic security for female heads of household
In the year 2016, we developed an economic security program in Bujumbura for the first time. In a pilot project, some 300 female heads of households in precarious situations were assisted to develop small economic projects. In 2017 this program is renewed and expanded.
Thérèse, one of the beneficiaries of the pilot project, stands out. She opened a restaurant that was very successful. Jeannette, another beneficiary, also pulls out of the game by selling gravel and dreaming of building her own home.
"Since last November, my children have been eating three meals a day," says Thérèse, a widow for over a year.
This 34-year-old mother learned on-the-job cooking a few years ago. In 2015, Therese lost her husband and had to close the little restaurant she was holding with him. "I moved with my 5 children into the house of a widow in the Kamenge district of Bujumbura. She lent us a room and shared her only daily meal with us, "she says.
With a good flair for business, Thérèse was overflowing with ideas to start a business but could not afford her dreams: "I watched how other women traded vegetables and fruit, and I thought about what I could do myself" she recalls.
One day, Thérèse's neighbors met Gonzague and Bosco, volunteers of the Burundi Red Cross (CRB), in a census of widowed women who are unable to support their families. The ICRC, in collaboration with the CRB, launched a "conditional cash" program to enable these women to start a project guaranteeing a better income. The neighbors talked to them about Thérèse and her difficult situation. Soon after, Thérèse presented her restaurant project and she was quickly selected for the program.
Thanks to a sum of about 120 dollars, she opened her first small restaurant near her home. Her many customers call it "Ku Mutaka" (The Umbrella). It is well positioned next to a bike taxi-bike station. The success of her breakfast is soon resounding. In the morning she sells nearly a hundred dishes. Bicycle-taxi drivers line up to eat cassava, beans, rice and sweet potatoes. After a while, Thérèse was also able to open a second restaurant in the market of Kamenge, under a roof, where she serves breakfast and lunch.
Every day, from 4:30 in the morning, Thérèse works in her kitchen with the help of a few people. Her pans simmer for two hours before a young bicycle-taxi driver takes the warm pots to place them under the famous umbrella. Customers line up from 7:30 am, and latecomers must beware as the pots are often empty an hour later!
Since she can feed her five children three times a day and buy them some school supplies or medicines, Thérèse is reassured. Thanks to the small savings she managed to collect, her dream is to become a vegetable wholesaler by regularly going to Gitega, in the centre of Burundi, and then selling cabbage and cassava to the merchants of Kamenge in Bujumbura. In the meantime, Thérèse gladly advises other women in difficulty. She is happy to be able to finish her work day by drinking hot tea with her children, while she is already planning the next day's breakfast menu.
Jeannette sells gravel from the Kanyosha River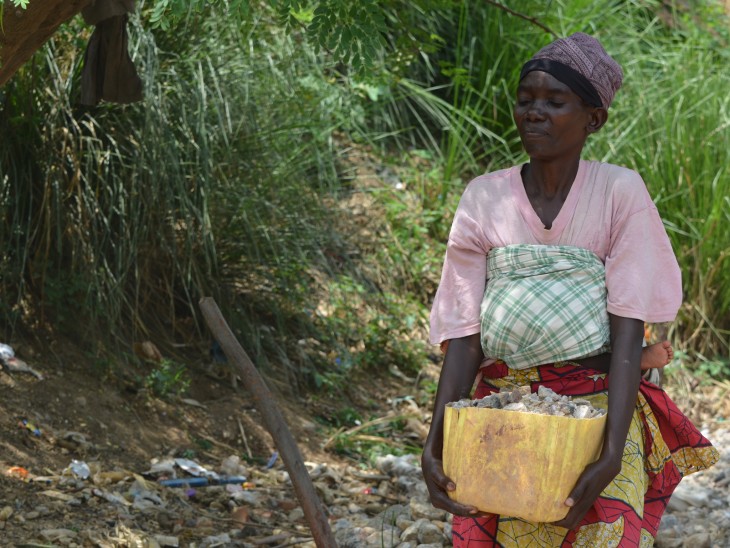 The life of Jeannette and her three children has also improved thanks to the program. Before losing her husband, Jeannette was trading vegetables in Kanyosha. But one day, she lost everything and was forced to go and live with her children in houses under construction. "Now, thanks to the gravel trading I have undertaken, I have rented a room and my children are entitled to three meals a day," she says with a smile. Jeannette has already saved a little amount of money in a local microfinance bank. Her dream is to buy a plot of land and build her own home.
Savings and three meals a day
Nearly 300 female heads of households selected for this program had all lost their source of income. They have dependent children they had difficulty feeding. Aurélie Grangé, head of the economic security department of our delegation in Burundi, said that, compared to the initial assessment that had revealed a high rate of malnutrition among these children, she had measured a positive development in the living standards of these families. "This program has allowed these women and their children to go from, for some, a meal per day to three meals a day." Many women have already made some savings and are ready to reinvest to expand their project. Once their project was accepted, the women first received 130,000 FBUs (about 78 USD), supplemented a few weeks later by 70'000 FBU (about 42 USD).
See also the photo gallery about the restaurant of Thérèse and/or download our first edition of the newsletter for the year 2017.