Burundi: Helping victims of pre-election tensions
For many weeks now, Burundi has been in the grips of pre-election tensions that have already left many dead and wounded and forced thousands of people to leave the country. The ICRC is helping the victims of this violence and reminds all those responsible that human life and dignity must be respected at all times.
In Burundi, the ICRC is visiting those arrested in relation to the violence and is supporting the activities of the Burundian Red Cross. In the countries that have been receiving the refugees, the ICRC, in coordination with the Red Cross and Red Crescent Movement, is bringing aid to the Burundians who have fled and helping dispersed families re-establish contact with their loved ones.
What the ICRC and Red Cross and Red Crescent Movement have been doing in Burundi since the violence began at the end of April

 

100 000 people


forced to flee their homes to neighbouring countries – Tanzania, Rwanda, Democratic Republic of the Congo, Uganda.



 

more than 40 deaths


 


 

over 600 wounded




 

hundreds of people have been detained


 
 

Since 26 April, the ICRC:

provided first-aiders from the Burundi Red Cross with

130

first-aid kits and

85

body bags, along with logistical (2 vehicles and fuel) and communications support (radios).
visited those who have been arrested to ensure their living conditions and the treatment they are receiving are in line with international standards.

 

The Burundi Red Cross, with the support of the ICRC:

has deployed

3 

first aid mobile response teams and set up

9

first aid posts in 9 neighbourhoods of the capital Bujumbura, staffed with more than 100 volunteers.
have treated and evacuated more than

550

people.
evacuated more than

20

bodies.
Tanzania
more than 50,000 Burundian refugees in Tanzania;
more than 60 per cent of the refugees are children.
A cholera outbreak has struck among the refugee population in Tanzania. For now the situation is improving but the risk of transmission remains very high due to limited access to shelter, toilets, water and essential medical care.
Since the onset of the crisis, the ICRC:
provided direct on-the-ground support to the Tanzania Red Cross Society (TRCS) in restoring family links (reuniting families) with the main focus being new arrivals at Nyarugusu camp now that Kigoma transit camp is closed. So far, more than 11,000 phone calls have been made with support from the ICRC and 550 unaccompanied minors have been registered.
donated water and sanitation equipment (300 cubic metre water storage tank, water and sanitation supplies and 200 latrines) to OXFAM for use in upgrading the current water supply in Nyarugusu to reach new areas of refugee settlement.
provided first-aid and dissemination training to 50 newly recruited Red Cross volunteers from Kigoma. They were equipped with 200 first-aid kits, identification materials (bibs), and protective equipment (gloves and rubber boots).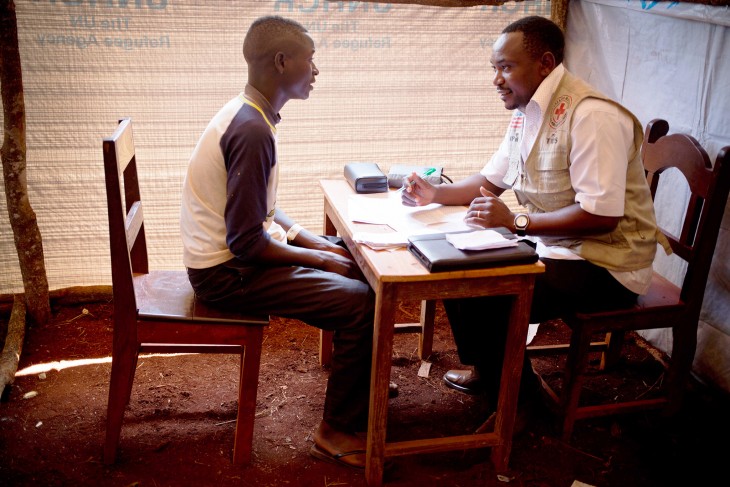 Democratic Republic of the Congo
Approximately 10,000 refugees have crossed into the DRC, arriving in South Kivu province.
The ICRC:
has been assisting refugees since the onset of the crisis in the makeshift camp of Luvungi, mostly through restoring family links support to help families to trace and contact their relatives. To date, 311 Red Cross messages were collected (written messages containing family news) and 112 phone calls facilitated between family members, 40 unaccompanied children were registered and 3 tracing requests were collected;
has contributed to water and sanitation assistance through the installation of showers, latrines and garbage pits;
has conducted an assessment on health needs and has started an emergency response to improve access to health care, medical drug support, technical supervision and emergency "lifesaving" referrals.
Rwanda
More than 30,000 Burundian refugees.
Since the beginning of the current influx the ICRC and the Rwanda Red Cross have been offering restoring family links support to help families trace and contact their relatives, including phone calls. To date, more than 9,500 phone calls have been made with more than 6,200 resulting in restored family contacts and/or exchange of family news. More than 920 unaccompanied children have been registered.
Uganda
Uganda is receiving approximately 400 new Burundian refugees daily, with an overall number of approximately 8,220 refugees.
A first team has been set up to provide restoring family links services to help families trace and contact their relatives in Nakivale refugee settlement. More than 895 phone calls have been facilitated between family members and 59 unaccompanied children have been registered.