Cambodia: How a new roof may help wheelchair basketballers' journey to Tokyo
An Sinet, team captain

The year 2015 was my first time travelling to Malaysia to play with their men's wheelchair basketball team. I learnt so much from them, especially the coach. He not only helped me improve my skills with shooting and moving the wheelchair but taught me enough to be able to coach my own team as well.

Doung Chanraksa (Seen here with Princess Norodom Arunrasmy at their first meeting on 19 October 2015 in Kuala Lumpur)

My team and I learnt so much from the Malaysian men's team, which, in turn, helped us to play other international matches. It wasn't just the team, the ICRC staff in Malaysia were so welcoming too and took us sightseeing.

Kheav Sila (Fifth from left in red bib, with the team on 19 October 2015 in Kuala Lumpur)

Now that our basketball court has a roof, thanks to the Queen Mother, I will train harder to represent Cambodia in the international stage.

San Rotha

I'm still friends with some of the Malaysian players and we often comment on each other's social media posts. Since that first trip, I've played for Cambodia in other countries too, and now, with the new roof over our basketball court, my team and I will practise even harder to win awards for our country.
It's been four years since eight female wheelchair basketball players from Cambodia travelled to Kuala Lumpur for an exhibition match against the Malaysian Wheelchair Basketball Federation, as part of the ASEAN Disability Forum 2015.
The trip, which marked their first flight abroad, was packed with excitement. In Malaysia, they not only improved their playing but also made new friends. They had the opportunity to meet with Princess Norodom Arunrasmy, the then Cambodian Ambassador to Malaysia, who continues to support the team even after returning to Cambodia.
On 20 August 2019, four of the players met the princess again, this time at a ceremony to mark the completion of a new roof over the basketball court in the regional Physical Rehabilitation Centre in Kampong Speu province in Cambodia.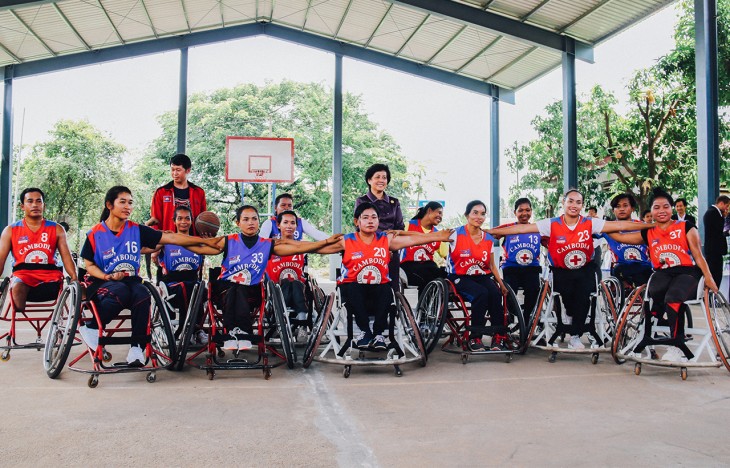 Established in 1992, the centre provides services to 3,200 persons, around 35 per cent of whom are survivors of landmines or explosive remnants of war. The centre is currently run by the Ministry of Social Affairs, Veterans and Youth Rehabilitation with support from the International Committee of the Red Cross (ICRC).
The ICRC has been supporting the women's wheelchair basketball team since July 2012. The team was officially recognized as the Cambodian Wheelchair Basketball Federation in June 2019.
In 2018, the ICRC met Princess Sisovath Kantireth, who facilitated meetings with potential donors and Her Majesty Norodom Monineath, the Queen Mother, for upgrading the centre. Soon enough, construction of the roof started at the end of April 2019 and was completed in mid-July.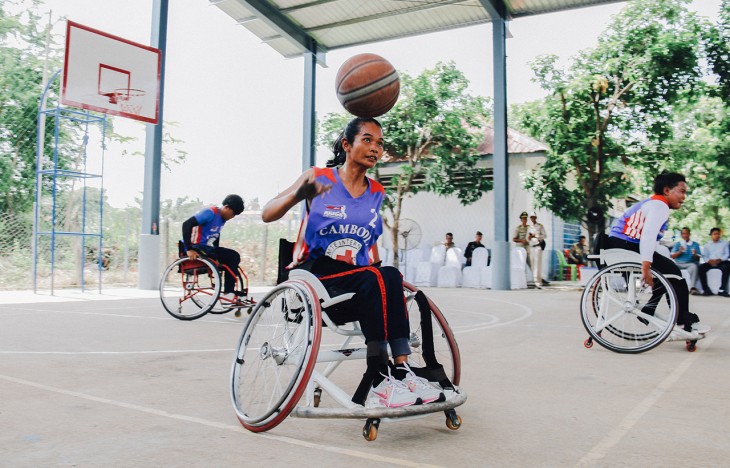 With a spanking new roof to protect their training sessions from bad weather, the team is now determined to qualify for the 2020 Paralympics Games in Tokyo, Japan. The four players told us, through an interpreter, about how the trip to Kuala Lumpur four years ago sparked off a wonderful life journey for them.