Ethiopia: ICRC, ERCS donate infection prevention and other items to 17 COVID-19 treatment centres
The ICRC is continuing to supply infection prevention and control materials and other essential items to national bodies in Ethiopia to contain the spread of the coronavirus.
Together with the Ethiopian Red Cross Society (ERCS), the ICRC donated different materials worth 7.2 million Birr to the National COVID-19 Prevention Taskforce in support of the prevention of the virus. The donation was made on Monday, 27 April 2020.
The consignment will be distributed to 17 COVID-19 treatment centres established in Amhara, Oromia, Addis Ababa, Dire Dawa, Somali and Harari regions.
Hand washing stands, liquid and bars of soaps, mattresses, bedsheets, sleeping mats, toilet and tissue papers were among the items donated to the treatment centres.
The items were handed over to Dr Abraham Belay, Minister of Innovation and Technology and member of the National COVID-19 Prevention Taskforce by Julien Lerisson, the head of the ICRC delegation in Ethiopia and Dr Meshesha Shewarega, Secretary-General of ERCS.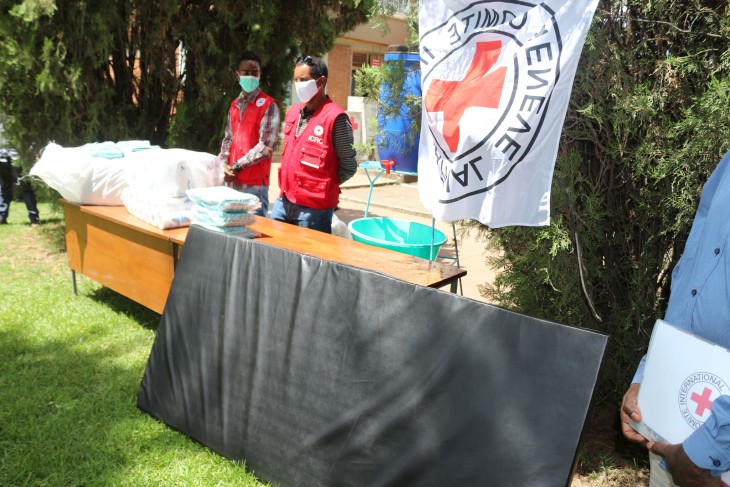 Speaking at the handing over ceremony, Dr Abraham expressed appreciation to the ICRC and ERCS for donating the materials which he said are useful to strengthen the activities being carried out to prevent the spread of COVD-19 in the country.
With an aim to prevent the spread of COVID-19 in prisons, the ICRC also distributed nearly 86,000 bars of soaps and 214 handwashing stands to 29 places of detention in Oromia, Amhara, Tigray, Somali, Southern Ethiopia, Addis Ababa and Dire Dawa regions.
"These are only among the few multi-sectoral assistances that the ICRC has been providing in response to the coronavirus outbreak in Ethiopia," Julien Lerisson said, adding, "The ICRC would continue providing support to these activities."