Hopes and aspirations of a hardworking Syrian refugee in Jordan
Situated on the very busy Al-Abass Bin Abd Almotaleb Road in Madaba is a thriving charcoal sales business run by Khaled Abbas, a Syrian refugee in Jordan. His store, located in this highly commercial area, and the fact that he can afford to rent such a facility there, attests to the growing success of his enterprise.
Abbas had not always dreamt about working in the charcoal industry. In fact, he had been a final year student of Business Administration before fleeing to Jordan from Syria in 2013. In addition to that, he owned his own shop in Syria, where he used to sell stationery and school supplies.
When the war erupted in 2011, however, Abbas and his family tried to stay in Homs, their hometown. But the suffering and pain got to them, eventually, and they decided to seek refuge in Jordan in 2013.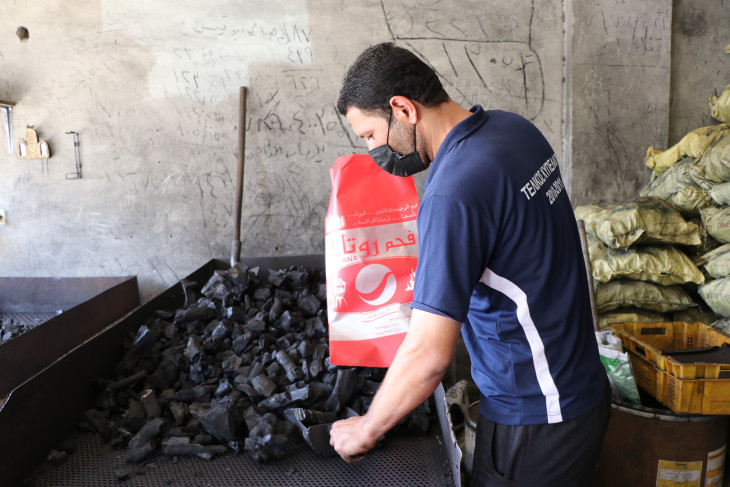 Missing the streets of Homs, his university buildings, and the colors of his own shop, Abbas had to shift his life completely. While the streets of Homs changed into the streets of Madaba, the university buildings became factory walls and the shop colors all turned black.
"Memories hurt, I do not want to remember my life in Homs," recalled Abbas, with tears welling up in his eyes.
Still reminiscing about the experiences he had in Syria, Abbas said that his practical experience and his studies supported him in Jordan where he started working in a charcoal factory as a packaging officer. After that, he became a storekeeper and, later, a team leader who managed a group of employees and some financial aspects of the factory. With the experience he had gained in the factory, and the help of friends, he was able to achieve financial independence.
The charcoal business had originally been that of his mother who herself used to be one of the refugees supported by the ICRC with grants to run small businesses. However, she gave up the enterprise when she turned 80 years old and Abbas took it over and has continued to run and expand it.
It was at this juncture that the ICRC came into Abbas's life for the second time and helped him to grow his business through a financial grant. "This generous grant meant something big to me and my family," Abbas shared. He added that the cash grant helped him to expand his business in order to meet the daily needs of his six-member family.
Talking about the raging pandemic and the effect it had on his life, Abbas said, "COVID-19 has hit me from three different sides." He added that the first aspect was the commercial aspect as he used to buy his charcoal from importers who brought it in from Egypt, Nigeria and Tunisia. But with commercial restrictions that were imposed to prevent the spread of COVID-19, the work of the importers was affected, which, in turn, negatively impacted Khaled's business as well.
Abbas also expressed the difficult situation he faced during the lockdown due to COVID-19 preventive measures. "Most of my customers are restaurants, cafes and families who go for trips," he said. "During the pandemic, these places were closed, which affected my work tremendously."
On a personal level, he and his family also suffered from COVID-19 and experienced varying symptoms. He found himself isolated at home, unable to provide for his family.
Upon reflecting on his plans and aspirations, Abbas smiled and said that he wishes to finish his studies. When he had first arrived in Jordan, he had tried to resume his studies but it didn't work out because he could not attend classes everyday due to his work and responsibilities.
Having left Homs at the age of 27, with a mother and a sister to support, Abbas is now a 35-year-old man with three children. The youngest is just six months old and the eldest is already heading to first grade.
Despite all the odds, knowing that his loving family is by his side, Abbas is ready to face whatever the future throws at him.